Demijohn launches a fifth Concession Store near Ledbury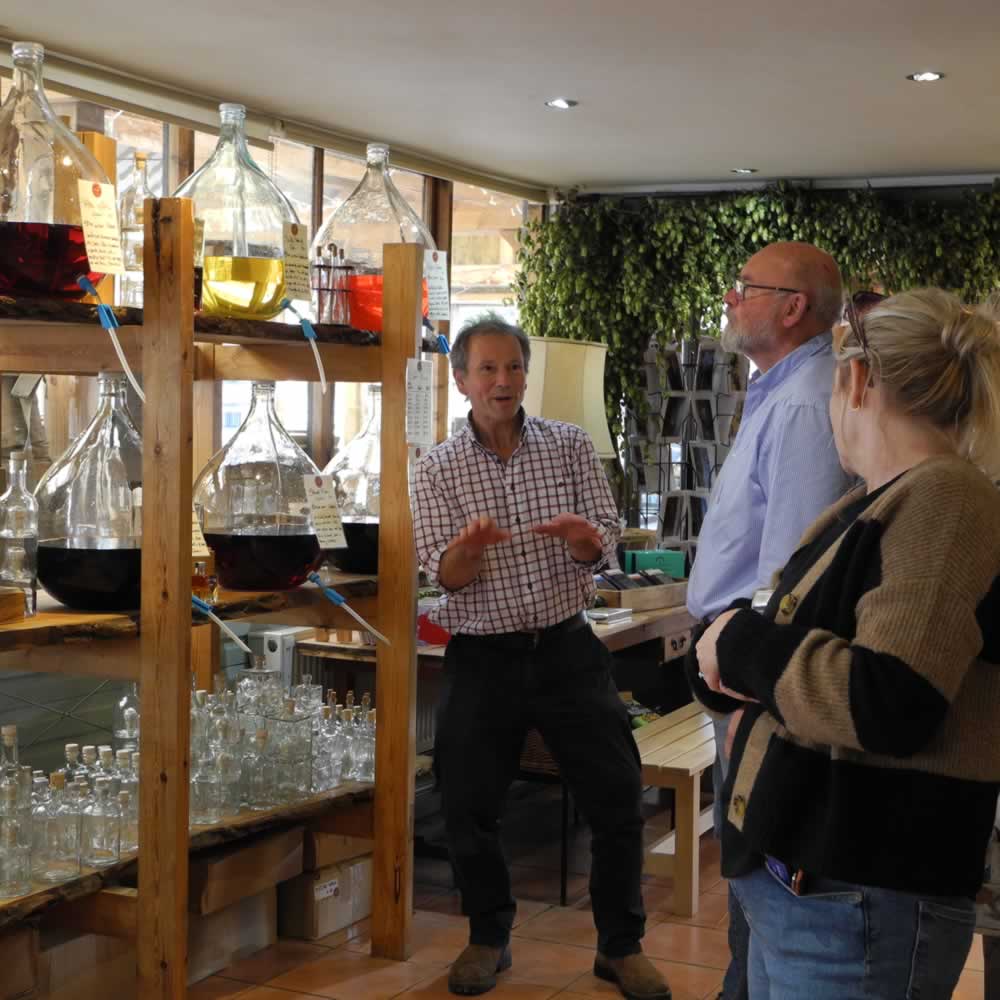 Demijohn has successfully opened a new Concession Store within the renowned Little Verzons Farm Shop near Ledbury, Herefordshire.
The opening is the fifth of its type within 18 months and represents a very positive step for the Company's future, after reorganising its business successfully post Pandemic.
The attractive looking Demijohn Concession Store allows Little Verzons Farm customers to enjoy a supervised taste of the quirky Demijohn drinks on offer, such as
Seville Orange Gin
26% and
Black Cherry Liqueur
20%. A suitable sized refillable glass bottle is chosen by the customer, which is then hand filled and labelled by a Staff member. A personal message can be added, making any purchase ideal as a consumable gift for Christmas.
Little Verzons Farm is owned by entrepreneurs Neil and Penny Chambers who bought the farm 8 years ago and have transformed it into an impressive Farm Shop, Café and venue for weddings and other events. Their knack of choosing engaging Staff, interesting food & drink products to sell and a love of upcycling furniture have created a unique environment for their customers to visit and relax in.
It was a shared love of good food and Scotch Eggs that brought these two businesses together. Demijohn's founder and ex British Army Officer, Angus Ferguson, first met Neil Chambers at a food event in 2012 when Neil sold him a rather delicious Scotch Egg for lunch. Called "The Black Watch," the Scotch Egg took its name from Angus's former Scottish Infantry Regiment, The Black Watch (Royal Highland Regiment).
Not only was Angus's lunch in 2012 memorable, Neil's other business, The Handmade Scotch Egg Company fortunately still make delicious Scotch Eggs for Little Verzons's Farm Café. It seemed only right therefore that after Neil had decided to go ahead with the Demijohn Concession Store, Angus's first lunch in Neil's Café some ten years later was a Black Watch Scotch Egg!
Existing Demijohn customers, with empty Demijohn bottles from previous purchases, are able to refill their bottles at any of the rapidly expanding network of
Demijohn Concession Stores
and benefit from saving money as well as being kind on the environment.
Savings for Demijohn bottle in-store refills can be as much as £4 per bottle, which is proving an extremely popular economy with returning eco-conscious customers currently.
Angus Ferguson, owner of Demijohn, said: "We are over the moon to be part of Little Verzons Farm's continuing success, and really hope our customers enjoy refilling their empty Demijohn bottles at this amazing Herefordshire farm shop. Neil and Penny's hardwork and genius is evident all over The Nest, as it is also known locally. We share the same ethos for making a business true to its heart, credible provenance, exceptional service and a serious love of Scotch Eggs!"
The
Demijohn Concession Store concept
is available to other UK Farm Shops and like minded independent food & drink retailers who are looking to offer their customers a highly engaging and sustainable way of purchasing food & drink.
Little Verzons Farm will be unveiling their new Demijohn Concession Store formerly as part of The Nest Fest, a planned pre-Christmas event for all the family on Friday 18th Nov 2022.
- Ends -
Note to Editors:
Demijohn was founded in Edinburgh in 2004 by Angus and Frances Ferguson and is now based at Glenlair Farm in South West Scotland. They source unusual, delicious artisan liqueurs, spirits, oils and vinegars from around the UK and Europe and sell them in a wide range of refillable glass bottles via their international mail order service and farm shop concession stores. Each bottle can have a free hand written personalised message added. Gift wrapping is also available.
Demijohn, Glenlair Farm, Castle Douglas, DG7 3DF
Tel: 0845 6048350 www.demijohn.co.uk
Demijohn Farm Shop Concessions:
https://www.demijohn.co.uk/store-locator
For photography, further press information or press samples, please contact: Frances Ferguson at Demijohn
Tel: 0845 6048350 Email: info@demijohn.co.uk
---