Demijohn wins tastebuds with new Bramble Scotch Whisky Liqueur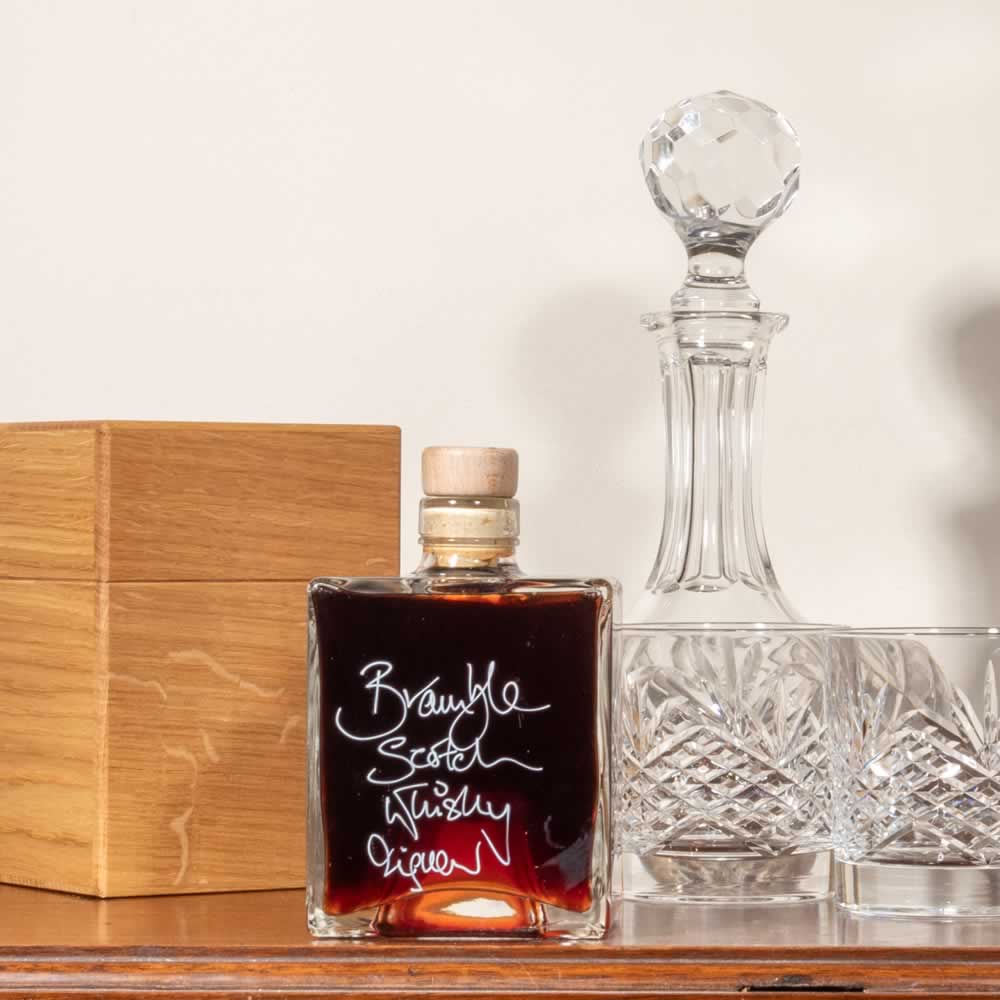 Demijohn's first founding drink in 2004 was a much loved Bramble Scotch Whisky Liqueur. Once made in a bath near Edinburgh by two passionate retired PE Teachers, its undisputed quality and quirky production helped the Company to succeed as the World's first liquid deli.
After 16 years of making this wonderful elixir, its talented creators finally retired from their alchemical genius at the end of 2020, leaving Demijohn with an empty shelf and many disappointed customers.
Since then, the search for a worthy successor to create a comparable Bramble Scotch Whisky has been relentless. Nick and Erin Bullard, of the newly created Moffat Distillery, thankfully accepted the challenge.
After many months of experiments, this talented couple have created a fabulous new version of our popular drink. The result is that Demijohn now have a whisky that is not only first class, it is produced locally to them in South West Scotland.
Fortunately, 2022 has also been a bumper year for hedgerow grown Brambles. Despite the extreme natural sweetness of locally foraged fruit, the finished product is sharp enough to be enjoyed by whisky drinkers and non-whisky drinkers alike.
Bramble Scotch Whisky Liqueur has a rich, port like taste and is used to make some of the favourite Demijohn cocktails, including the Fruity Highlander and the Demijohn Wibble.
Bramble Scotch Whisky also take its place in some of their popular Christmas gift sets such as the Cheeseboard Drinks Selection.
Angus Ferguson, owner of Demijohn, said: "The return of our founding drink is massively exciting, it feels like a fresh start. Bramble Scotch Whisky Liqueur, with its perfect balance of flavour, has been a hugely popular part of our range since 2004. I love it with a piece of cheese after supper, and is it great as a nip from a hipflask in the Winter. Nick and Erin are drinks magicians, and have drawn on their understanding of all things Whisky to create a masterpiece. This is also a magnificent example of our two local Scottish businesses working together to achieve reinforced success. A big cheers to that!"
Bramble Scotch Whisky Liqueur 18% is bottled in a range of distinctive refillable Demijohn bottles and available to purchase by mail order via Demijohn's website at:

https://www.demijohn.co.uk/bramble-scotch-whisky-liqueur-23-230

Example Christmas gifts with Bramble Scotch Whisky Liqueur:

https://www.demijohn.co.uk/the-cheeseboard-drinks-selection
https://www.demijohn.co.uk/father-s-day-gift-box


Whisky cocktails to try which use Bramble Scotch Whisky Liqueur:


- Ends -
Note to Editors:
Demijohn was founded in Edinburgh in 2004 by Angus and Frances Ferguson and is now based at Glenlair Farm in South West Scotland. They source unusual, delicious artisan liqueurs, spirits, oils and vinegars from around the UK and Europe and sell them in a wide range of refillable glass bottles via their international mail order service and farm shop concession stores. Each bottle can have a free hand written personalised message added. Gift wrapping is also available.
Demijohn, Glenlair Farm, Castle Douglas, DG7 3DF
Tel: 0845 6048350 www.demijohn.co.uk
Demijohn Farm Shop Concessions:
https://www.demijohn.co.uk/store-locator
For photography, further press information or press samples, please contact: Frances Ferguson at Demijohn
Tel: 0845 6048350 Email: info@demijohn.co.uk
---