The Demijohn News - In a Midsummer Muddle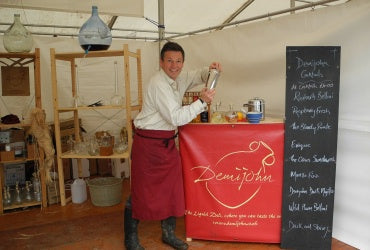 We may be a week or two past actual midsummer, but I am determined not to let our precious Summer slip away so easily! To remember it, we have created a new cocktail drink called the Midsummer Muddle.
Combining the rich fruity flavours of our delicious Morello Cherry Brandy 17%, smooth apple taste of our Somerset Pomona 20%, and marmalady twang of our delightful Seville Orange Gin 26%, this is cocktail to refresh, excite and enjoy.
Sip while watching the tennis or entertaining friends in the garden, fantastic!
Event News
We have been rattling our new Events and Marketing Manager, Mark Perkins, about the country over the last few weeks with our Demijohn travelling roadshow, exhibiting at events in Warwickshire, Cheshire and even Norfolk!
This week however we are back in Scotland for the official launch of our new Demijohn Cocktail Bar at the Scottish Game Fair at Scone Palace, near Perth.
We will be exhibiting again this year at Stand 29 on Osprey Row, between Fri 5th to Sun 7th July. Not only will we be bottling our products in our classic liquid deli style, but mixing up some of our favourite cocktail drinks with our products, including of course our new Midsummer Muddle.
Scone Game Fair is already regarded as one of the best country pursuit events in Scotland, this year it will hopefully be known as one of the best cocktail parties in Scotland! So with the temperatures forecast to reach the 20's this weekend, I can see our stand being a popular destination.
An updated list of all our events we are planning to attend for the year can be found on our Fairs and Events page.
Product News
Last week we began the now annual expedition to pick elderflower for our much loved Elderflower Vinegar. As a simple dressing or vinaigrette for fresh salad leaves, there is possibly nothing comparable to Elderflower Vinegar.
Closing up shop last Thursday, we went picking with an enthusiastic team of 7 in the fields around Wetherby, West Yorkshire. We gathered what we now think was a record amount, but a long hard day plundering hedgerows needs a good reward, and a serious lunch of a few Demijohn drinks is definitely the carrot!
Our hard won pickings were delivered later that evening to Mrs Sinclair's Kitchen, just North of Edinburgh. Amazingly after some speedy production
work (for which thankyou Mrs Sinclair!), our first batch of Elderflower Vinegar is ready and will be available to purchase in our shops, online and at Scone Game Fair from Friday this week.
We are planning a second picking day, weather dependent, next week here in Scotland. I think that lunch will be rather good too!
Whatever you are planning over the weekend, whether it be watching the tennis, gardening or partying with friends and family, we hope it is dry, warm and above all fun!
Yours,
Angus
---