Unique Wedding Favours that every Bride will Love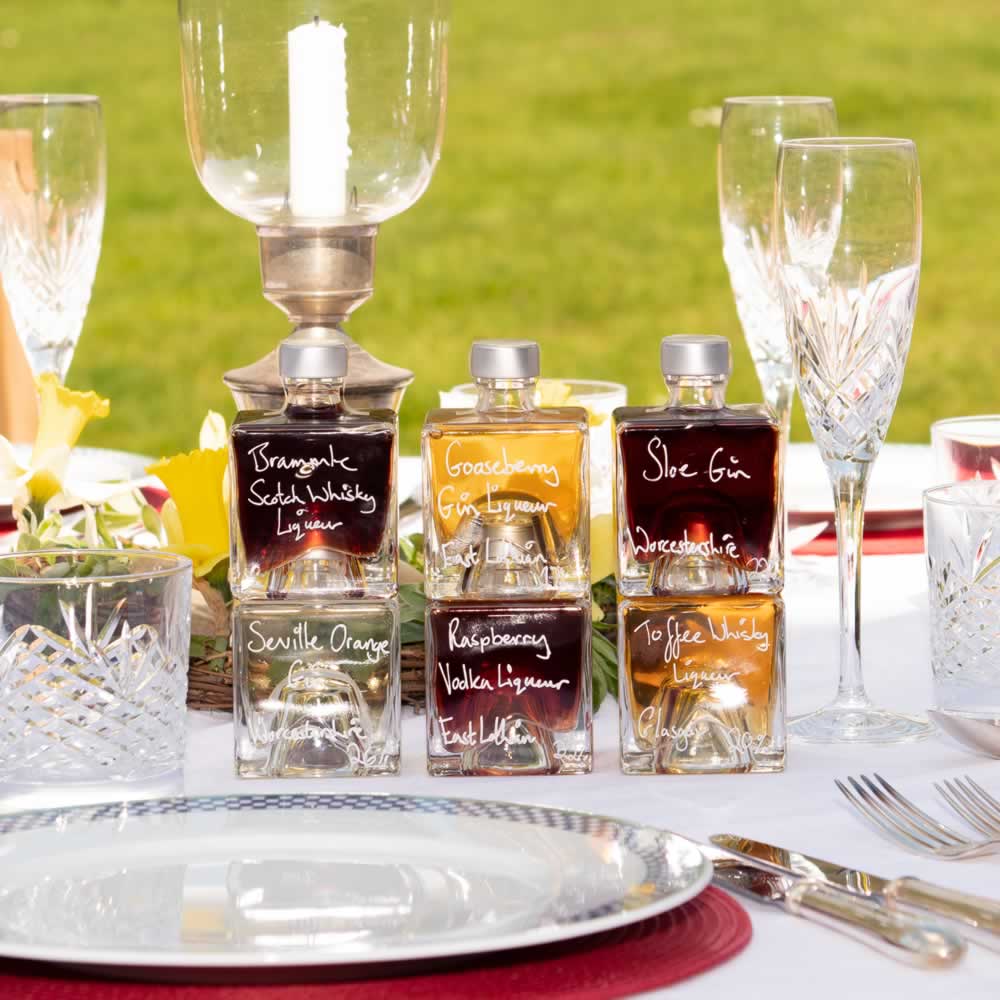 You may be sitting dreaming of your wedding day....
A wedding, for many of us, is one of the most important and special days of our lives. The question may also be pondering "What special gift do I give my guests?". The memorability of a unique wedding favour might be top priority for most couples, but you may also want a sense of uniqueness and exclusivity.
Well, you are in luck because you don't need to look any further. Demijohn can tick all the boxes when it comes to wedding favours for guests.
Memorability? check, uniqueness? check, sustainable? check. The list goes on but there really is something for everybody, such as choosing from a wonderful array of liqueurs, whiskies, rums, spirits, cordials, oils or even vinegars from our extensive range of handmade products.
Ideas for filling your bottle
Suggestions for some of our favourite liqueurs as wedding favours ideas, would be our deliciously fruity Raspberry Vodka Liqueur, fresh Rhubarb Liqueur and smooth Traditional Mead. These flavours all make for a lovely tipple with your favourite mixer. A gift that your guests will definitely remember.
Maybe alcohol isn't your thing? Well why not fill your bottles with some lovely oils or vinegars to make alternative wedding favours that are great to cook with or used as a salad dressing, the uses are endless.
Why not let your guests have a taste of our Yorkshire Lemon Rapeseed Oil or our unique Elderflower vinegar? In a similar way to all our other fruit vinegars, the Elderflower Vinegar can also be mixed with a little dash of tonic or lemonade to make a refreshing alcohol free vinegar spritzer.
Pick your bottle
You can choose from a great selection of bottles from our range to make quirky wedding favours, but we have picked some that might be a bit more fitting. For the 100ml bottles we have our teardrop shaped Goccia, a wiggly Fila, or a stackable square Mystic bottle.
For a something a little bigger we have a cube shaped bottle called a Verdi which holds 200ml. And finally for the romantics there is our Heart bottle. Like it's name suggests it is full of love with it's unique heart shape and can make cute wedding favors for guests. This bottle is a little bigger and holds 500ml.
Adding a personal touch
The key to unique wedding favours for guests is the personal touch. This makes your guests feel more included in your special day. By choosing Demijohn for your unusual wedding favours you have the option to add a free handwritten personalised message to every bottle.
You may want to keep this message simple, with just your title and your new shared surname and possibly the date of your marriage. Maybe you want to go a little more extravagant and have all of that plus a little extra message such as "thank you for being there" or you could wish them to "enjoy their little wedding favour."
Whatever you are looking for we are sure you can find a liqueur, alcohol free cordial, oil or vinegar that will suit you and your guests. With our easy and reliable service you can count on Demijohn to add that personal touch to your wedding.
---