Asparagustation - Asparagus Season is here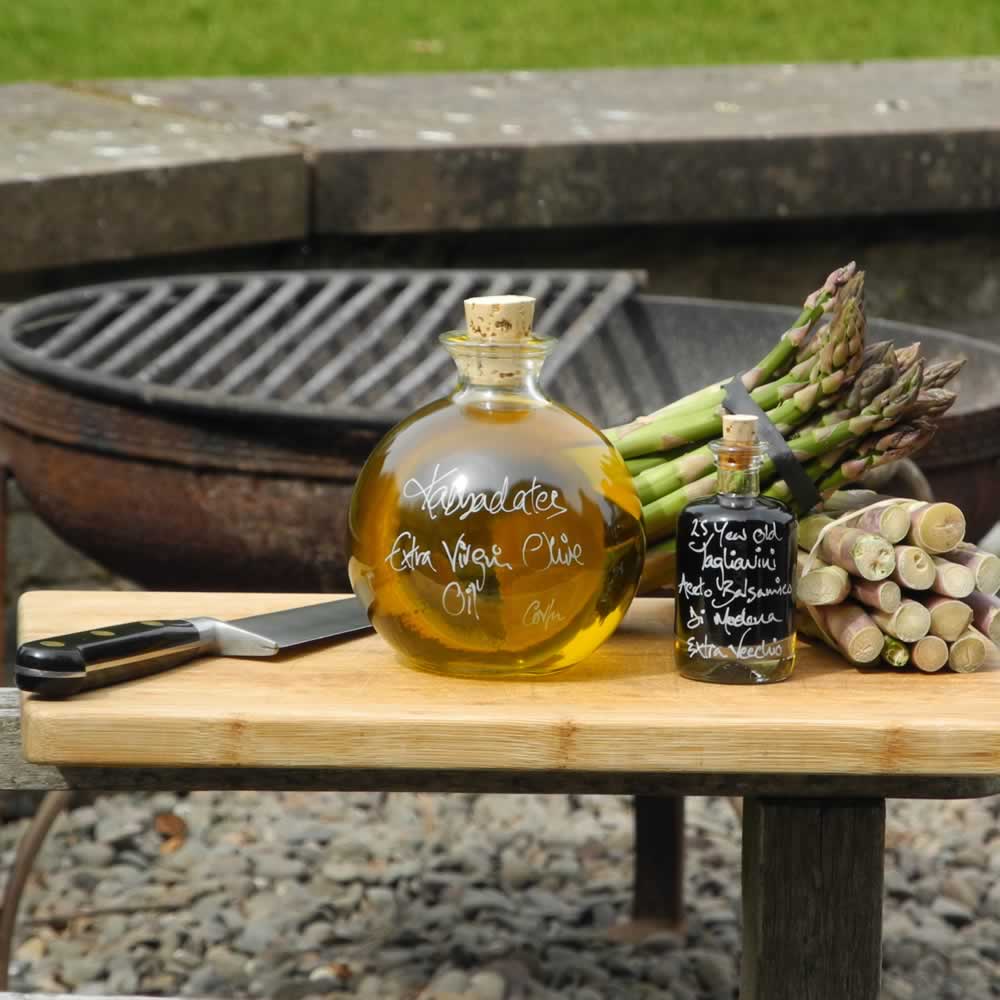 The beautiful spring weather that has appeared seems the perfect herald for a culinary highpoint in my year: British Asparagus season!
Each year, having shunned the imported variety that can be found in the supermarket, I get ridiculously over-excited when the bundles of British grown asparagus spears become available. Our favourite asparagus recipe is Scortched Asparagus Spears, where you simply BBQ asparagus using a little Olive Oil and Balsamic Vinegar.
This year, we have been promised an extended area of vegetable garden so I am proposing that, at last, we plant a row. This will, of course, herald the next agony of waiting patiently as the plants establish themselves before we can enjoy our own harvest. Fingers crossed that the rabbits don't seize the opportunity to enjoy them before we do!
Asparagus has been cultivated for many centuries. The Greeks and Romans were fans and the Ancient Egyptians were so enamoured of it that it was offered up to their Gods in homage. Whether they took to cooking asparagus on a grill or a BBQ is anyone's guess!
Having been cultivated in France for many centuries it started to be grown in Britain largely during the 17th Century. Now commercially grown in several areas of the South East of England I shall be curious as to whether I can conjure up temperatures in Scotland to allow the asparagus crowns to thrive.
In the meantime I will continue to do my little happy dance when they appear in the local greengrocer. Fortunately, in the interest of domestic harmony, this aspara-passion reigns throughout the family and we all delight in them in their many forms: bacon wrapped asparagus and grilled asparagus over the firepit, or briefly barbecue and then added to a pasta dish.
Our Tayberry and Asparagus Tripoline and our Pici Asparagus with Balsamic Vinegar are two fabulously simple pasta recipes both involve cooking asparagus on the grill and then dressing the spears with either fabulous fruity vinegar, or for real luxury, a splash of our 25 year old Balsamic Vinegar.
If you prefer to avoid the wood-smoky flavour of the barbecue you can wrap the asparagus in foil to allow them to steam rather than grill. Do also remember to save the woody ends to make a deliciously creamy asparagus soup. Though I would recommend sieving the mix after blending the cooked down ends as the fibres are very hard to break down. Failure to sieve risks your recipients choking and wiping their tongues frantically as if suffering from furballs (unless, of course, your family has better table manners than mine?)
Each year, at the arrival of this patiently awaited season, we share our excitement through one of our recipes so here are a few gathered together so that they don't disappear into the depths of our website (the virtual equivalent of Moomin Mama's handbag).
I hope you too can find these beautiful bunches of deliciousness and enjoy them with our range of fabulous oils and vinegars.
---