Awesome Edible Easter Gifts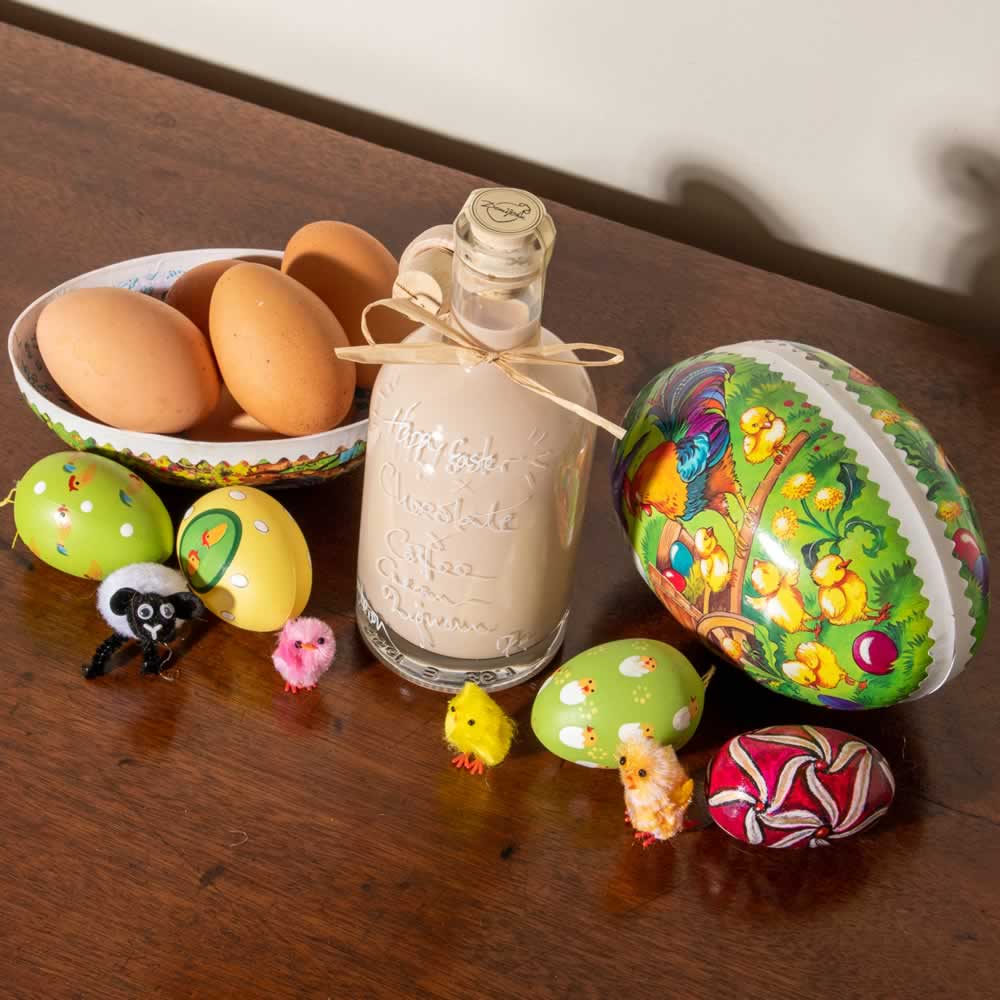 Easter is a perfect opportunity to gather with friends and family to exchange delicious easter gifts during the holiday period. We have a vast array of delicious food and drink treats to satisfy everyone for Easter.
Whether you are looking for Easter gifts suitable for children, or possibly something a little bit more grown up, you will surely be able to find something that will make this celebration feel remarkable and unique.
A delicious Easter treat
The essence of Easter is perhaps now most synonymous with the vast amount of chocolate consumed during this festive season. If you try our Chocolate and Coffee Cream Liqueur 17%, we can almost guarantee that it will become a new Easter staple within your Easter tradition.
Real Devonshire Cream, combined with the Somerset Cider Brandy and blended with high quality dark chocolate and roasted coffee beans makes for an outstanding chocolaty treat that is perfect for any grown up Easter gift.
If this is not enough chocolate for you, we would also propose our Chocolate Tree Whisky Nibs Chocolate bars. Each bar holds a deliciously dark, almost bitter handmade chocolate with a whiff of Islay Malt Whisky about it. Each bite will give a taste sensation you are unlikely to forget in a hurry!
Treat yourself to a healthy Easter Salads
Since we are mentioning things that are unlikely to be forgotten we must mention our unbelievable selection of oils and vinegars that we offer for this upcoming Easter. The selection is large and varied. While it is hard to pick a favourite, our delectable Elderflower vinegar is a personal favourite.
The Elderflower Vinegar is an extremely rare creation that will delight all who try it. It is limited in supply by the very nature that elderflowers are not commercially available to buy. They need to be picked by hand.
In terms of uses for this unique product we would highly recommend using it as a dressing for salads, either on its own or mixed with a little Extra Virgin Olive Oil. It can also be used to make a wonderful Vinaigrette with our Lemon Rapeseed Oil.
Elderflower Vinegar is also good for dressing fruit salads, and seriously delicious over ice cream! Therefore, if you are looking for a non-alcoholic Easter gift idea for this upcoming Easter why not give this delicisiou dressing idea a try?
Easter gifts for Children
If you are looking for Easter gifts more suitable for children, we would recommend our alternative selection of fantastic chocolate bars and hot chocolate. A delicious Chocolate Tree Milk Chocolate Bar would be a perfect sweet choice that would not disappoint the sweetest of tooths.
We would also encourage our slightly richer chocolate, the Chocolate Tree Maya Dark Bar, that has a higher cacao percentage, making it richer and healthier while keeping the delicious chocolate flavour that we all love.
Chocolate bars are not the only treat we offer this easter, our new Chocolate Tree Hot Dark Chocolate is an exquisite addition to any chocolate lovers' arsenal. This hot chocolate has a fantastic dark chocolate base with a sweet and rich chocolate flavour resulting in the most intense chocolate taste we have ever experienced.
How about an Easter Hamper?
If you are undecided on what would be the best gift idea for Easter, we have a new and wonderful variety of Easter hamper that would appeal to anyone who likes a gift with wide variety of food and drink on offer.
Our new Easter Gift Box is our new hamper idea, designed specifically for all the Easter family celebration needs. This hamper has an amazing variety of gifts that will hopefully please every generation.
The hamper includes our fresh and original Rhubarb Liqueur 20% from Inverness, a lovely Chocolate and Coffee Cream Liqueur 17% from Devon, a new alcohol free Spiced Plum Cordial, a zesty Yorkshire Lemon Rapeseed Oil, a rich Scottish Bramble Vinegar and finally our new Chocolate Tree Dark Hot Chocolate.
The new Easter Gift Box comes neatly packed in a sustainable hamper box, ready for you and your loved ones to unpack and enjoy in a happy way on Easter Sunday.
---