Bagpipes, Toasts and Artisan Gins Herald the opening of Demijohn in Oxford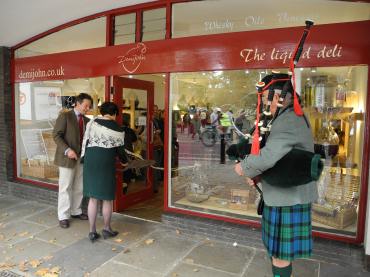 To the skirl of the bagpipes, the clinking of glasses, and oos and aahs as delicious artisan drinks were quaffed Demijohn opened its newest and largest shop at 20 Little Clarendon Street in Oxford yesterday. This unusual liquid deli attracted hundreds of locals, as well as VIPs who all wanted to taste the action.
Dr Alice Prochaska, the Principal of Somerville College, (left) which owns the land Demijohn is on, cut the raffia ribbon to declare the shop open. Demijohn has expanded from its Scottish roots to tempt the tastebuds of Britain's southern population.
Demijohn is far more than a shop – it is a new way of retailing, where predominantly British-made quirky liqueurs, spirits, whiskies, oils and vinegars are sourced and customers are encouraged to taste before purchasing. Oxford is the largest of the four Demijohn shops with about 50 delicious drinks, oils and vinegars on offer.
Walking into Demijohn is a booze or foodie lover's paradise with its large glass jars of unusual liquids, each with its own distinctive colour and taste. With staff knowledgeable and passionate about the products, there is no end of cocktails, drinks and recipes that can be made using Demijohn's products.
As the ultimate eco-retailer customers also choose the size and shape of re-useable bottle, which is then filled with the liquid of your choice, making it an eco-friendly purchase. At a time when many small shops are struggling, Demijohn is expanding, as its method of selling and quality of its products continue to delight customers all over the world.
Demijohn's founder Angus Ferguson says: "Increasingly the British consumer is searching for unique hand-made British products that not only taste great, but have a known provenance that they can understand and relate to. We at Demijohn are offering exactly this. From our humble beginnings with one small shop in Edinburgh nine years ago, we are now expanding to our fourth shop with our sales growing at a steady 15% year on year and our online sales rocketing.
"We have recently had a big demand in the Oxfordshire area for our products so it made sense to open our first Southern England shop here. With Oxford being such a centre for fine food and drink, as well as having a healthy visitor market, we are becoming a great foodie attraction. Visiting Demijohn is like a journey of discovery into foodie heaven – by tasting the products customers know what they are buying and are enlightened further by learning more about how to consume them, such as in different cocktail recipes, dressings or sauces."
Demijohn also offers a unique personalisation service so the message of your choice can be added to the bottle – for free!

Demijohn's products are both quirky and sophisticated and are sourced from small artisan producers from predominantly across the UK who, like Demijohn, have a passion for good food and drink produced in an eco-friendly way.
- Ends -
Note to Editors:
Demijohn sources unusual, delicious artisan liqueurs, spirits, oils and vinegars from around the UK and Europe and sells them in a wide range of re-useable glass bottles. Each bottle can have a free personalised message added.
382 Byres Road, Glasgow, G12 8AR Tel: 0141 337 3600
32 Victoria Street, Edinburgh, EH1 2JW Tel: 0131 225 3265
11 Museum Street, York, YO1 7DT Tel: 01904 637 487
20 Little Clarendon Street, Oxford, OX1 2HP Tel: 01865 552179
Normal Opening Hours: Mon-Sat 10-6pm, Sun – 11.30-5pm
For photography, further press information or press samples, please contact: Fenella Taylor at Fenella Taylor PR. Tel: 01389 830390 Mobile: 07721 324696 Email: fenella@fenellataylorpr.co.uk
---