Boxing it up for an original Christmas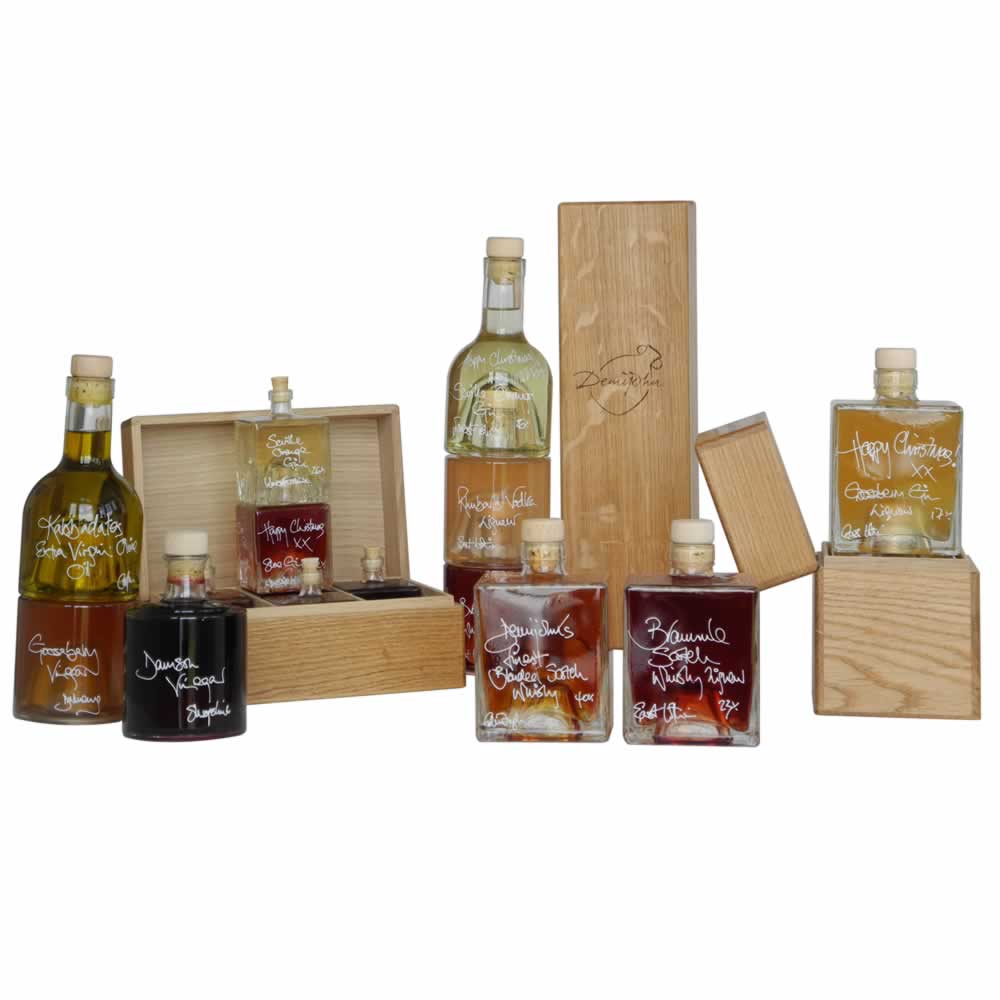 To give a Christmas gift that not only looks good and tastes good but is also original and desirable is hard to find. Artisan drink-ie and foodie company Demijohn have launched this week the most stunning presentation boxes. They are filled with delicious liqueurs and spirits, and all at different price points to meet your Christmas needs for those who enjoy the finer things in life.
For the sleek family member or friend choose the Impilabile Presentation Boxes which holds 3 stackable x 250ml Impilabile bottles in a stunning upright box. Customers can choose the contents of the bottles from any of the Demijohn
products, but Demijohn recommend the lovely combination of Seville Orange Gin, Rhubarb Vodka and Bramble Scotch Whisky Liqueur as a sophisticated trio. The Liqueur Tower with Oak gift box is priced at £88.15.
For the individualist there is the Sloe Gin Gift Box which contains a 500ml Mystic bottle of the world's best artisan gin (as voted in the World Sloe
Championships for the last 3 years running) and comes in the most stunning oak presentation box. Made in Worcestershire from sloes collected from the hedgerows, often by the Demijohn team who shut up shop to do a day of foraging, this is a traditional liqueur with an added bitter taste making it ideal as a fresh air sharpener, an after dinner digestif or even in cocktails. But hurry as stocks of this product are limited given its seasonal nature. Priced at £62.95.
For the person who loves luxury then The Liqueur Gift Box is ideal. Hand created oak boxes hold 6 x 100ml bottles of the best of Demijohn's liqueurs, including Rhubarb Vodka Liqueur, Seville Orange Gin, Spiced Rum, Sloe Gin, Morello Cherry Brandy and Bramble Scotch Whisky Liqueur. Of course, if you'd rather choose your own liqueurs then that is also possible. Priced at £90.55.
If budgets are tight the Mini Christmas Stacker is perfect, priced at just £27.60. Three Mystic
100ml bottles are filled with warming Christmas drinks – Sloe Gin, Spiced Rum Liqueur and Morello Cherry Brandy. This little present will certainly spice up a Christmas morning.
For the teetotaller or driver in the family Demijohn have a non-alcoholic gift - The Cordial Gift Set, comprising 3 charming 100ml Chiara bottles filled with our handmade fresh Raspberry Cordial, Lemon & Mint Cordial and Rhubarb & Ginger Cordial, all held together in a poplar wood rack or tantalus. Only a small amount of cordial is required to be diluted with still or sparkling water, garnished with lime, lemon or other fruits and is a very upmarket and delicious option for non-drinkers and drivers. Priced at £29.10.
The appeal of the Demijohn gifts is that they can all be personalised with either a complimentary handwritten message on the bottles or for an additional fee, an engraving of choice can be marked in the actual wood.
http://www.demijohn.co.uk/sloe-gin-gift-box
http://www.demijohn.co.uk/the-liqueur-gift-box
http://www.demijohn.co.uk/the-liqueur-tower-with-oak-gift-box
http://www.demijohn.co.uk/cordial-gift-set-raspberry-lemon-and-rhubarb
http://www.demijohn.co.uk/mini-christmas-stacker
All can be bought at one of the Demijohn shops in Edinburgh, Glasgow, York or Oxford or online at www.demijohn.co.uk. Christmas done in one order so hurry and place it now!
- Ends -
Note to Editors:
Demijohn sources unusual, delicious artisan liqueurs, spirits, oils and vinegars from around the UK and Europe and sells them in a wide range of re-useable glass bottles. Each bottle can have a free personalised message added.
382 Byres Road, Glasgow, G12 8AR Tel: 0141 337 3600
32 Victoria Street, Edinburgh, EH1 2JW Tel: 0131 225 4090
11 Museum Street, York, YO1 7DT Tel: 01904 637 487
20 Little Clarendon Street, Oxford, OX1 2HP Tel: 01865 552179
Normal Opening Hours: Mon-Sat 10-6pm, Sun – 11.30-5pm
For photography, further press information or press samples, please contact: Fenella Taylor at Fenella Taylor PR. Tel: 01389 830390 Mobile: 07721 324696 Email: fenella@fenellataylorpr.co.uk
---