Favour Your Guests at Your Wedding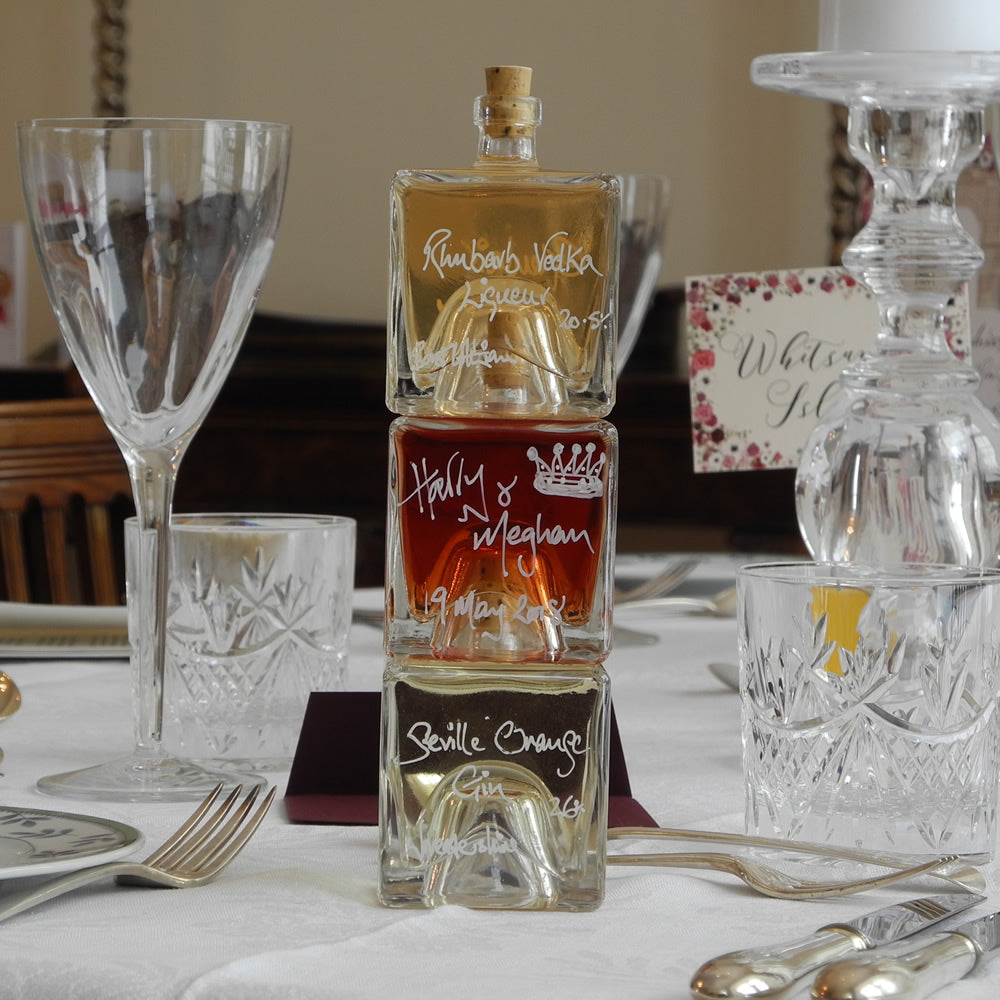 What would make your wedding guests smile just a little more on your special day? It would have to be the sight of Demijohn's delicious artisan alcoholic personalised wedding favours, which not only provide a great memorable gift but also give a splash of colour to the wedding table.
Gone are the days of sugared almonds or crass gifts, your wedding guests will love these wedding favours – for a summery theme a small bottle of Scottish Raspberry Vodka is ideal or for the romantics Traditional Mead is the drink of love. If you'd prefer a very Scottish gift, Bramble Scotch Whisky Liqueur is popular or to add a touch of spice to the day opt for Spiced Rum Liqueur.
What makes these wedding favours particularly personal is each bottle can have a message on it or attached to it. The bride and groom choose the size and shape of the glass bottle (from miniature 40ml up to bigger 100ml bottles – or even larger) and then can choose one of over 60 delicious artisan liqueurs, whiskies, spirits or fruit vinegars to go inside.
The range of Demijohn products is huge and each liquid is more wonderful than the last. The favourites for wedding favours are Raspberry Vodka Liqueur, Damson Gin Liqueur, Bramble Scotch Whisky Liqueur, Toffee Whisky Liqueur, Traditional Mead or Spiced Rum Liqueur and all can be drunk on their own or with a mixer or in a cocktail. For those wanting something non-alcoholic there are natural cordials or fruit vinegars, which are delicious when mixed with sparkling water.
The bottles are perhaps part of the love of these wedding favours as they can either be small round or larger wiggly Fila bottles or even much larger heart-shaped bottles. And guests can then return to a Demijohn shop and have it refilled.
Demijohn Owner Angus Ferguson says: "Our personalised wedding favours have grown to be hugely popular with weddings at anytime of the year, especially in the Spring and early Summer. Our understanding that each wedding is unique and special, allows us to be a great help when making choices about our beautiful, understated handmade drinks for wedding guests and table centre pieces. Our offer of adding a tasteful handwritten name, or details of the Bride and Groom and wedding date, to each bottle can really add to the magic of a table place setting. We believe we can offer some of the most original, personalised wedding favours around."
Prices start from £4.32/bottle with discounts for larger orders. So make sure you contact Demijohn to discuss your wedding favours now before the summer rush!
https://www.demijohn.co.uk/gift-ideas/wedding-favours-ideas
- Ends -
Note to Editors:
Demijohn sources unusual, delicious artisan liqueurs, spirits, oils and vinegars from around the UK and Europe and sells them in a wide range of re-useable glass bottles. Each bottle can have a free personalised message added.
382 Byres Road, Glasgow, G12 8AR Tel: 0141 337 3600
32 Victoria Street, Edinburgh, EH1 2JW Tel: 0131 225 4090
11 Museum Street, York, YO1 7DT Tel: 01904 637 487
Normal Opening Hours: Mon-Sat 10-6pm, Sun – 11.30-5pm
For photography, further press information or press samples, please contact: Fenella Taylor at Fenella Taylor PR. Tel: 01389 830390 Mobile: 07721 324696 Email: fenella@fenellataylorpr.co.uk
---