It is Party Time on Little Clarendon Street on 20th May!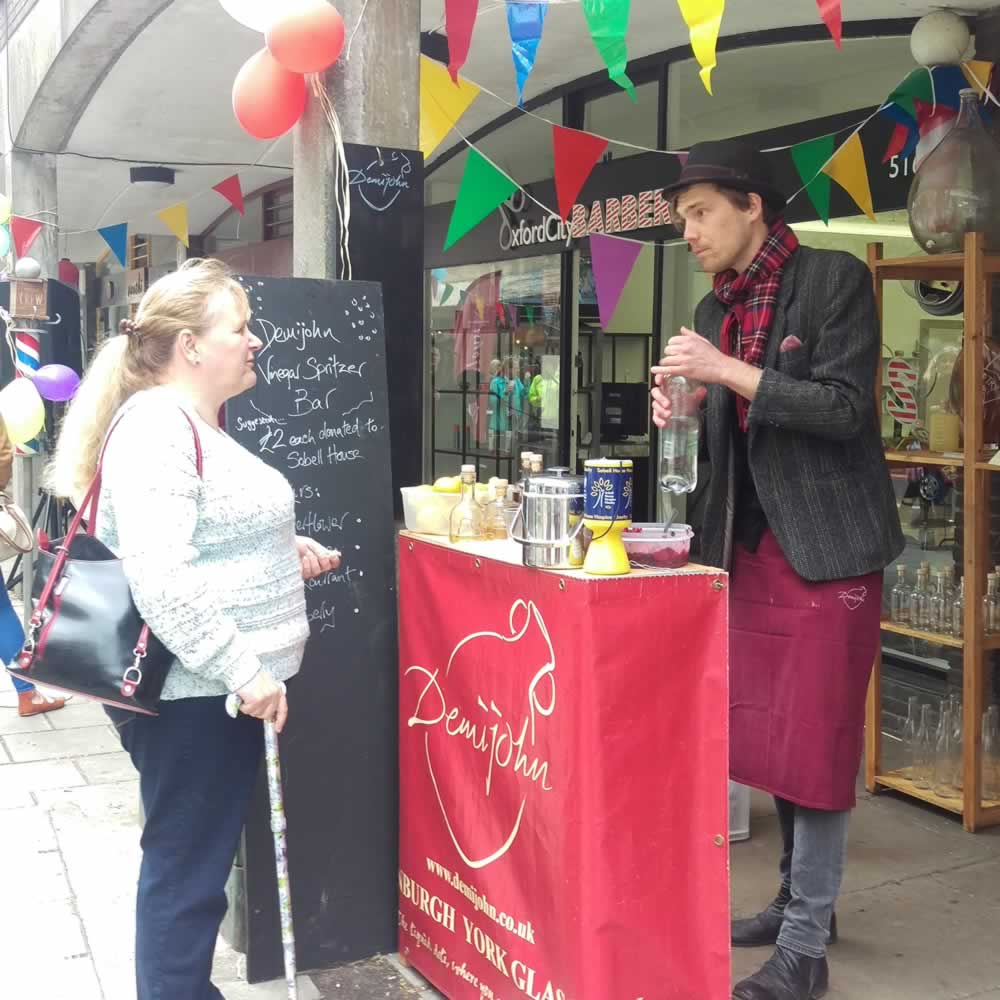 It's party time on Little Clarendon Street as it hosts its second street party. Following the incredible success of last year's event when hundreds of people turned out, the local traders have got together to organise a bigger and better event this year on Sat 20th May from noon until 5pm.
Organised by liquid deli Demijohn who have a new manager in place, this initiative is to show that local retail is thriving and can offer so much more than soulless shopping centres. Most of the Little Clarendon Street businesses are participating (some 30 shops or businesses) and offering special one-off tastings, offers and activities. The street will be closed to normal traffic for the afternoon to allow for the entertainment.
Live music will be provided by local musicians and choirs, supported by performing arts groups. Entertainment will be on offer for the younger visitors to make it a family day out, and a general carnival atmosphere will abound.
Demijohn Manager Manon Deslauriers said: "Local business is at the heart of any community and Little Clarendon Street is the heart of Jericho. Life would simple not the same without the buzz of local shops restaurants, bars, and other wonderful businesses. As summer approaches, Little Clarendon Street is ready to celebrate and ensure that the street's future is a healthy and prosperous one. The party is being run by the Little Clarendon Street traders, old and new, with support from the council. We are offering mocktails and an origami workshop, along with singing and dancing. Other shops are providing food and drinks alongside exciting events, such as free tastings, complimentary ice cream, magicians, special cocktails, a fashion show."
From delis, bread shops, designer clothes shops such as Olivia May, specialist shops, cafes and restaurants, to the local charity shop (Sobell House Hospice) and hair salons, almost every trader will be putting on something special to make the street THE place to be on 20th May.
Local shopping certainly offers better quality of goods and a far better feel good factor in the age of internet shopping and 24 hour supermarkets. This local retail initiative is to delight all so put the date in your diary and make sure you're on Little Clarendon Street on 20th May.
- Ends -
Note to Editors:
Demijohn sources unusual, delicious artisan liqueurs, spirits, oils and vinegars from around the UK and Europe and sells them in a wide range of re-useable glass bottles. Each bottle can have a free personalised message added.
382 Byres Road, Glasgow, G12 8AR Tel: 0141 337 3600
32 Victoria Street, Edinburgh, EH1 2JW Tel: 0131 225 4090
11 Museum Street, York, YO1 7DT Tel: 01904 637 487
20 Little Clarendon Street, Oxford, OX1 2HP Tel: 01865 552179
Normal Opening Hours: Mon-Sat 10-6pm, Sun – 11.30-5pm
For photography, further press information or press samples, please contact: Fenella Taylor at Fenella Taylor PR. Tel: 01389 830390 Mobile: 07721 324696 Email: fenella@fenellataylorpr.co.uk
---