Oxford's Little Clarendon Street Organising Street Party to Celebrate Local Retailing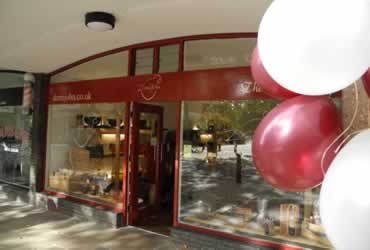 Shopping locally offers so many more opportunities and variety, while supporting the lifeblood of a community. To celebrate the best of what Oxford offers, Little Clarendon Street has re-instated the age old tradition of the street party with a special Street Party being held on Sat 21st May from noon until 6pm.
The brainchild of Angus Ferguson, owner of relative newcomer Demijohn which sells the most delicious array of hand-crafted spirits, liqueurs, oils and vinegars, this initiative is to show that local retail is thriving and can offer so much more than soulless shopping centres. All the Little Clarendon Street businesses approached are participating (some 25 shops or businesses to date) and offering special one-off tastings, offers and activities.
Live music will be provided by local musicians, supported by local performing arts. Entertainment will be on offer for the younger visitors to make it a family day out, and a general carnival atmosphere will abound.
Angus Ferguson said: "Local business is at the heart of any community like Little Clarendon Street and Jerricho in Oxford. Life would simply not be the same without the buzz of its local shops, restaurants, bars and wonderful other businesses. With Summer on our doorstep, it is time for a party in Little Clarendon Street to celebrate the many new businesses that have arrived over the last few years and ensure the streets future is a healthy and prosperous one. The last Little Clarendon Street Party was held about 10 years ago (long before we arrived in Oxford) and we felt it was high time to re-instate the party and invite local residents, and in fact people from all over Oxford and the surroundings, to come and see what we have to offer and why this street is quite so special.
"The party is being run by the Little Clarendon Street traders with support from the Council. Special tastings, activities and offers on the day from delicious food and drink to lively music will make the party atmosphere!"
From delis, bread shops, specialist retailers, cafes and restaurants, to the local charity shop (Sobell House Hospice) and hair salons, every trader will be putting on something special to make the street THE place to be on 21st May.
Local retail initiatives are rare in this age of internet shopping and 24 hour supermarkets but there is no doubt that we get a far better feel good factor, not to mention better quality of goods and often prices, if you shop locally. Put the date in your diary and make sure you're on Little Clarendon St on 21st May.
Ends -
Note to Editors:
Demijohn sources unusual, delicious artisan liqueurs, spirits, oils and vinegars from around the UK and Europe and sells them in a wide range of re-useable glass bottles. Each bottle can have a free personalised message added.
Demijohn, 20 Little Clarendon Street, Oxford, OX1 2HP Tel: 01865 552179
Normal Opening Hours: Mon-Sat 10-6pm, Sun – 11.30-5pm
For photography, further press information or press samples, please contact: Fenella Taylor at Fenella Taylor PR. Tel: 01389 830390 Mobile: 07721 324696 Email: fenella@fenellataylorpr.co.uk
---