The Demijohn News - Spring starts and ends with Rhubarb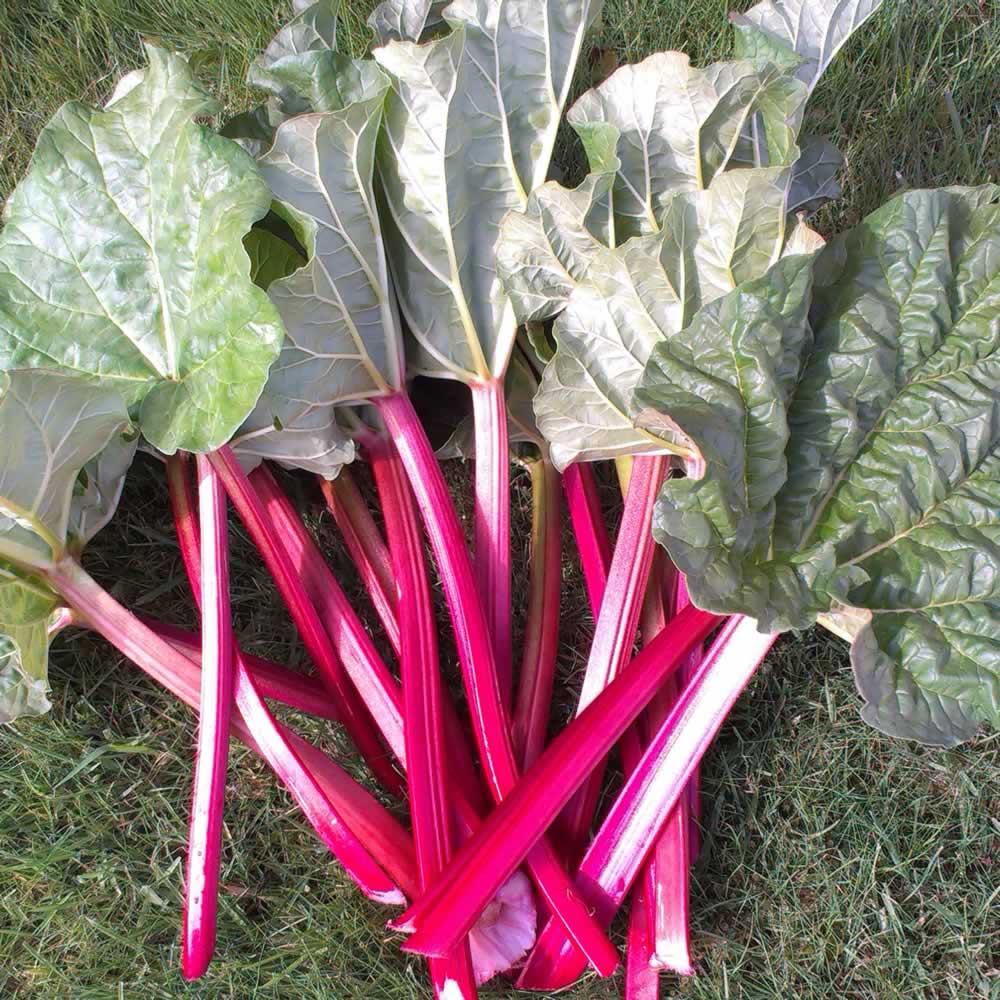 Spring starts and ends with Rhubarb
Oh the joys of Spring weather. But what really tells us when Spring has started or ended for that matter? For me it is not the balmy weather, not the appearance and disappearance of many lurid yellow daffodils. It is not birds busily nesting and their chicks hatching, nor young lambs leaping. For me Spring is defined by our crop of rhubarb, crucial for our Rhubarb Vodka Liqueur.
New striking red stalks dart from a black soil in a confident upwards movement before enthusiastically bursting open with fabulously huge green leaves. Rhubarb's energy seems at odds with virtually all else growing in the garden, and then like daft sheep following each other to an open gate, the rest of nature follows. Before we know it, Summer is here, whoopee!
And what a vegetable rhubarb is, cunning and clever. Despite its foul taste when raw and poisonous leaves, its healthy look compels most to treat it as a fruit. It can make delicious drinks like our Rhubarb Vodka Liqueur 20.5% or sumptuous puddings like our Rhubarb and Mead Pavlova or Rhubarb and Ginger Wine Trifles.
Spring starts and ends with rhubarb, think about it.
Events News
2016 got off to a flying start with an evening of Demijohn Cocktails at the amazing Rutherfords Micro Pub in Kelso on 31st March. Run passionately by owners Simon and Debbie Rutherford, they kindly invited me along to mix up a few cocktails for their customers. The result was a tremendously fun evening for me, I only hope all their guests enjoyed the performance too! If you have yet to visit this small but perfectly
formed establishment in the Scottish Borders, it is worth the trip.
Badminton
Thankyou also to all those who came to see us at the BBC Good Food Spring Show in Harrogate. Next week, Danny and I we will be in a field exhibiting at the famous Badminton Horse Trials between 4-8 May. If you happen to be in Gloucestershire and fancy a fun day out, remember to pack your bottles for refilling and please come and see us. We are located on the Food Walk, where the sun always shines!
Our Oxford Shop is planning a mega party with our neighbours. If you are near Little Clarendon Street in Oxford on Sat 21st May please come and join in our Street Party between noon and 6pm to celebrate our vibrant street, full of unique independent businesses. Music, performing arts and great food and drink will make for a seriously fun carnival atmosphere on the day and there is no cost to take part. Click for more details and show your support.
All our events for the year can be found on our Fairs and Events page
Father's Day Competition
Fathers are getting restless, knowing that Father's Day on Sun 19th June is approaching fast! Enter our Father's Day competition now to try and win our fabulous Mini Whisky Rack delivered free to your door in time for Father's Day. More great present ideas can be found in Father's Day Gifts.
Have a great weekend trying to work out when Spring is to end and Summer begin.
Yours,
Angus
---