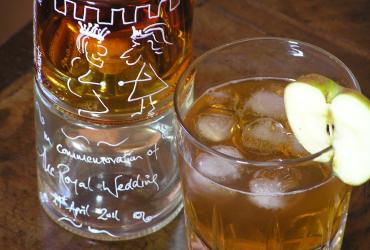 Edinburgh Apple Royal was a cocktail created to celebrate The Royal Wedding between Prince William and Miss Catherine Middleton which took place at Westminster Abbey on 29 April 2011. It is a deliciously spring fresh aperitif, with a distinctive taste of apples and a hint of citrus. This drink brings together the finest taste of British apples used in the production of our Somerset Pomona 20% and the Spring freshness of our marmalady Seville Orange Gin 26%.
Ingredients
Preparation
Add ingredients to ice in an old fashioned whisky tumbler, top up with indian tonic water and garnish with a slice from a very British Apple such as Kingston Black, Harry Masters Jersey or Brown Snout!
Anything else I should know?
Like everything at Demijohn there is a good story behind the creation of this new cocktail drink. Our Royal Wedding Cocktail was to be both fitting, appropriate and drinkable in Royal circles. To encourage some ideas we held a friendly competition between our 3 shops, with the intention of the newly created drinks being judged at our annual Staff Christmas Party. In 2011 it was held in our Glasgow Shop in early February.
The theme for the party was A Twist on Burns and those in attendance not only performed acts of poetry and music, in keeping with the tradition of Burns, but they also wore an item of fake hair! The prize for the best cocktail was relief for the creators from the fake hair they were wearing for the remainder of the party. So, competition on the night as you can imagine was stiff, but Demijohn Edinburgh won with their fabulous creation Edinburgh Apple Royal, a fitting and appropriate drink for even the finest State ceremony and certainly a drink to mark the Royal Wedding!
Related Topics:
---