Corks popping for new Demijohn Pop Up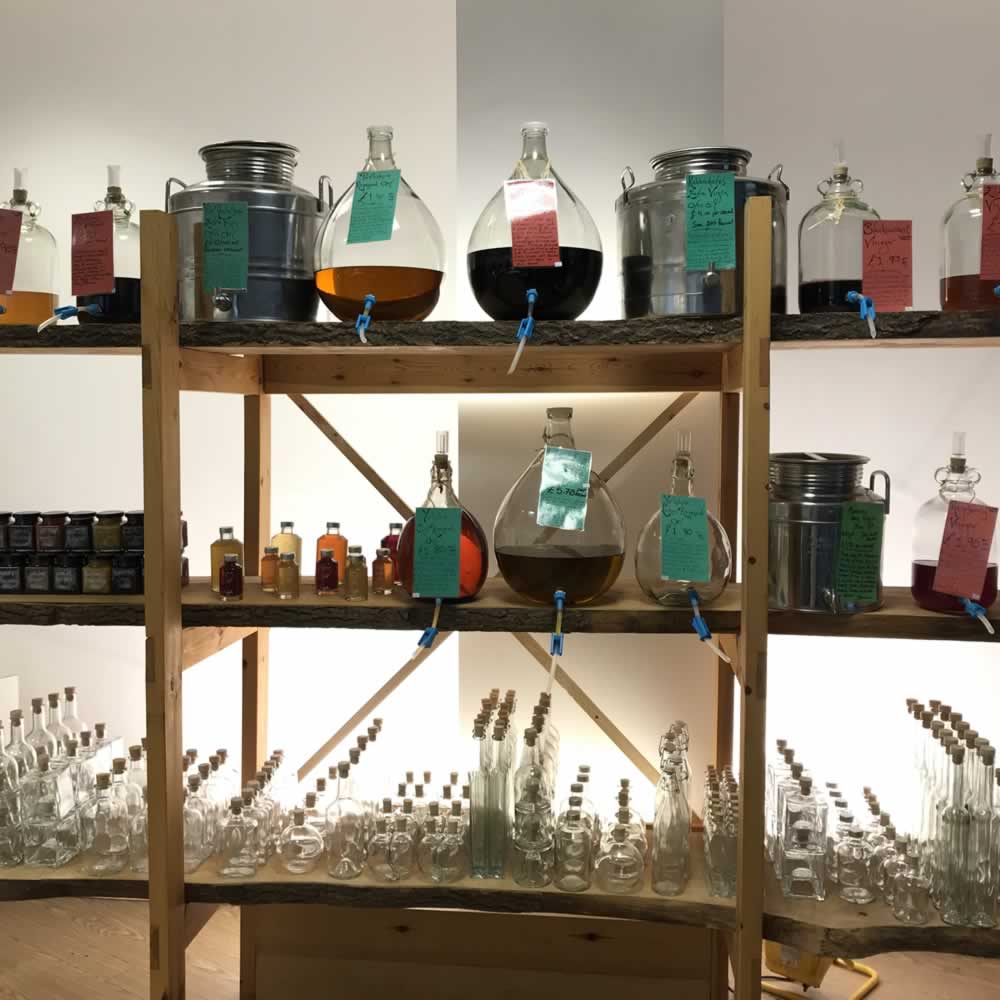 Clearly bucking the trend for retail start-ups is Scottish liquid deli Demijohn who this week opened a new pop-up in Glasgow's main shopping centre, Buchanan Galleries. Such is the demand for their artisan liqueurs, spirits, whiskies, oils and vinegars, especially in the run-up to Christmas, that they decided to expand with this new shop.
Stephanie Fraser, Chief Exec of Bobath Scotland, one of Demijohn's chosen charities, will cut the raffia on 12 Oct to officially declare the shop open.
With a very visual and inviting shop décor, complete with large glass demijohns perched on beech shelves which come from ancient fallen beech trees from Fife, the Demijohn pop up is the perfect place to source innovative and delicious Christmas gifts. With their ethos of encouraging customers to try before buying, this shop will be a real pick-me-up for weary shoppers in the centre of Glasgow.
Going to Demijohn is to most adults what walking into a sweet shop is to children – shelves of delicious tasting and sounding drinks of colours and strengths from Bramble Whisky Liqueur to Seville Orange Gin, Rhubarb Vodka to Butterscotch Cream Liqueur. With staff knowledgeable and passionate about the products, there is no end of cocktails, drinks and recipes that can be made using Demijohn's products. Such is their passion that at times they head to the hedgerows to collect sloes for the Sloe Gin, elderflowers for Elderflower Vinegar and brambles for Bramble Scotch Whisky Liqueur.
Demijohn Managing Director Angus Ferguson said: "All we hear in the press is how challenging the state of retailing is at the moment. At Demijohn we are always optimistic and building on our current healthy sales from our shops on Byres Rd, Edinburgh and York, this pop-up is the perfect way to get into the city centre in the pre-Christmas rush, and allow those shoppers from other parts of Glasgow and beyond to come and enjoy the Demijohn experience.
"So often customers are looking for something different and a bit quirky for Christmas, and this is exactly what we offer. With a wide selection of re-fillable bottles, customers choose the contents of the liquid (after tasting naturally!) and then can even have a personalised message added for free. This traditional, friendly method of shopping is appealing to so many who are tired of the faceless 21st century retailing."
Kathy Murdoch, centre manager at Buchanan Galleries, said: "We really like Demijohn's ethos of combining bespoke products with a great customer experience and I'm sure they'll be a big hit with customers looking for something a little different this Christmas".
This month Demijohn is also opening a stand alone counter in Loch Leven's Larder Farm Shop in Fife, in another expansion of the business.
Demijohn is located in Unit 8 / L4 on the first floor of the Buchanan Galleries and is open 10am to 7pm daily, with late opening on Thursday until 8pm.
- Ends -
Note to Editors:
Demijohn sources unusual, delicious artisan liqueurs, spirits, oils and vinegars from around the UK and Europe and sells them in a wide range of re-useable glass bottles. Each bottle can have a free personalised message added.
Unit 8/L4, First Floor, Buchanan Galleries, Glasgow, G1 2FF. Tel: 0141 3533560
382 Byres Road, Glasgow, G12 8AR Tel: 0141 337 3600
32 Victoria Street, Edinburgh, EH1 2JW Tel: 0131 225 4090
11 Museum Street, York, YO1 7DT Tel: 01904 637 487
Normal Opening Hours: Mon-Sat 10-6pm, Sun – 11.30-5pm
Buchanan Galleries Opening Hours: Mon, Tue, Wed, Fri and Sat - 10-7pm, Thurs 10-8pm, Sun 10-6pm.
For photography, further press information or press samples, please contact: Fenella Taylor at Fenella Taylor PR. Tel: 01389 830390 Mobile: 07721 324696 Email: fenella@fenellataylorpr.co.uk
---