Demijohn moves onto pastures new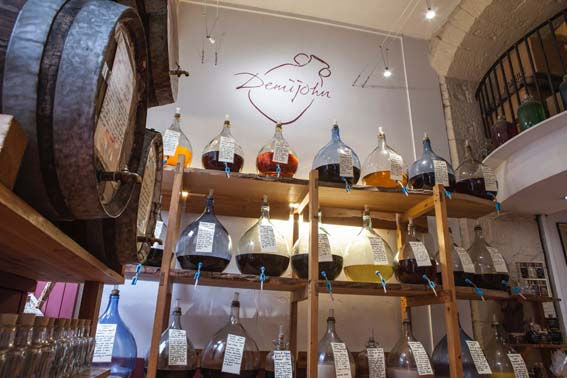 After 15 happy years in Edinburgh's eclectic curve of Victoria Street, where the Demijohn brand was successfully first launched, the liquid deli Demijohn is to relocate. As a developed international business, distributing to customers in the four corners of the world, Demijohn is taking its business into a different sphere.
The decision to close the Victoria Street Shop, while sad, was prompted by the end of the lease and the wish to further develop Demijohn's online business and alternative concession store outlets within Edinburgh.
Demijohn Owner Angus Ferguson says: "Huge changes in our customers' shopping habits over the last 3 to 4 years and a sudden and unexpected increase in rent made our decision to close sensible for our future business plans. We are planning for a number of new concession outlets in and around Edinburgh, as well as throughout the UK, over the next two years to assist major growth in our online business.
Demijohn's Online Shop, www.demijohn.co.uk is already a favourite destination for many international customers looking for grown up food and drink gifts for virtually any occasion. Demijohn now sends small amounts of a good thing from Scotland all over the world. Edinburgh customers can, naturally still visit the Glasgow and York shops which are thriving.
Angus continues: "We are hugely excited at the potential of our future business plans, which will improve the ability for our customers to more easily refill their Demijohn bottles remotely via our online shop and concession outlets, thus continuing our important commitment to being a low impact retailer. We also aim to be increasingly dynamic and flexible with our distribution of products, in order to satisfy the fast changing customer appetite for engaging high street retail."
The Demijohn shop on Victoria Street will close at 5pm on Sunday 26th May.
- Ends -
Note to Editors:
Demijohn sources unusual, delicious artisan liqueurs, spirits, oils and vinegars from around the UK and Europe and sells them in a wide range of re-useable glass bottles. Each bottle can have a free personalised message added. Gift wrapping is also available.
382 Byres Road, Glasgow, G12 8AR Tel: 0141 337 3600
11 Museum Street, York, YO1 7DT Tel: 01904 637 487
Opening Hours: Mon-Sat 10-6pm, Sun – 11.30-5pm
For photography, further press information or press samples, please contact: Fenella Taylor at Fenella Taylor PR. Tel: 01389 830390 Mobile: 07721 324696 Email: fenella@fenellataylorpr.co.uk
---