Demijohn opens New Concessions in Farm and Food Shops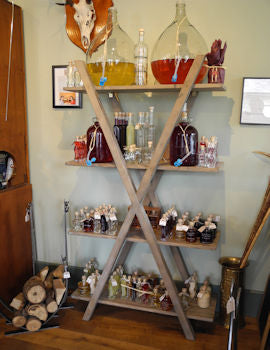 After creating the UK's first liquid deli some 15 years ago, Demijohn is expanding its concept of sustainable selling into farm shops, delis and tourist destinations. The small 'Demijohn delis within a deli' comprise specially made shelving housing the large glass demijohns and a selection of Demijohn's finest artisan liqueurs, fruit vinegars and oils, as well as some gift products.
The idea behind Demijohn's way of selling is for customers to taste before purchasing and then choose the size and shape of the re-fillable bottle, and they can even have a personalised message added for free. Based on the Italian cantina method of selling, this appeals to sustainable retail, as promoted by many farm and food shops. There is minimum packaging, no labels and it really focuses on the provenance and quality of the products.
Demijohn decided to expand its offerings to more consumers by taking up concessions in other like-minded food shops. To date there are highly successful concessions in Loch Leven's Larder Farm Shop in Fife, Luss General Store on the shores of Loch Lomond, the White Goose Restaurant & Bar in Dundee and with more planned throughout the UK.
Demijohn's liquids are quite unlike most commercial liqueurs – all are made from natural ingredients, with no added colourings or flavourings and are perfect as the basis to delicious cocktails, or on their own over ice or as an ingredient in one of Demijohn's famed recipes.
Angus Ferguson, owner of Demijohn, said: "The Demijohn concept and our products are still hugely popular. We offer a fun and engaging method of shopping which appeals to large numbers of people who enjoy the very best food and drink. These customers are also increasingly sensitive to their impact on the environment, so allowing them to refill their Demijohn bottles is very attractive and creates repeat business. Sharing our success with other like minded independent businesses to create smaller, more flexible concession stores rather than large fixed high street stores, seemed to be the natural development. Our aim is to offer our products to more corners of the country and expand further throughout 2019."
If you can't make it into one of the shops or concessions. Demijohn products are also available online at www.demijohn.co.uk
- Ends -
Note to Editors:
Demijohn sources unusual, delicious artisan liqueurs, spirits, oils and vinegars from around the UK and Europe and sells them in a wide range of re-useable glass bottles. Each bottle can have a free personalised message added.
382 Byres Road, Glasgow, G12 8AR Tel: 0141 337 3600
11 Museum Street, York, YO1 7DT Tel: 01904 637 487
Opening Hours: Mon-Sat 10-6pm, Sun – 11.30-5pm
For photography, further press information or press samples, please contact: Fenella Taylor at Fenella Taylor PR. Tel: 01389 830390 Mobile: 07721 324696 Email: fenella@fenellataylorpr.co.uk
---