Demijohn Widens its Appeal with New Website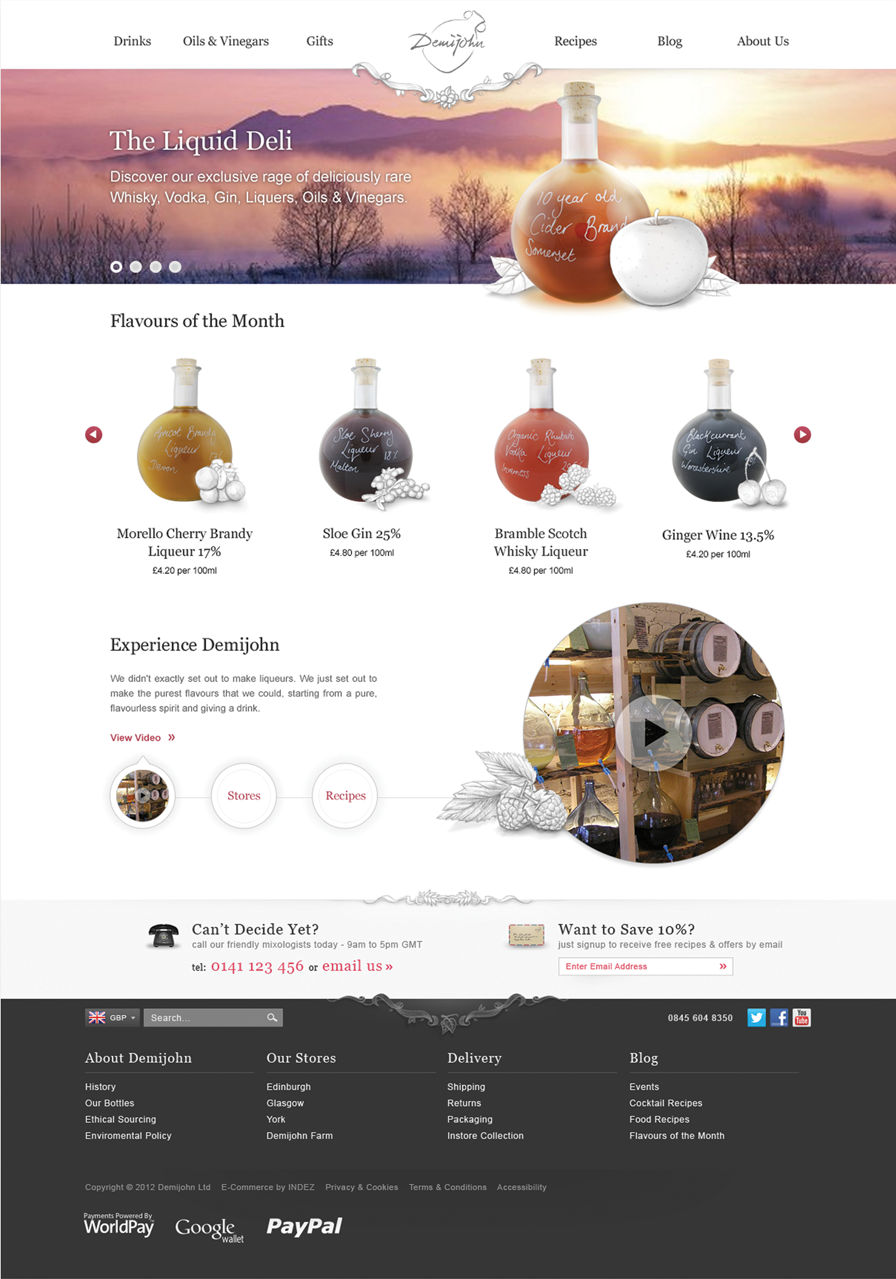 Demijohn has gone global with the launch of a £50,000 website to enable its customers to more easily source and buy its delicious artisan drinks, oils and vinegars and to broaden its appeal.
As the world's first ever liquid deli, Demijohn has pioneered its unique selling technique where customers choose the size and shape of the bottle into which the contents of choice are poured. The new website gives online customers the same ease of use as visiting one of the shops and all that's missing is being able to taste before buying.
Designed by Glasgow-based Indez, the website is a clear, minimalist shop where customers can see all the products by category and can then choose the size and shape of bottle and add a personalised message all in one single action. Having re-photographed many of the products and added in new gift sets this new Demijohn 'shop' is already proving sensational with online sales growing fast since it was launched.
With the ability to be translated into virtually any language, Demijohn can broaden its customer base to the whole world. Many of the Demijohn products are as good in cocktail and food recipes as they are on their own so a whole new Recipes page has been added. This will be continually updated to include the latest recipes that the Demijohn team create. In addition, a blog page has been introduced where all members of the Demijohn team will write seasonal and relevant blogs about the products, where they come from and how they can be used.
Demijohn MD Angus Ferguson said: "Our new website is our fourth shop launch and offers all our customers, far and wide, much easier access and information about the products. With a fresher, cleaner look it has broader appeal and ease of
use than the previous site and better explains what we do and how we do it. Despite these challenging times we have seen a steady growth in sales of about 15% year on year. We hope with this website that this should increase to 20-25% growth, allowing us to widen our product range.
"We aim to deliver to the UK within 4-5 working days but with a small, dedicated staff we can often do this quicker. We are a family company where all our staff are knowledgeable and passionate about the products, their provenance and their uses (staff nights are riotous affairs as we always have to sample the latest products!) which we hope the new website conveys.
"With two mail order sites in Glasgow and York we will fulfil orders quickly and efficiently and get them delivered to you or your loved ones, complete with the free personalised message, as quickly as possible."
Check it out for yourself – www.demijohn.co.uk!
- Ends -
Note to Editors:
Demijohn sources unusual, delicious artisan liqueurs, spirits, oils and vinegars from around the UK and Europe and sells them in a wide range of re-useable glass bottles. Each bottle can have a free personalised message added.
382 Byres Road, Glasgow, G12 8AR Tel: 0141 337 3600
32 Victoria Street, Edinburgh, EH1 2JW Tel: 0131 225 3265
11 Museum Street, York, YO1 7DT Tel: 01904 637 487
Normal Opening Hours: Mon-Sat 10-6pm, Sun – 11.30-5pm
For photography, further press information or press samples, please contact: Fenella Taylor at Fenella Taylor PR Tel: 01389 830390 Mobile: 07721 324696 Email: fenella@fenellataylorpr.co.uk
---