Easter Treat - Demijohn's Alcoholic Liquid Chocolate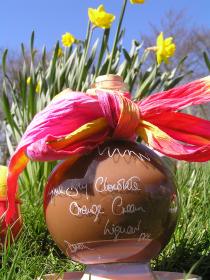 Chocolate is a must for Easter celebrations but adults could ditch the traditional Easter eggs and indulge in something slightly more grown up and try Demijohn's liquid alcoholic chocolate in a egg shaped bottle. It is the perfect adult liquid Easter egg - Chocolate Orange Cream Liqueur.
Combining a subtle blend of dark chocolate, real Devonshire Cream, Apple Brandy and the zest of an orange, this rich, creamy liqueur from liquid deli Demijohn will blow your mind on Easter Day. Made by a retired stockbroker in Devon it contains all that is wonderful about Easter – and in a drink! Best served straight from the fridge with a little ice it can also be an indulgent sauce for ice cream or other puddings.
Easter is a time for indulgence and let the children have the Easter eggs while you indulge in something far more delicious and alcoholic. Priced at £24.60 for a 500ml round Strauss bottle it will be a very welcome addition to Easter.
Demijohn's Angus Ferguson said: "When faced with rows of brightly coloured boxes of Easter eggs I sigh at the choice and yearn for something more sophisticated. Our Chocolate Orange Cream Liqueur certainly hits the spot and revives any adult who may have had their fill of hyperactive children who've gorged on Easter eggs. A tot of this will make you feel as mellow as the smooth velvety liquid. What makes this even more special is the fact you can add your own personalised message to the bottle. A very grown up way to celebrate Easter!"
Demijohn's Chocolate Orange Easter egg is called A Chocolate Orange with a Difference and is available to purchase online for £24.60 at this link:
http://www.demijohn.co.uk/a-chocolate-orange-with-a-difference
All products are available from Demijohn's liquid delis in York, Oxford, Edinburgh and Glasgow and online from www.demijohn.co.uk.
Ends -
Note to Editors:
Demijohn sources unusual, delicious artisan liqueurs, spirits, oils and vinegars from around the UK and Europe and sells them in a wide range of re-useable glass bottles. Each bottle can have a free personalised message added.
382 Byres Road, Glasgow, G12 8AR Tel: 0141 337 3600
32 Victoria Street, Edinburgh, EH1 2JW Tel: 0131 225 3265
11 Museum Street, York, YO1 7DT Tel: 01904 637 487
20 Little Clarendon Street, Oxford, OX1 2HP Tel: 01865 552179
Normal Opening Hours: Mon-Sat 10-6pm, Sun – 11.30-5pm
For photography, further press information or press samples, please contact: Fenella Taylor at Fenella Taylor PR. Tel: 01389 830390 Mobile: 07721 324696 Email: fenella@fenellataylorpr.co.uk
---