Gang thegither for Burns Night on 25th January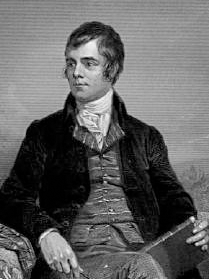 We are fortunate in Scotland to have a very good excuse for a party in January and blow away the blues of a harsh winter, to celebrate the birth of Scottish poet Robert Burns, born on 25 January 1796.
If you are to host or attend a Burns Night Supper our latest collection of Single Malt Whisky, unique Demijohn Finest Blended Scotch Whisky 40% and Brammle Scotch Whisky Liqueur 23% will be all you need for your dinner table.
For the centre of your table, we would suggest either our Single Malt Whisky Selection or our Highland and Island Malt Stack. We also have a couple of cocktail recipes which might help make your evening a memorable one.
Try our Tam O Shanter cocktail, which uses both our Demijohn Finest Blended Scotch Whisky 40% andBramble Scotch Whisky Liqueur 23% to provide a very drinkable fruity whisky punch.
For a more traditional dessert cocktail, try our twist on the classic Atholl Brose cocktail. Whatever you decide to do, good luck in planning your evening and may "Freedom an' whisky gang thegither!
Save 10% on Bottle refills
To make matters more pleasant still, we are offering a 10% discount on any Demijohn bottle refills until the end of February 2013.
Simply request your refill discount from a member of Staff in store. If you haven't got a bottle to refill or are too far away don't panic!
We are currently offering free delivery for orders of £40 or more to all UK Mainland addresses, so place your order online now. Terms may apply.
Demijohn News - January 2013
I hope you have also had a good start to the new year? Thankyou for all your support and custom during 2012, it led to another successful year at Demijohn and we are enormously grateful to you for it.
Our success is both down to the valiant efforts of our Staff on a daily basis and often your patience while we try to deliver what we have promised. Despite some of the highest volumes of online trade we have ever seen, where we processed up to 120 orders per day, we once again succeeded in ensuring that all pre-Christmas orders were delivered on time. 2013 however, is set to be an even busier and more exciting year than 2012 as we look forward to the launch of our new website next month.
In order to make sure it works correctly we will need some willing volunteers to help test it prior to going live. We have a few names already in the bag but do need more.
So if you would like to be one of the first to try and place some test orders with our new website, please send a quick email to me at info@demijohn.co.uk and we will add you to the growing list.
Depending on your contributions you may be rewarded!
How creative are you?
A big thankyou to those who have already sent in their recipes for consideration, we will be coming back to you with our verdicts shortly.
However, we are still looking for more of your creative talents to assist us in developing new food & drink recipes ideas for our products.
We are offering a £30 gift voucher as a reward for sharing your recipes that use Demijohn products with us. Simplyemail the recipe to me and if we decide to publish it we will reward you with a £30 gift voucher to spend with us in any way you choose.
You will be credited with the recipe, if you wish, and may even become famous.... well it's possible! So come on, let's get those creative genes brewing and stewing and send us your recipe ideas when they do!
Next Month...Romance is in the air ...
Please don't forget to claim your 10% discount on your Demijohn bottle refills, all you need to do is ask when you return! Best wishes for the year ahead,
Angus Ferguson
Managing Director
---