Gift Sets of Artisan Alcohol Perfect for Summer Cocktails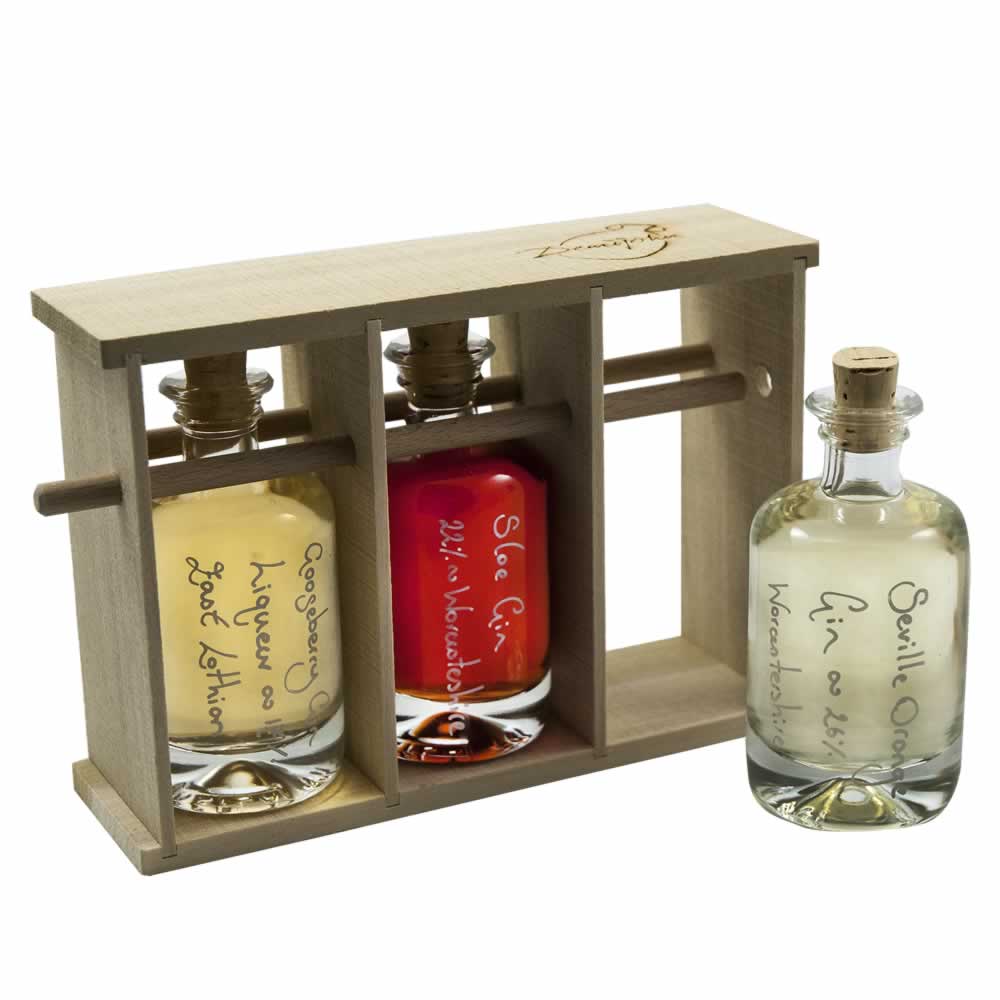 Summer cocktails are the perfect start to any summer barbeque or party and making them has just got easier as liquid deli Demijohn has started supplying its gift sets to farm shops, delis and the trade.
From the mini Apotheker racks of 3 x 40ml bottles of gins, vodkas or spirits to larger stacking bottles these elegant bottles are the ideal gift. Demijohn sources all its spirits, liqueurs, oils and vinegars from small traditional suppliers, many of whom create these delicious liquids in their own farmhouse kitchen. Each has been selected for its taste and natural production without any colourings or flavourings added.
As well as gift sets, Demijohn has also begun to offer concessions in certain farm shops. In Luss General Store on the side of Loch Lomond, for example, they supply some of Demijohn's products direct from the large glass bulbous demijohn, similar to the shops. This allows customers to taste the product before purchase and offers farm shops or delis a really novel new way of retailing fine drinks, similar to the cantinas on the continent.
Angus Ferguson said: "Summer time is the perfect time for sundowners and we have created some lovely gift sets that create a very visual and highly desirable display in fine food retailers. The concessions are a new departure for Demijohn and we are interested in hearing from more possible concessionaires who share the same ethos as us of good quality artisan products where you can taste the origin.
"The USP of our products is that they are so unusual and natural tasting that you just can't help but love them! Our Gooseberry Gin is simply British summer in a bottle and we love mixing it with tonic to create a very special G&T. Or our bestselling Raspberry Vodka is the basis for the most delicious Raspberry Fresh cocktail."
For more information on trade prices and concessions please contact:
info@demijohn.co.uk or tel: 0845 6048350
Ends -
Note to Editors:
Demijohn sources unusual, delicious artisan liqueurs, spirits, oils and vinegars from around the UK and Europe and sells them in a wide range of re-useable glass bottles. Each bottle can have a free personalised message added.
382 Byres Road, Glasgow, G12 8AR Tel: 0141 337 3600
32 Victoria Street, Edinburgh, EH1 2JW Tel: 0131 225 4090
11 Museum Street, York, YO1 7DT Tel: 01904 637 487
20 Little Clarendon Street, Oxford, OX1 2HP Tel: 01865 552179
Normal Opening Hours: Mon-Sat 10-6pm, Sun – 11.30-5pm
For photography, further press information or press samples, please contact: Fenella Taylor at Fenella Taylor PR. Tel: 01389 830390 Mobile: 07721 324696 Email: fenella@fenellataylorpr.co.uk
---