Go Nuts with Artisan Walnut Liqueur launced for Christmas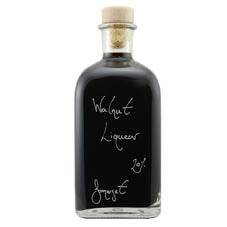 Nuts are an essential part of most people's Christmas*. So why not give an awesome alcoholic gift that will drive people nuts – Demijohn's Walnut Liqueur.
Soon to be launched for the first time ever, Demijohn's Walnut Liqueur is THE gift this Christmas. Made from walnuts picked in the early summer by the Demijohn team in East Sussex, and then made in Somerset, this very dark, strong liqueur takes at least 40 days and nights to infuse but the resulting wait is worth it. The deep, delicious flavour is perfect for after the Christmas dinner, or for a late night tipple during the festive period. Demijohn will be selling it from late Oct/early Nov, with prices starting at £10.40 for a 100ml bottle, making it an affordable, unusual and delicious Christmas gift. Add a personalised message for free and you have Christmas sorted.
For something more sumptuous Demijohn has created a portable drinks cabinet called The Sporting Box. Handmade from red cherry wood it includes 16 shot glasses and four Mystic 500ml bottles filled with the drink of your choice. The bottles can even have a complimentary message added for free or the wood box be engraved for a small additional cost. Priced from about £595 it makes a very special Christmas present.
For someone who is a real foodie Demijohn's Oil and Vinegar Carousel makes a much desired gift. A presentation rack of three beautiful Goccia 100ml bottles filled with two vinegars and an Extra Virgin Olive Oil make it perfect for the table or smart kitchen and is definitely one for showing off. Priced at just £34.25 it is highly affordable.
Gin has risen in popularity massively over the past few years with premium gin sales growing over 100%. Demijohn's gin is no exception and is a sure hit as a Christmas gift. Our Gin Tower, comprising three beautiful 250ml Impilabile stacking bottles containing a selection of some of our finest gin based liqueurs and spirits. On the top is our distinctive boutique house spirit gin, which we call Demijohnnie Gin while sandwiched in the middle is rich Damson Gin Liqueur from East Lothian and on the bottom is our spectacular Seville Orange Gin. Priced at £53.30 it is fun present for a fun, gin loving person.
http://www.demijohn.co.uk/the-gin-tower
Demijohn's alcoholic – and non-alcoholic – presents are always popular at Christmas.
The queues forming along the street from all their four shops in the weeks leading up to Christmas are testament to its popularity. But if you don't want to be disappointed get in early and order online from:
http://www.demijohn.co.uk/gift-ideas/gifts
Summary of links to products:
Walnut Liqueur (will be available soon) - http://www.demijohn.co.uk/walnut-liqueur-38
Sporting Box (Build your Own) - http://www.demijohn.co.uk/the-sporting-box-288
Sporting Box (Standard Edition) - http://www.demijohn.co.uk/the-sporting-box-standard-edition
Oil and Vinegar Carousel - http://www.demijohn.co.uk/oil-and-vinegar-carousel
Ends -
* Apologies to people with nut allergies – this one isn't for you!
Note to Editors:
Demijohn sources unusual, delicious artisan liqueurs, spirits, oils and vinegars from around the UK and Europe and sells them in a wide range of re-useable glass bottles. Each bottle can have a free personalised message added.
382 Byres Road, Glasgow, G12 8AR Tel: 0141 337 3600
32 Victoria Street, Edinburgh, EH1 2JW Tel: 0131 225 3265
11 Museum Street, York, YO1 7DT Tel: 01904 637 487
20 Little Clarendon Street, Oxford, OX1 2HP Tel: 01865 552179
Normal Opening Hours: Mon-Sat 10-6pm, Sun – 11.30-5pm
For photography, further press information or press samples, please contact: Fenella Taylor at Fenella Taylor PR. Tel: 01389 830390 Mobile: 07721 324696 Email: fenella@fenellataylorpr.co.uk
---