Good Goosegogs it's Mother's Day!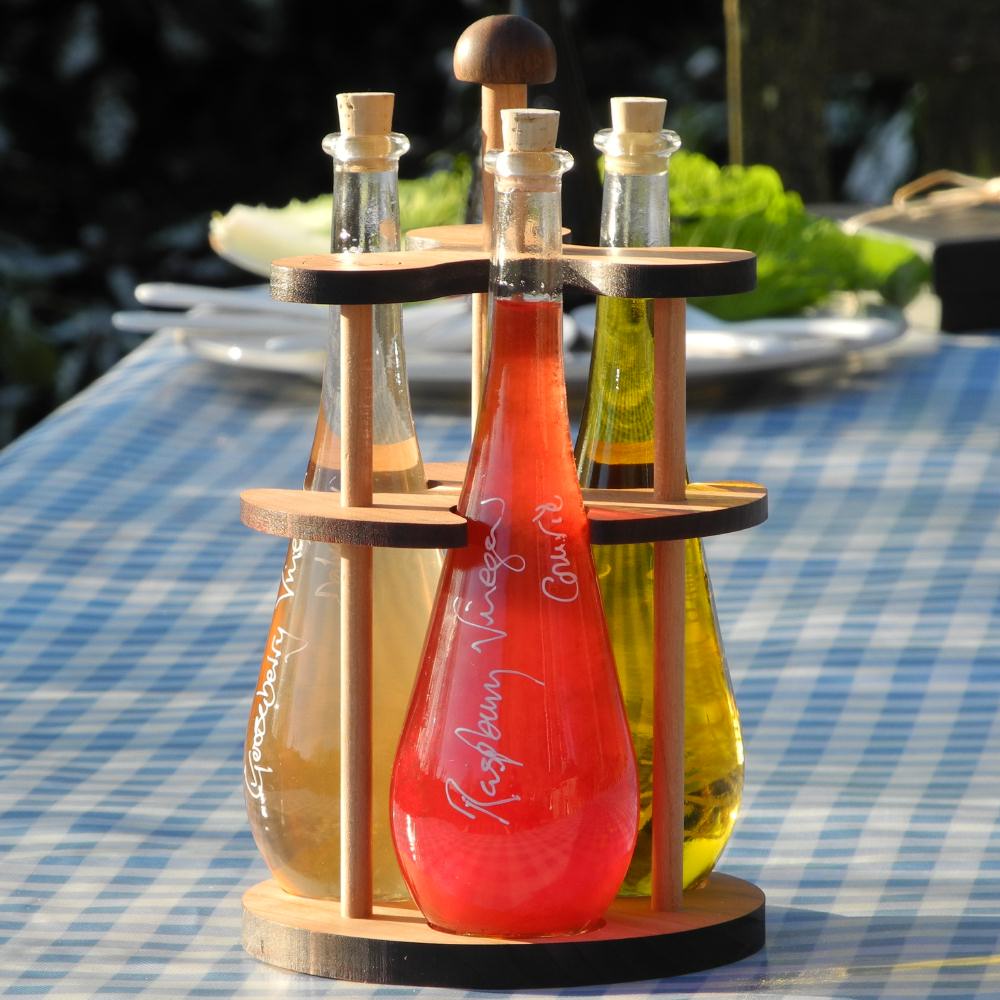 Deciding on a suitable present for your Mother on Mothering Sunday on 10th March is never going to be easy. Choosing something unique will be sure to surprise and hopefully delight. Your answer may lie with our beautiful new Oil & Vinegar Carousel. Choose this if your Mother is likely to enjoy a bowl of fresh green salad leaves simply dressed with our delicious Villa Montalbano Extra Virgin Olive Oil and either our handmade Scottish Raspberry or our fabulous new Gooseberry fruit vinegars. What is good for the digestion is surely positive food for the soul as we patiently await the arrival of Spring! However, if your Mother would be more likely to enjoy something a little stronger, then consider our Morello Fizz Cocktail using a jar of our Morello Cherries in Apple Eau de Vie 20%.
Whatever you decide, forget her day at your peril and good luck making your choice! If you are quick, we are still offering a 10% discount on any Demijohn bottle refills until the end of February 2013 (i.e Thursday this week!). Simply request your refill discount from a member of Staff in store. If you haven't got a bottle to refill or are too far away don't panic! We are currently offering free delivery for orders of £40 or more to all UK Mainland addresses, so place your order online now. Terms may apply.
Also in this letter:
The Demijohn News: Tasting Evenings Galore! .... read below
How creative are you?: We still need your recipe ideas.... read below
Stay in Touch and Win a Prize!: Simply Like us on Facebook or Follow us on Twitter to hear the details first
Demijohn News - February 2013
Our News: Development of our new website continues at full speed and thankfully is nearing its completion. Those who have kindly signed up to help us test it will be getting the call up shortly, so stand by your beds! However, we have also been busy with running many tasting events, both within our shops and without. For groups of friends and work colleagues, for corporate entertainment and just good fun. At the start of the Month at one such evening I had the fortune to talk to about 40 of the knowledgeable members of the Institute for Wine and Spirits in Scotland (IWSS) about our products. Held in a private room at the Royal Scots Club and starting with a few warm up cocktails and delicious breads from Bakery Andante in Morningside in Edinburgh to taste our oils and vinegars, the evening was tremendous fun and in danger of never ending. This is always a good sign! If you are interested in organising your own event and would like more information about what we can offer for groups of two or more persons, then please look at our Tasting Events web page initially and then contact us to discuss a booking.
How creative are you? We still need your recipes! A big thankyou to those who have already sent in their recipes for consideration so far, we will be coming back to you with our verdicts shortly. However, we are still looking for more of your creative talents to assist us in developing new food & drink recipes ideas for our products. We are offering a £30 gift voucher as a reward for sharing your recipes that use Demijohn products with us. Simply email the recipe to me and if we decide to publish it we will reward you with a £30 gift voucher to spend with us in any way you choose. You will be credited with the recipe, if you wish, and may even become famous.... well it's possible! So come on, let's get those creative genes brewing and stewing and send us your recipe ideas when they do!
Next Month in The Demijohn News.... Our new website goes live ..... Please don't forget Mother's Day or to claim your 10% discount on your Demijohn bottle refills, all you need to do is ask when you return!
Yours,
Angus
Angus Ferguson
Managing Director
---