Gooseberry Gin Heralds Start of Summer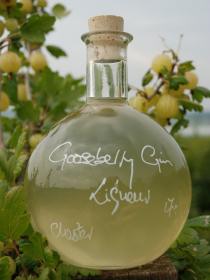 There's no more truly summer British fruit than the old gooseberry with its bright green hue and bitter sweet taste. Whether you love or loathe them, liquid deli Demijohn has a whole new take on gooseberries as it launches it 2013 new Gooseberry Gin Liqueur.
As a very original drink Gooseberry Gin Liqueur is best served long with tonic over ice and a slice of lemon – Demijohn has called this summer cocktail Evoque as it certainly evoques a mood of Summer long fun!
Made especially for Demijohn by two retired PE teachers in East Lothian, near Edinburgh, the Gooseberry Gin combines British gooseberries with dry London Gin and sugar. The result is a light green, slightly peppery alcoholic version of heaven.
Angus Ferguson, MD of Demijohn says: "Gooseberries, like many traditional British fruits are having a revival as more allotments and kitchen gardens spring up. They epitomise the British summer, which is exactly what this irresistible summer drink does, but in a delightful, alcoholic form. Launched this summer in anticipation of some sunshine, Demijohn Gooseberry Gin and Tonic provides the perfect summer aperitif or party cocktail."
Gooseberry Gin Liqueur 17% is priced at £5.10/100ml. It is available from www.demijohn.co.uk or their shops in York, Edinburgh and Glasgow.
- Ends -
Note to Editors:
Demijohn sources unusual, delicious artisan liqueurs, spirits, oils and vinegars from around the UK and Europe and sells them in a wide range of re-useable glass bottles. Each bottle can have a free personalised message added.
382 Byres Road, Glasgow, G12 8AR Tel: 0141 337 3600
32 Victoria Street, Edinburgh, EH1 2JW Tel: 0131 225 3265
11 Museum Street, York, YO1 7DT Tel: 01904 637 487
Normal Opening Hours: Mon-Sat 10-6pm, Sun – 11.30-5pm
For photography, further press information or press samples, please contact: Fenella Taylor at Fenella Taylor PR. Tel: 01389 830390 Mobile: 07721 324696 Email: fenella@fenellataylorpr.co.uk
---