Gotcha Mum! Spoil your Mum with a Gooseberry Foodie Treat on Mother's Day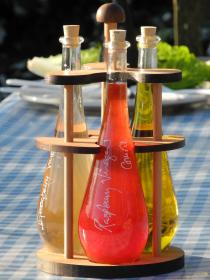 What mother doesn't love a little spoiling foodie treat on Mother's Day? Demijohn has unveiled a beautiful new Goccia Carousel of three oils and fruit vinegars which makes the perfect gift. New to this trio is Gooseberry Vinegar which has just been launched by liquid deli Demijohn.
The presentation rack of 3 stunning Goccia 100ml bottles, brought together in a red cherry frame with a clever collar that locks them in place, makes a great addition to the table. As spring approaches and our palates yearn for fresh salads again this 'dressing kit' not only looks good but tastes delicious when poured over fresh salad leaves, vegetables or even used for dipping bread in.
Demijohn's new Gooseberry Vinegar combines the sweetness of British gooseberries with sharper vinegar to create an unusual fruit vinegar that can be used on its own or combined with Demijohn's fresh Tuscan Villa Montalbano Extra Virgin Olive Oil. It can even be used as a tasty, fresh soft drink when mixed with two parts sparkling water to one part Gooseberry Vinegar.
The other elements of the Mother's Day Goccia trio are Scottish Raspberry Vinegar with its bright colour and summery taste and Villa Montalbano Extra Virgin Olive Oil - a wonderfully fresh, green virgin olive oil from Tuscany. As an added bonus a special handwritten message can be written on the bottles to remind your mum just how much you care.
If you're mother prefers something stronger Demijohn suggests Morello Cherries infused in Apple Eau de Vie. Beautifully packaged in a reusable Kilner style jar, these are as delicious on their own as with a dollop of vanilla ice cream. With a strong taste of old English cider apples and fresh cherries this is the perfect Mother's Day dessert.
Angus Ferguson, founder of Demijohn said: "Our new Goccia table rack that we have just introduced for Mother's Day is a great gift that is a little different from most dressing racks. It can go into instant use and will last the summer through – if not devoured before summer arrives!"
The Oil and Vinegar Carousel is priced at £35.35 and the Morello Cherries are priced at £19.75.
All are available from www.demijohn.co.uk or their shops in Edinburgh, York and Glasgow.
- Ends -
Note to Editors:
Demijohn sources unusual, delicious artisan liqueurs, spirits, oils and vinegars from around the UK and Europe and sells them in a wide range of re-useable glass bottles. Each bottle can have a free personalised message added.
382 Byres Road, Glasgow, G12 8AR Tel: 0141 337 3600 32
Victoria Street, Edinburgh, EH1 2JW Tel: 0131 225 3265
11 Museum Street, York, YO1 7DT Tel: 01904 637 487
Normal Opening Hours: Mon-Sat 10-6pm, Sun – 11.30-5pm
www.demijohn.co.uk
For photography, further press information or press samples, please contact: Fenella Taylor at Fenella Taylor PR Tel: 01389 830390 Mobile: 07721 324696 Email: fenella@fenellataylorpr.co.uk
---