Leyburn Food and Drink Festival 4-6 May 2013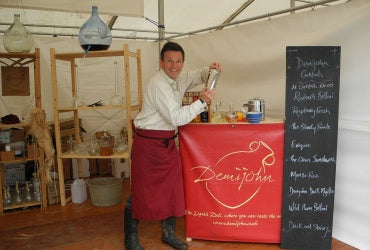 We wil be exhibiting at our first event of the year, the fantastic Leyburn Food & Drink Festival again between Sat 4th and Mon 6th May 2013. For those who have never witnessed this tremendous event I urge you to come.
Imagine this....
A large field, set amongst the rolling green hills of the beautiful North Yorkshire Dales. In that field are placed a few white tents, some merry go rounds for the children and a band stand. In those tents however are some of the finest food and drink exhibitors Britain has to offer. In the evening after a hard days sampling, chatting and selling, we retire to one of the many country pubs for a few ales and supper. Only in the Dales do locals talk about religion and politics on first meeting in the pub. They get away with it because they are "reet" friendly.
Just brilliant....
We wait all year for this event to happen, to see the thousands that come out of the hills for it, as it is so much fun. Who would have thought that it all started out of tragedy? The event was founded at the end of the last foot and mouth outbreak in an attempt to restart a flagging local economy, just brilliant. I hope we will see you there!
---