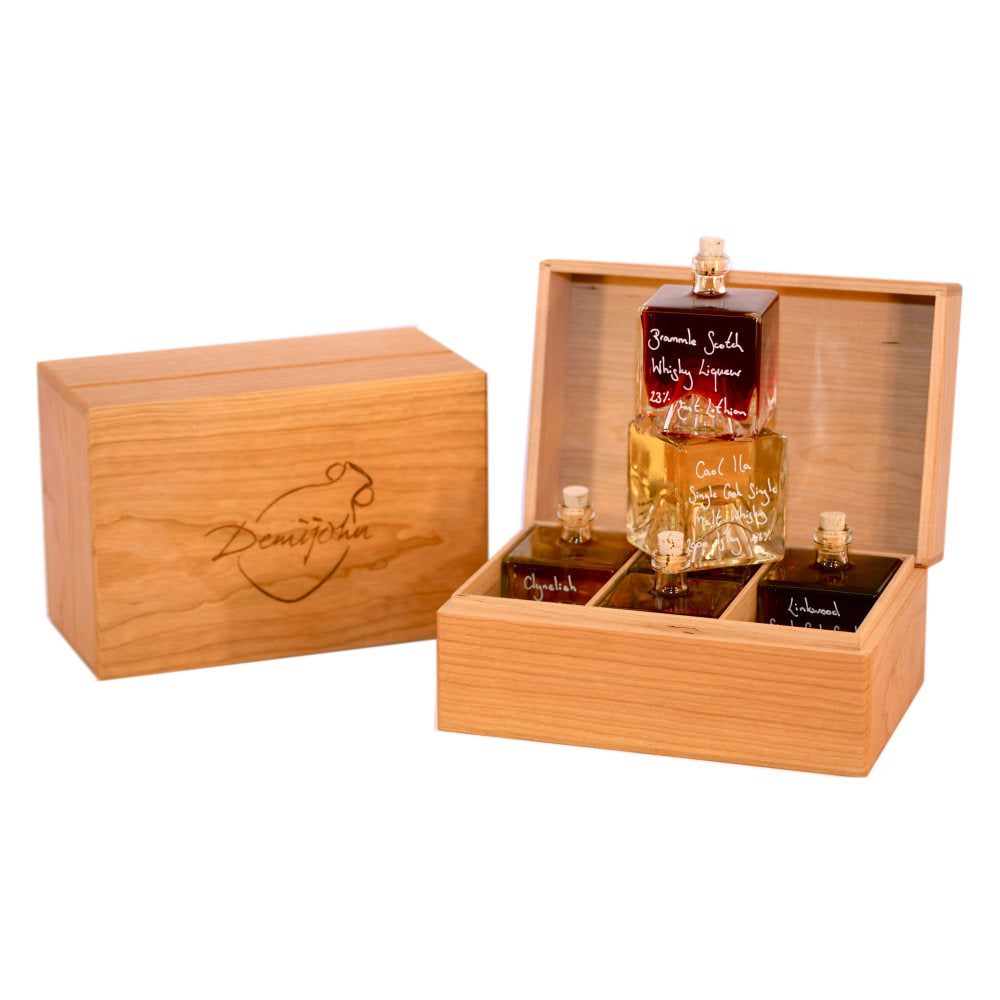 Personalised corporate gifts are so 'in' right now but how do you reward your employees or clients with a personalised gift that doesn't cost the earth in every way AND put a smile on their face? How about a bottle with a message on it and with one of Demijohn's delectable liqueurs or spirits inside?
Certainly the most unique gift an employee or client can receive, these gift sets, or even single bottles (in all shapes and sizes) are proving huge hits with celebrities, media companies and corporate gift buyers across the UK. Firstly, you can choose the size and shape of the bottle or gift and into it choose from one of about 40 handmade liqueurs, spirits, whiskies, oils or vinegars.
With a huge range of summer drinks – Rhubarb Vodka, Gooseberry Gin, Toffee Whisky Liqueur, Grapefruitcello or Bramble Scotch Whisky Liqueur – the gifts sets look colourful and inviting and each comes specially wrapped. Each bottle or set can have a personalised message added for free which certainly provides the best possible way of thanking employees or clients for their efforts.
Demijohn's managing director Angus Ferguson says: "Unique alcoholic gifts are difficult to find and we get many requests for corporate gifts from companies across the UK looking for a unique reward with a difference. Given the flexibility of our gifts – the buyer chooses the bottle, contents and message – we can provide a very successful and innovative corporate package. Whatever the occasion, be it entertaining overseas clients, rewarding achieving employees or providing a table gift at a dinner, our bespoke corporate service will have the right gift at the right price."
Demijohn also offer bespoke corporate events, such as a tasting evening, which is ideal for rewarding hard working staff and build team relationships or provide an ice breaker for a client evening. Corporate events usually consist of a tasting in the client's offices or at Demijohn's Oxford, Edinburgh, Glasgow or York shops. Attendees start with a drink and are then given a fully hosted tasting of the Demijohn product range.
Demijohn lovingly sources its liquid products – spirits, whiskies, wines, vinegars and oils - from small producers across the UK and Europe who, like Demijohn have a passion for good food and drink produced in an eco-friendly way. Stored in large glass demijohns, customers choose the size and shape of the re-useable bottle, making Demijohn a unique niche liquid food retailer.
So don't just sit and scratch your head when looking for a corporate gift just visit for some fantastic ideas to fit your budget:
http://www.demijohn.co.uk/gift-ideas/corporate-gifts
http://www.demijohn.co.uk/book-a-tasting-event
- Ends -
Images show:
Less than £10 per item - www.demijohn.co.uk/toffee-whisky-liqueur-17-quadra-bassa-100ml
Less than £25 per item - www.demijohn.co.uk/mini-gin-rack
Less than £100 per item - www.demijohn.co.uk/the-liqueur-box
Note to Editors:
Demijohn sources unusual, delicious artisan liqueurs, spirits, oils and vinegars from around the UK and Europe and sells them in a wide range of re-useable glass bottles. Each bottle can have a free personalised message added.
382 Byres Road, Glasgow, G12 8AR Tel: 0141 337 3600
32 Victoria Street, Edinburgh, EH1 2JW Tel: 0131 225 4090
11 Museum Street, York, YO1 7DT Tel: 01904 637 487
20 Little Clarendon Street, Oxford, OX1 2HP Tel: 01865 552179
Normal Opening Hours: Mon-Sat 10-6pm, Sun – 11.30-5pm
For photography, further press information or press samples, please contact: Fenella Taylor at Fenella Taylor PR. Tel: 01389 830390 Mobile: 07721 324696 Email: fenella@fenellataylorpr.co.uk
---