New Demijohn Concession opens at Craigie's Farm Shop near Edinburgh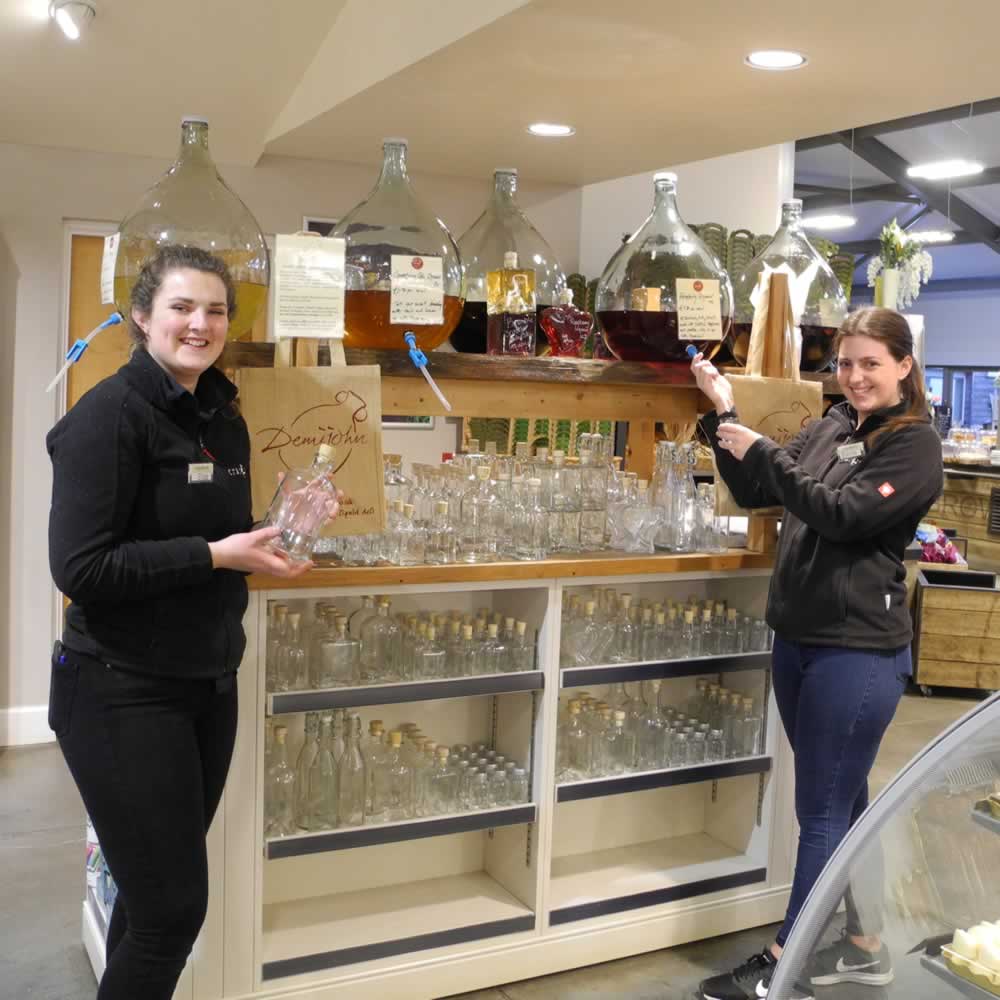 Demijohn has expanded its sustainable retail empire, with the opening of a Concession Store in the highly successful farm shop, Craigie's, on the outskirts of Edinburgh.
With eco-friendly retail very much at the forefront of food retailing, Demijohn has created its fourth concession – simply a liquid deli within a farm or food shop – with specially made shelving housing the large glass demijohns and a selection of Demijohn's finest artisan liqueurs, fruit vinegars and oils, as well as some gift products.
Craigie's Farm Shop is a natural choice for the expansion of Demijohn as Craigie's has been involved with the production of some of their finest handmade fruit vinegars since they founded in 2004. Most notable is their Elderflower Vinegar which is made from a secret recipe by the Mother of the owner. In summer the Demijohn team have even picked elderflowers from the hedgerows of the farm at Craigie's to ensure there is a plentiful supply of their bestselling Elderflower Vinegar.
The idea behind Demijohn's way of selling is for customers to taste before purchasing and then choose the size and shape of the re-fillable bottle, and they can even have a personalised message added for free. Based on the Italian cantina method of selling, this appeals to sustainable retail, as promoted by many farm and food shops. There is minimum packaging, focusing instead on the provenance and quality of the products.
Demijohn decided to expand its offerings to more consumers by taking up concessions in other like-minded food shops. To date there are other highly successful concessions stores at Loch Leven's Larder Farm Shop in Fife and Luss General Store on the shores of Loch Lomond, with another 5 more planned to open throughout the UK within the next 6 months. The current concessions are hugely popular with regulars and tourists alike who love sustainable retail AND tasting delicious artisan drinks.
Demijohn's drinks are quite unlike most commercial liqueurs – all are made from natural ingredients, with no added colourings or flavourings and are perfect as the basis to delicious cocktails, or on their own over ice or as an ingredient in one of Demijohn's famed recipes.
Angus Ferguson, owner of Demijohn, said: "We offer a seriously fun and engaging method of shopping which appeals to large numbers of people who enjoy discovering new food and drink tastes. Our customers love our quirky, high quality products and increasingly understand our eco-friendly retail concept.
Re-using a Demijohn bottle by refilling it makes even more sense in 2020 than it did in 2004 when we first started. We are sharing our knowledge and success with other like-minded independent businesses such as Craigie's Farm to create smaller, more flexible concession stores. We aim to make it as easy as possible for our customers to refill their bottles by opening more concession stores here in the UK throughout 2020."
Demijohn's success is nationwide – they have just been nominated as a finalist in the York Food and Drink Awards, as Independent Retailer of the Year.
If you can't make it into one of the shops or concessions, Demijohn products are also available for mail order via www.demijohn.co.uk
- Ends -
Demijohn sources unusual, delicious artisan liqueurs, spirits, oils and vinegars from around the UK and Europe and sells them in a wide range of re-useable glass bottles. Each bottle can have a free personalised message added. Gift wrapping is also available.
11 Museum Street, York, YO1 7DT Tel: 01904 637487
Demijohn Shop Opening Hours: Mon-Sat 10 to 6pm, Sun - 11.30 to 5pm
For photography, further press information or press samples, please contact: Fenella Taylor at Fenella Taylor PR. Tel: 01389 830390 Mobile: 07721 324696 Email: fenella@fenellataylorpr.co.uk
---