Picnicing or Shooting? - This is the must have Summer outdoor accessory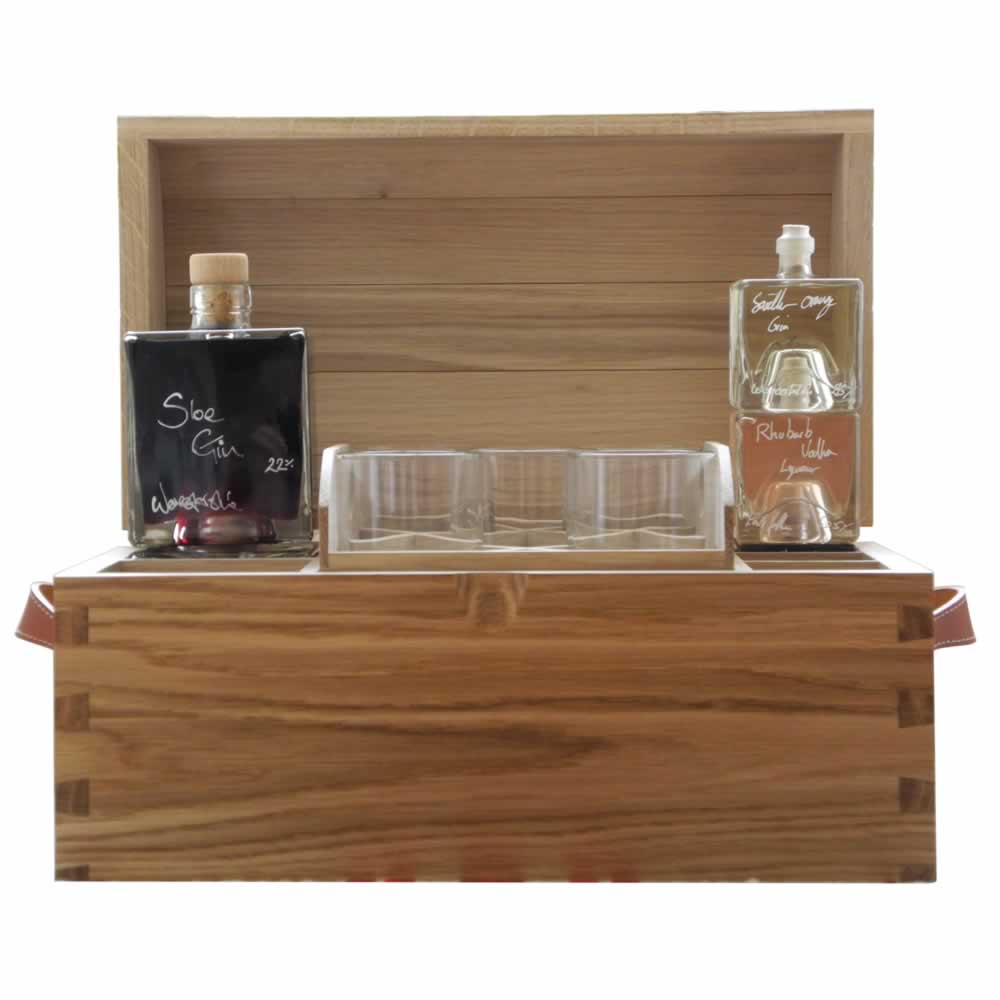 As the summer season of Burghley, Game Fairs, picnics, trips to the races and shooting fast approaches, the must-have accessory will be the new Drinks Chest from Demijohn. Essentially a luxurious portable drinks cabinet, this upmarket item can be carried outdoors for all summer events whether to watch the horses, fish on the river or out onto the grouse moors.
Handmade in Cumbria, from oak with strong leather handles, the Drinks Chest contains eight bottles of top quality hand-made small batch Demijohn liqueurs; two 500ml cube shaped bottles for the owner's very favourite drinks and six smaller 100ml bottles in the same attractive shape.
The sturdily constructed, yet easily carried, cabinet can be supplied with either 10 tumblers on two trays of five, or with a single tray of 14 elegant shot glasses.
The Standard Edition Drinks Chest is delivered with its 8 bottles filled with some of Demijohn's most popular liqueurs, including 500ml of both Bramble Scotch Whisky Liqueur 23% and Seville Orange Gin 26%, and 100mls each of Rhubarb Vodka Liqueur 20.5%, Sloe Gin 22%, Spiced Rum Liqueur 20%, Gooseberry Gin Liqueur 17%, Morello Cherry Brandy Liqueur 17% and Toffee Whisky Liqueur 20%. Together many of these make the most delicious Demijohn cocktails.
The Drinks Chest is for sale with any selection of drinks from Demijohn's unique range of handmade British drinks, including Single Malt Scotch Whisky.
The exquisite hand craftmanship of this unique drinks cabinet ensures that your picnic will always be posher than next doors' and also looks great displayed on a sideboard or table instantly giving a room the irresistible promise of abundant hospitality!
The Drinks Chest's combination of traditional materials and modern functionality are the result of 10 years of development. Unique to Demijohn, the Drinks Chest is designed and crafted by British Cabinet Makers in Cumbria from properly seasoned Oak sourced only from the UK and Europe.
Bespoke versions are also available with personalised engraving on both the lid or sides of the chest and on the glasses. For shoots, both the tumblers and the shot glasses can be supplied with peg numbers on the bottom.
Demijohn owner, Angus Ferguson said: "We thought long and hard about what would make the ultimate portable drinks cabinet and The Drinks Chest is our answer. A decade of experience has led to this simple, yet beautifully designed Oak chest. Whether you need it for a day at the races or a large family picnic our Drinks Chest will mark your occasion with fun and serious style. Such is the quality and strength of its British hand built craftsmanship, it will survive rugged use and still be in good condition for future generations to enjoy. The best part about it all is that you get to choose the drinks!"
The Drinks Chest costs £975 for the Standard Edition including eight liqueurs and can be order online at:
http://www.demijohn.co.uk/drinks-chest-standard-edition
Prices are offered on application for bespoke versions filled with alternative Demijohn drinks or requiring engraving.
- Ends -
Note to Editors:
Demijohn sources unusual, delicious artisan liqueurs, spirits, oils and vinegars from around the UK and Europe and sells them in a wide range of re-useable glass bottles. Each bottle can have a free personalised message added.
382 Byres Road, Glasgow, G12 8AR Tel: 0141 337 3600
32 Victoria Street, Edinburgh, EH1 2JW Tel: 0131 225 4090
11 Museum Street, York, YO1 7DT Tel: 01904 637 487
20 Little Clarendon Street, Oxford, OX1 2HP Tel: 01865 552179
Normal Opening Hours: Mon-Sat 10-6pm, Sun – 11.30-5pm
For photography, further press information or press samples, please contact: Fenella Taylor at Fenella Taylor PR. Tel: 01389 830390 Mobile: 07721 324696 Email: fenella@fenellataylorpr.co.uk
---