Summer Arrives on the Demijohn Table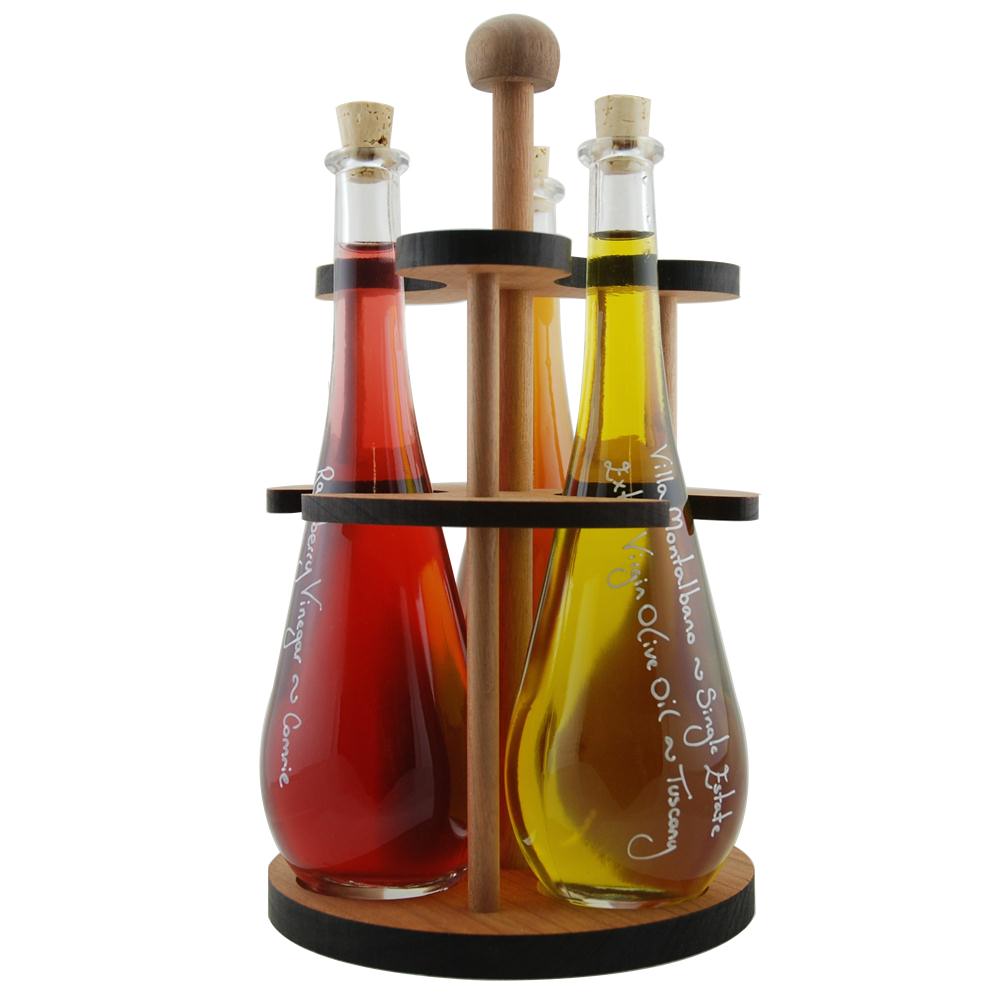 When the sun shines what nicer way to enjoy our limited summer than to invite friends and family round and provide an al fresco meal. Take the hassle out of making salad dressings by putting one of our new Demijohn Goccia Carousels on the table.
Featuring a trio of 100ml bottles, nestled together in a handmade red cherry wood holder, this means your guests can choose which delicious oil or vinegar they will drizzle over their food. We have a selection of eight fruit vinegars, some very special Balsamic vinegars and seven oils to choose from to make up the Oil and Vinegar Carousel.
For any 'foodie' friend this makes the perfect gift and as well as tasting fantastic it looks so cool on the summer table.
Our favoured vinegar this month is Elderflower Vinegar as the Demijohn team has just completed their annual 'elderflower pick'. Given the hundreds of litres Demijohn sells of this unusual fruit vinegar the
producer simply can't pick enough so the team closed the York shop for the day and headed to the Yorkshire hedgerows to pick up to 40 kilos of elderflowers in a day. The new season vinegar will be available in the shops in two weeks and given the warm spring will be the tastiest ever.
Demijohn's oils are varied and always delicious – for a fresh salad choose one of our Mediterranean extra virgin olive oils such as Villa Montalbano Extra Virgin Olive Oil from Tuscany or Sitia Olive Extra Virgin Olive Oil from Crete, or for a zing try one of our naturally flavoured Rapeseed Oils.
For that extra special summer gift add a personalised message for free. Let the summer begin…!
Ends -
Note to Editors:
Demijohn sources unusual, delicious artisan liqueurs, spirits, oils and vinegars from around the UK and Europe and sells them in a wide range of re-useable glass bottles. Each bottle can have a free personalised message added.
382 Byres Road, Glasgow, G12 8AR Tel: 0141 337 3600
32 Victoria Street, Edinburgh, EH1 2JW Tel: 0131 225 3265
11 Museum Street, York, YO1 7DT Tel: 01904 637 487
20 Little Clarendon Street, Oxford, OX1 2HP Tel: 01865 552179
Normal Opening Hours: Mon-Sat 10-6pm, Sun – 11.30-5pm
For photography, further press information or press samples, please contact: Fenella Taylor at Fenella Taylor PR. Tel: 01389 830390 Mobile: 07721 324696 Email: fenella@fenellataylorpr.co.uk
---