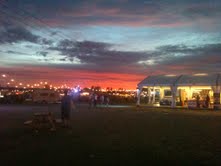 Anyone who is familiar with the more alcoholic side of Demijohn's beautiful produce (which is affectionately known as "The Alcoholic Sweet Shop of Joy!") will know how well it all goes down as an after dinner tipple, with desert, in a cocktail at lunch time, with fish, meat, cheese... the list goes on...
Those of you with a more creative mind, will know that to help unlock the inner yearnings of your artistic soul, the key is a little Bramble Scotch Whisky Liqueur or Morello Cherry Brandy Liqueur...
So when invited to this years 'Big Feastival' in Oxfordshire, where there was fantastic food, and of course, live music - we jumped at the chance!
Fuelling artists like Ciaran Jeremiah from The Feeling, and meeting an amazing range of individuals - We had a lady, so thrilled with our product, not only did she buy some for herself, the next day, she smuggled in her own Limoncello for myself and Darren (The new manager of the up and coming, ever so exciting, Oxford shop) to taste! - it is a very hard life I lead! Next year, demijohn cocktails will be free flowing and plentiful, as well as being able to buy yourself a bottle!
---