The Cream of Blackcurrants - Crème de Cassis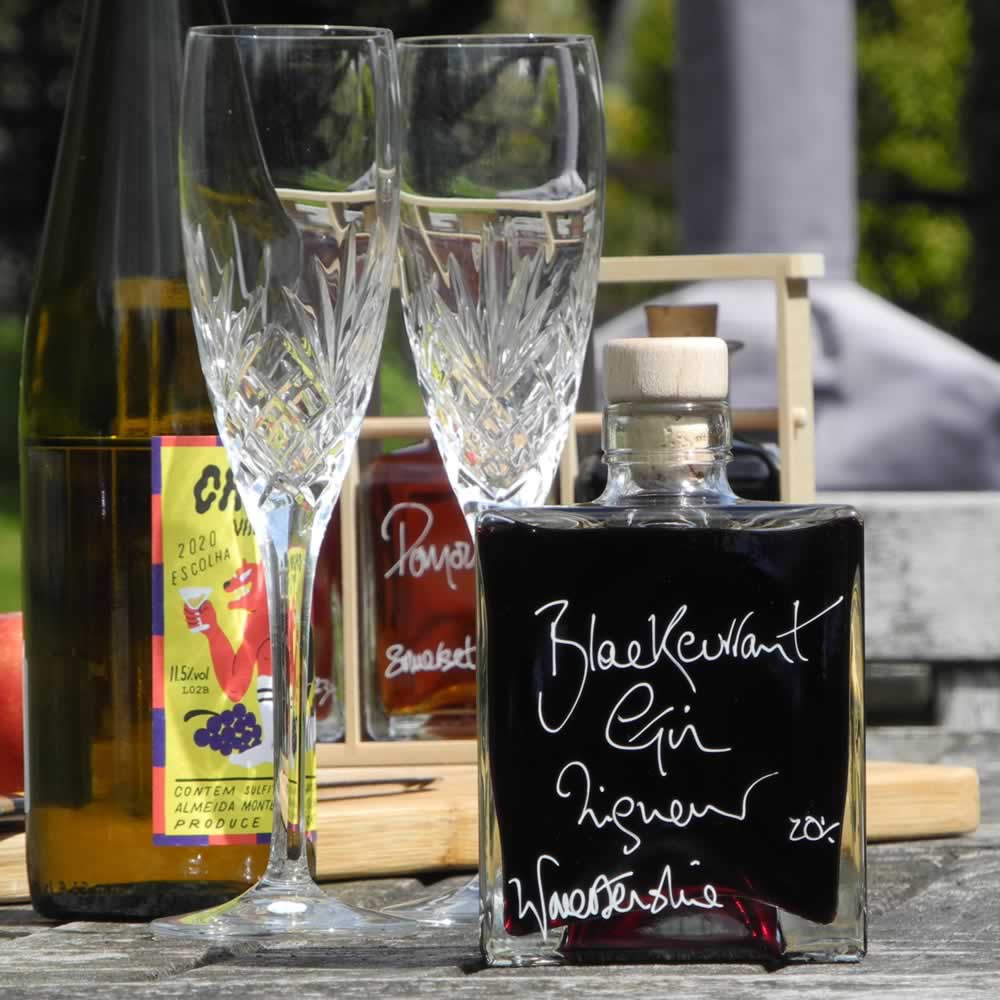 Blackcurrant, or cassis as they say in France, is such a popular flavouring added to foods such as juice, sweets, etc. marketed towards children that we can sometimes forget what an irresistible and special treat Kir Royale is, made from Creme de Cassis (blackcurrant liqueur).
Crème de cassis is a speciality liqueur of the Burgundy (Bourgogne) region of France, though similar alcoholic drinks occur elsewhere in the world, wherever blackcurrants grown, though surprisingly not in the USA, since the plant was banned in the early 20th Century because of a fungus and even today it is still not a popular fruit. The Americans are really missing out.
Creme de cassis liqueur is thought to have originally been first made in Djion, Bourgogne, the same place where the eponymous mustard hails from. Confusingly there is a town near Marseille in the South of France called Cassis known for it's wines, but not blackcurrant liqueur. At the moment Crème de Cassis can be made anywhere as it is not covered by a PDO (Protected designation of origin), however Crème de Cassis de Dijon or Crème de Cassis de Bourgogne is.
The name Creme de cassis confusingly gives the impression that the drink is made from cream or has a creamy texture, but in reality it is a viscous, lucious, sweet drink and the word 'Creme' means the 'best of' in the expression 'crème de la crème', i.e. the best of the best or 'the cream of the crop'
Because oranges were hard to come by in the UK during the 2nd World War, blackcurrant syrup was given to all children under the age of two as a Vitamin C supplement. Actually blackcurrants have nearly three times the amount of vitamin C (ascorbic acid) than oranges per gram and are also high in citric acid acid and healthy polyphenols.
Though many people claim that Agatha Christie's Belgian Detective Hercule Poirot was fond of Creme de Cassis, it seems that his favourite tipple was actually Creme de Menthe, a completely different sort of drink, and the only reference to blackcurrants was that he once enjoyed a drink of Sirop de Cassis, technically the French version of Ribena.
Unlike Poirot, one person who was very fond of Creme de Cassis was the priest & WWII Resistance fighter, Cannon Félix Kir who became the Major of Djion. His favourite drink was vin blanc cassis, which was made from mixing white burgundy wine, usually Aligoté, with crème de cassis. His enthusiasm for this drink, which he regularly served to visitors, led one of the main producers of crème de cassis to name the drink in his honour, the Kir.
Our blackcurrant gin liqueur, comes from a recipe dating back to 1842, which is nearly as old as the French liqueur, and has won Gold at the The Great Taste Awards. Here are some of our favourite ways to enjoy this amazing drink.
Kir – mixed with a chilled dry white wine
Kir Royale – mixed with Champagne
Kir Pétillant – mixed with any other sparkling wine
A Cardinal – mixed with red wine
Frappe – on it's own over shaved ice
Cassis Spritz – mixed with sparkling wine and topped off with soda water
Poured over vanilla ice cream
---