The Demijohn News - A Nutty Christmas Offer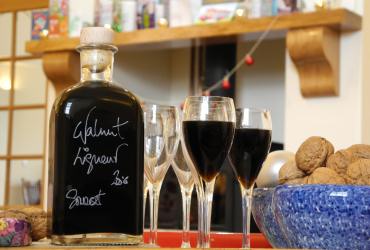 A Nutty Christmas Offer
Our new British Walnut Liqueur 38% has arrived and is now on tap in our shops, for you to try.
With its strong, spicy, festive taste it is a perfect addition for your Christmas drinks cabinet.
Delicious when drunk after a big dinner as a digestif or sipped with a sweet dessert, this is a complex, slightly sweet drink that will pleasantly surprise even the most discerning connoisseurs.
If there is one regret it is that we were only able to make 250 litres of our fabulous new Walnut Liqueur this year. So if you would like to try some, please be quick!
Our Christmas Offer
If you are planning a Christmas order with us, now might be the moment to place it. Our standard 5-7 day delivery service is free to all UK Mainland addresses for orders over £40. Please remember you can also click and collect via our website. There is no delivery charge for orders placed online for collection from one of our shops.
In addition we are offering a 5% discount* on your online order if it is placed prior to Monday 8th Dec 2015. Simply enter voucher code WALNUT when you check out. (*Terms apply. The discount cannot be used in conjunction with any other offer, applies to online orders only excluding your delivery charge).
A Walnut Liqueur's Tale
Once upon a time, (well March 2005 to be exact), Frances, the children and I travelled to Modena in Northern Italy to visit Giovanni Tagliavini's beautiful Acetia, where he makes our Traditional Balsamic Vinegars.
As a host, Giovanni is generous and fun. So as the lunch party ensued, more and more of Giovanni's personal creations appeared from his cupboard, from a delicious lightly sparkling Vino Rosso to a dark and unusual Nocino Liqueur made from his own Walnuts. The memory of that incredible homemade Walnut Liqueur stuck in my mind from that day to this and it became a personal challenge to try and recreate that fabulous drink with British grown Walnuts.
The process to find a suitable recipe, a grower of British Walnuts, and finally persuade one of our loyal producers to take up the challenge to make a Walnut Liqueur for us was a long one, 9 years in fact! Despite many failed attempts, finally in July 2013 we struck gold. Not only did we discover a British farm in East Sussex that was growing Walnuts, but one of our kind customers in Huddersfield was able to help up unlock the recipe mystery to allow us to make the drink for ourselves.
With just one kilo of Walnuts from the 2013 harvest, Frances set to work experimenting to see what combination of spirit might work best. After many failed samples were tasted by our unwitting guests, we finally had a winning formula. Our Apple Eau de Vie 40% was chosen as the base of our new liqueur.
Julian Temperley, who produces amongst other delightful drinks, our refined Apple Eau de Vie, fortunately agreed to take up the gauntlet and attempt to make the new drink. So on our 10th birthday on 1st July this year, myself and two keen young members of the Demijohn team from our Oxford Shop, Darren and Karen, headed to a beautiful farm in East Sussex to pick as many young green Walnuts in one day as was humanly possible.
We gathered 40kg, only stopping for a short break to have a welcome lunch with our hosts, which included amongst other things, pickled walnuts! (Watch this space for another new product). I think the photos will speak for themselves, as the hot Summer day was simply magical and we even ended it with a swim in the farm pool: amazing!
The next day the Walnuts were carefully boxed up and quickly transported to Julian in Somerset where they were infused in his Apple Eau de Vie with sugar and cloves. After almost 5 months of maturing, we had something ready to drink.
Julian has done a remarkable job in not only creating something of a first in Britain in the liqueur World, but in also holding his nerve through the whole mad process of its development. These things are not easy to organise, however, when we are rewarded with a result so good as this it makes it worth all the effort.
We sincerely hope you enjoy our new Walnut Liqueur as much as us. Please be warned it is very strong, like the traditional Italian drink, so your Christmas could be pretty lively as a result!
Next time in The Demijohn News: Some great present ideas for Christmas....
If you get stuck with ordering please do not hesitate to contact us and we will be very happy to help. We look forward to seeing you very soon.
Yours,
Angus
---