The Demijohn News - Our 10th Birthday Offer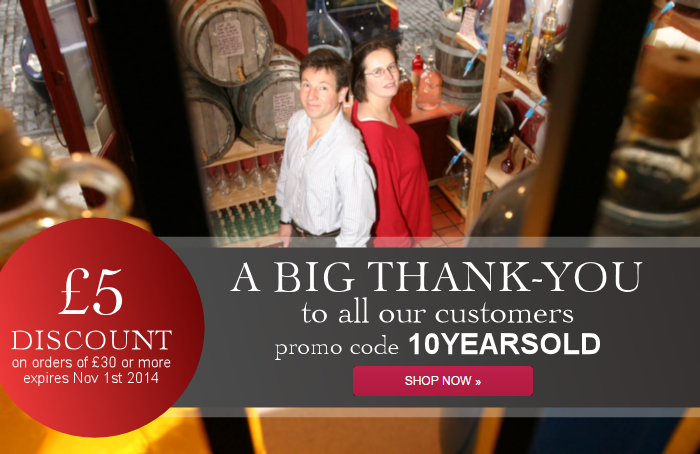 Celebrating 10 Great Years!
This year we are celebrating 10 great years in business as a liquid deli. From our humble beginnings in Edinburgh's Victoria Street in July 2004 with just 20 products on tap and 3 Staff to run the shop, (one of which was me!), we now have over 60 products to taste being sold by 35 enthusiastic Staff the World over.
Thankfully some things haven't changed. We are still very much a family owned Company with Frances and I in charge. We have always liked parties and have always done the unthinkable at Demijohn. This includes closing up shop for a day to pick some of the wonderful hedgerow fruits and plants that make up our products. If you have been caught out by this irrational behaviour in the past, I sincerely apologise now!
This year we even managed to break our personal record for the picking of things. We picked Elderflower in Yorkshire for our Elderflower Vinegar in June, Walnuts in East Sussex for our new Walnut Liqueur in July and earlier this week Sloe for our Sloe Gin in Galloway.
And yet it still feels like we have just opened the door to our first shop and that we have only scratched the surface of what is possible. Our future is full of excitement and challenge, and of course a few new barmy ideas for products to try and make!
Our Birthday Offer
As a BIG thankyou for your tremendous support and custom in getting us this far, we would like to make you an offer. Simply spend £30 or more online or in store before 1 Nov and receive a £5 discount off your purchase. To redeem online please use voucher code: 10yearsold To redeem your voucher in store please bring a copy of any part of this newsletter with you, or simply note down the code.
(Some terms apply of course: You may use this offer both online and in store, but it is limited to once per person in each case. This offer is not valid for use in conjunction with any other offers or on our Mobile Events Stand, and expires at midnight on 1 Nov 2014).
Coming Soon....
We have been secretly developing another first in the liqueur World, a British made Walnut Liqueur and it is nearly ready for you to try. Watch out for more nutty news very soon.....
Please keep your enthusiastic emails coming in, we love them all. We look forward to seeing you very soon in one place or another.
Yours,
Angus
---