The Demijohn News - The Elderflower Foraging Frenzy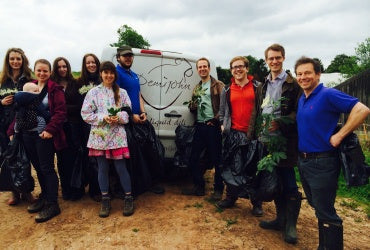 The Elderflower Foraging Frenzy
On Monday 16th June we shut up shop in York and headed for the hedgerows around Wetherby in West Yorkshire for the now annual Demijohn elderflower pick. We need elderflower to allow Mrs Anne Sinclair to work her magic and create our unique and delicious Elderflower Vinegar. Without both our efforts, we would have none and salads would never be the same again!
Plundering hedgerows is great fun, as long as you have a long pair of trousers and a large picnic lunch with a few Demijohn Cocktails to look forward to.
When the sun shines, as it did on our day, there really is not much else that can beat this rural ceremony.
Our Elderflower Vinegar can be used in many ways to enhance the flavours in your food. For example, dressing fresh green salad leaves with a little Olive Oil or Lemon Rapeseed Oil to make our irresistible Elderflower Vinaigrette. Alternatively pour a little over a dollop of Vanilla Ice Cream and some quartered strawberries and you will have created an exciting Summer pudding. These are some of our favourite things.
Fairs and Events News
Mark and his Demijohn van have been roaring around the country to many Summer shows, from Malton to Norfolk. Next week we are back in Scotland and will be exhibiting at the marvellous Scottish Game Fair at Scone Palace, Perth from 4 to 6
July.
Scone Game Fair already has a fantastic reputation as a family friendly event with the most incredible selection of exhibitors and events. We are simply planning on adding to the party further by once again running not only our classic liquid deli but also our extraordinary Demijohn Cocktail Bar.
This year we are honoured to have been invited to exhibit as part of the Game & Wildlife Conservation Trust Members Area on Gunmakers Row. This is special circumstance and a change from our normal Osprey Row pitch, so please don't get lost when trying to find us!
We hope you can make the party too? A full list of our events can be found on our fairs and events page.
Thankyou to all those who volunteered themselves to come picking elderflower with us this year, Demijohnnies and guests. Without you we would have none. Have a wonderful weekend and get dressing those salads please!
Yours,
Angus
---