Tuck into a Rare and New Tayberry Vinegar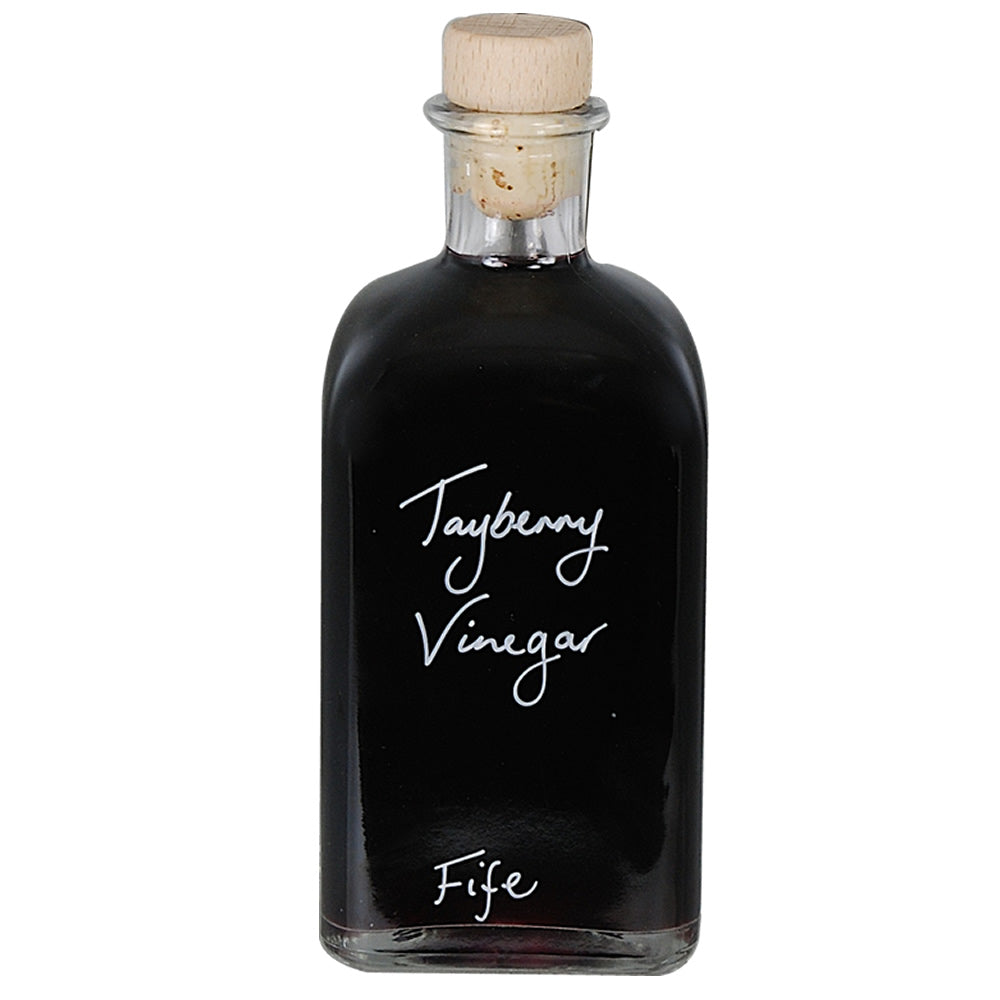 Raspberries and blackberries please step aside, for a new fruit has jumped to the fore with the launch of Tayberry Vinegar, a new, delicious deeply fruity vinegar from Demijohn and a great alternative to a balsamic vinegar dressing.
As rare as sun in Scotland the tayberry grows mainly in Fife and is a cross between the raspberry and the bramble but is sweeter, much larger and cannot be picked easily nor machine harvested, hence the reason they are not commercially grown.
Always on the hunt for the quirky, Demijohn discovered Tayberry Vinegar being made by two talented ladies in Fife who were producing sauces and dressings made from herbs grown in their cottage gardens. The result is a deeply fruit vinegar with a subtle sweetness that can be used for dressing salads or adding to savoury dishes. Its sharpness means it lends itself to being used for cooking at temperature.
Named after the River Tay, the tayberry is a deep reddish purple colour when ripe. The Tayberry Vinegar is made by infusing the tayberries in wine vinegar with a little sugar. However, given the short supply of stocks of tayberries, Demijohn only has a limited supply of Tayberry Vinegar so shop quickly before it runs out.
Angus Ferguson, owner of Demijohn said: "Our fruit vinegars are popular the whole year around. In summer they make excellent salad dressings or can be drizzled over meat, fish and even fruit. In the colder months we recommend adding them to sauces, gravies and casseroles for a rich, fruitier flavour. This new addition to our stable of fruit vinegars is delicious, versatile and such a wonderful colour. Why not take the healthy route and add one part Tayberry Vinegar to two parts sparkling mineral water and ice and you have a really healthy spritzer. And you can even drive after one of these!"
Tayberry Vinegar is priced at £1.90/100ml and is available from Demijohn shops in Glasgow, Edinburgh, York and Oxford or from www.demijohn.co.uk.
Ends -
Note to Editors:
Demijohn sources unusual, delicious artisan liqueurs, spirits, oils and vinegars from around the UK and Europe and sells them in a wide range of re-useable glass bottles. Each bottle can have a free personalised message added.
382 Byres Road, Glasgow, G12 8AR Tel: 0141 337 3600
32 Victoria Street, Edinburgh, EH1 2JW Tel: 0131 225 4090
11 Museum Street, York, YO1 7DT Tel: 01904 637 487
20 Little Clarendon Street, Oxford, OX1 2HP Tel: 01865 552179
Normal Opening Hours: Mon-Sat 10-6pm, Sun – 11.30-5pm
For photography, further press information or press samples, please contact: Fenella Taylor at Fenella Taylor PR. Tel: 01389 830390 Mobile: 07721 324696 Email: fenella@fenellataylorpr.co.uk
---