Unique and Unusual Wedding Gifts and Favours from Demijohn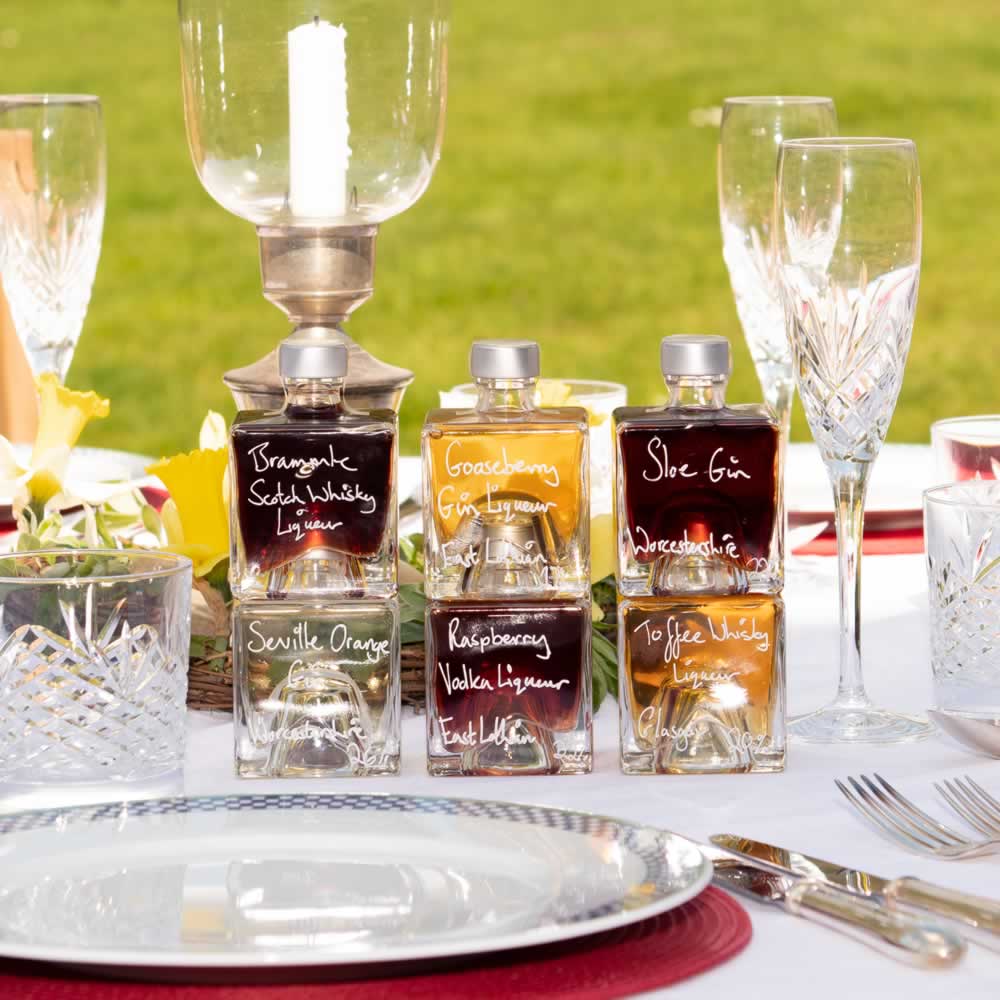 A Wedding is a day of great joy and celebration. But finding the perfect mementos for the event for family and friends or the ideal present for the happy couple can be a minefield!
Wedding favours are increasingly popular as a token by which your guests can conjure up memories of your special day. While the earliest wedding favours recorded, a sugar lump, may not any longer convey that note of thanks to your guests instead a bottle of liqueur, oil or vinegar from Demijohn can say that special thank you much more successfully.
Any of our range of bottles can be filled with one of our wonderful liqueurs, oil or vinegars: from Single Malt Whisky to a unique single estate Extra Virgin Olive Oil; then personalised with a handwritten message on each bottle. Simply the date of your marriage or a little note to your guests – the possibilities are endless! Bottle sizes can range from small individual gifts to a stack to make a delicious and decorative centrepiece for the table.
Demijohn can also provide perfect thank you gifts for the ushers, bridesmaids, and parents. Our hipflask shaped Outlaw bottle filled with any of our range of liqueurs is often a popular choice. But with an extensive range of bottle sizes and shapes there is something for everyone.
A memorable wedding gift for the happy couple is also easy to find at Demijohn. A romantic heart shaped bottle filled with Morello Cherry Brandy or a selection of bottles in one of our handmade oak gift boxes make a lasting gift as, as with all our bottles, we encourage their owners to return them to us for refilling as often as required. Again, with a personalised message added to the bottle your wedding gift will always provide a wonderful momento of the day.
Not only do we encourage all recipients of our bottles to return them to us for refilling but also your order will be shipped to you using our entirely recyclable packaging. We want to help you to ensure that your Great Day impacts only your happy memories, rather than the environment.
Our Wedding gifts and favours are bottled in our range of distinctive refillable Demijohn bottles and are available by mail order via Demijohn's website at:
https://www.demijohn.co.uk/gift-ideas/wedding-favours-ideas
- Ends -
Note to Editors:
Demijohn was founded in Edinburgh in 2004 by Angus and Frances Ferguson. They source unusual, delicious artisan liqueurs, spirits, oils and vinegars from around the UK and Europe and sell them in a wide range of re-useable glass bottles via their international mail order service and farm shop concessions. Each bottle can have a free hand written personalised message added. Gift wrapping is also available.
Demijohn, Glenlair Farm, Castle Douglas, DG7 3DF
Tel: 0845 6048350 www.demijohn.co.uk
Demijohn Farm Shop Concessions:
https://www.demijohn.co.uk/store-locator
For photography, further press information or press samples, please contact: Frances Ferguson at Demijohn
Tel: 0845 6048350 Email: info@demijohn.co.uk
---