Beetroot Tartare Recipe: An Elegant Delight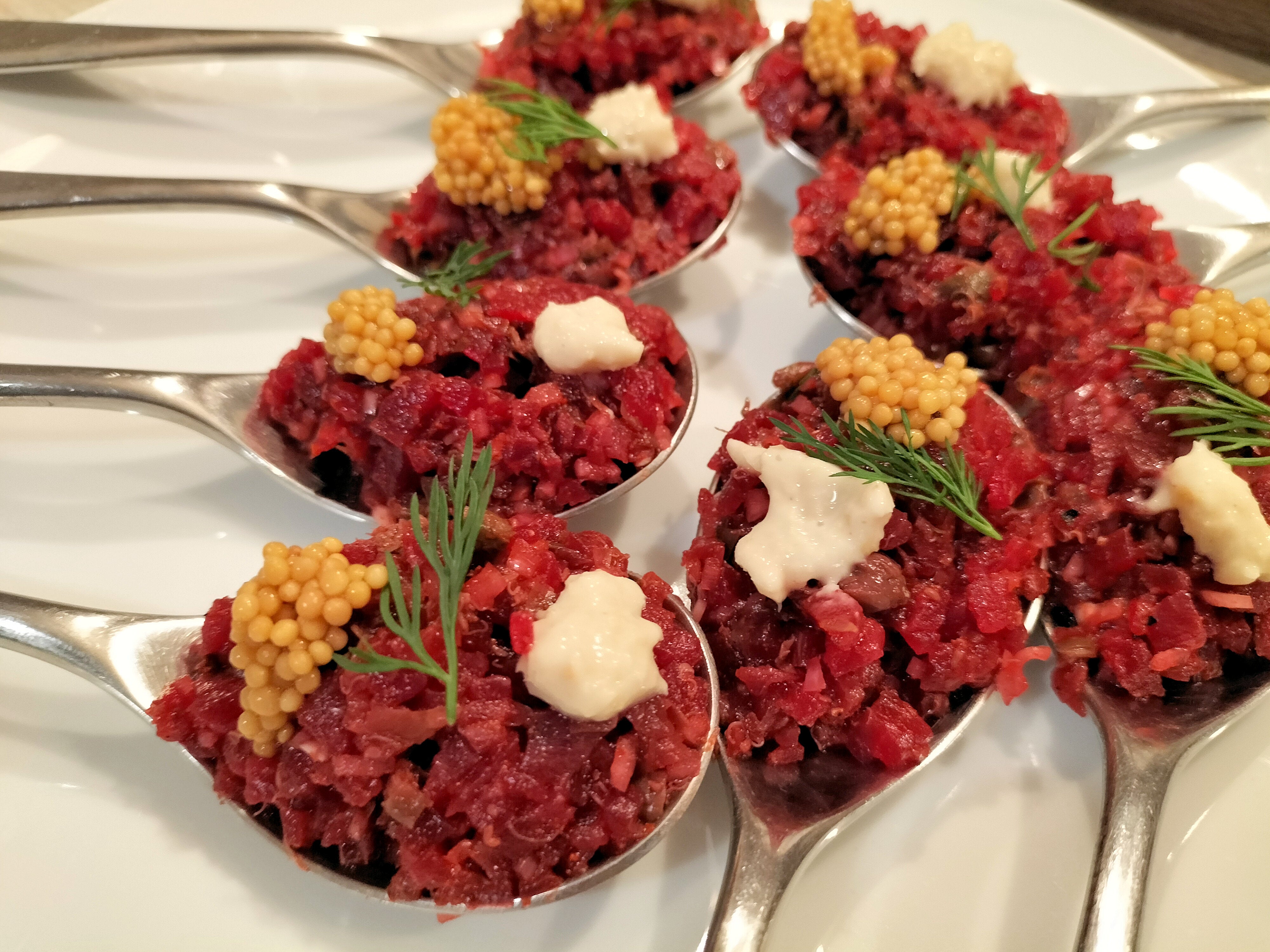 Beetroot tartare is a vibrant, flavourful, and healthier twist on the classic steak tartare, which traditionally features raw or lightly cooked minced beef seasoned with various ingredients.
This vegetarian-friendly dish has gained popularity in recent years due to its unique combination of flavours and textures, as well as the numerous health benefits of beetroots. Packed with essential nutrients, beetroots are known to improve digestion, lower blood pressure, and support brain health.
This elegant dish is perfect for a light appetizer or an amuse-bouche and is sure to impress your guests with its beautiful presentation. The natural sweetness of beetroots, paired with the tanginess of capers, the sharpness of red onions, the freshness of herbs, and the deep umami of our Black Garlic Balsamic Vinegar creates a delightful explosion of flavours in every bite.

This recipe is also 100% Vegan, but as a nod to steak tartare a tiny pinch of Kala namak (Sulphurous Himalayan black salt) can be added to the mixture to give just a hint of egg.
For the pickled mustard seed garnish, it is very easy to make your own with 1 tbsp of dried mustard seeds and 2 tbsp of apple cider vinegar. Bring to the boil and then immediately remove from the heat and let them marinate for a few hours.
How to make Beetroot Tartare
Makes 12 amuse-bouche portions

Ingredients:
1 large or two medium sized cooked beetroots (not pickled)
¼ small red onion
1 tbsp of capers, drained and rinsed
1 tsp of Djion mustard
1 tsp of Demijohn Black Garlic Balsamic Vinegar
A pinch of Kala namak (optional)
Salt and freshly ground black pepper, to taste

For garnish:
Horseradish cream, pickled mustard seeds and fresh dill.

Method:


If your beets are not cooked, wash them and then wrap them individually in aluminium foil and place them on a baking sheet in a 200°C oven for 45 to 60 minutes under fork tender. Allow to cool, remove the skins and leave until completely cold.
Dice the beetroot, red onion, and capers extremely finely. Each dice should be the size of a grain of rice.

Add the diced mixture to a bowl. Add the mustard, balsamic vinegar, kala namak (optional) and season with salt and freshly ground black pepper to taste. Mix well, ensuring all the ingredients are evenly distributed.
Cover the bowl and refrigerate the for at least 1 hour, allowing the flavours to meld together.
To serve, use two tablespoons to make a rough quenelle on one of the tablespoons for serving. Add a spot of horseradish cream, pickled mustard seeds and a sprig of fresh dill.
---