Raspberry, Apple and Walnut Oil Vinaigrette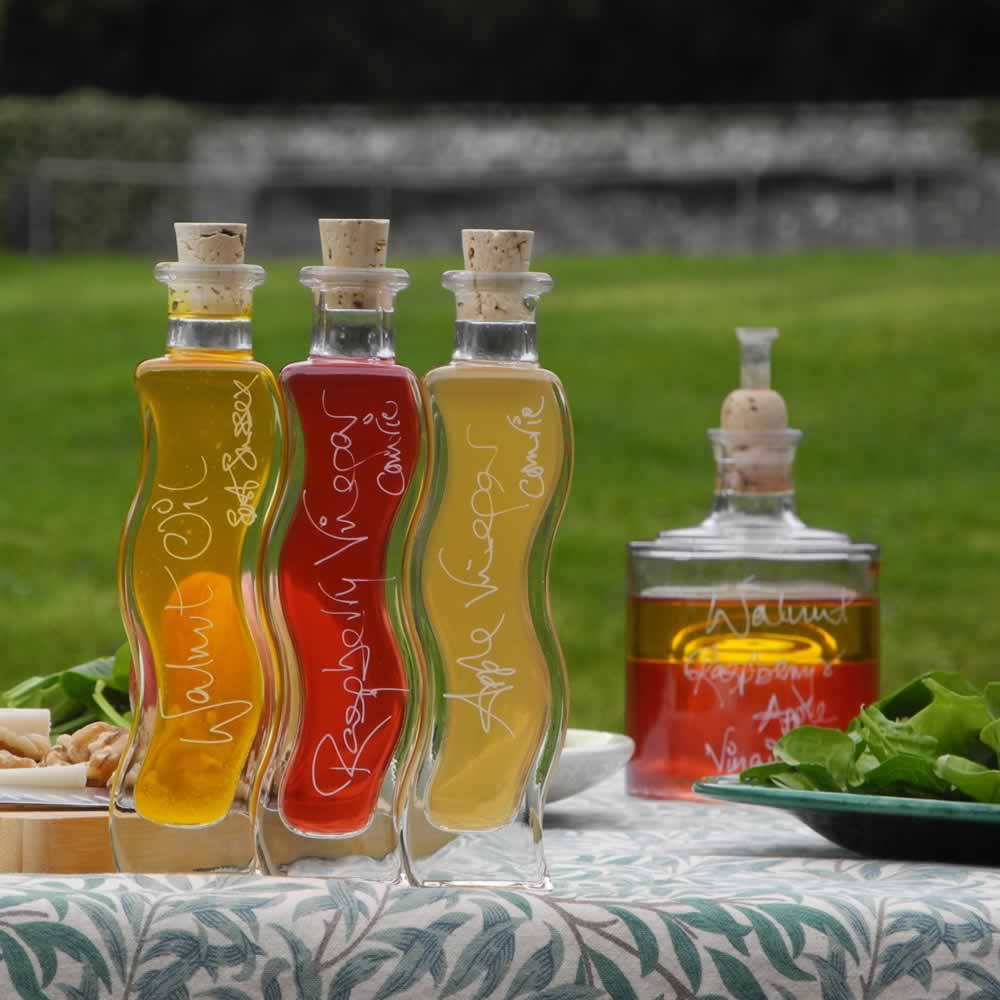 The time is late April and the temperature is rising sharply here at Demijohn HQ in South West Scotland. The brilliant Spring sunshine has brought out in us a sudden craving for all things salad....
The simple need for fresh green salad leaves, dressed with something delicious such as our Raspberry, Apple and Walnut Oil Vinaigrette, is the best way to finally shrug off those winter blues and make us all feel fit, healthy and ready for a red hot Summer of freedoms beyond our wildest dreams.
Our firm belief is that salads only really taste as good as the dressing you drizzle on them. Luckily our selection of oils and vinegars are now so varied we are almost spoilt for choice. However, there is one ingredient that quietly exudes quality yet is almost hidden from view, Walnut Oil.
Our Walnut Oil, pressed from hand picked East Sussex walnuts has a magnificent depth of flavour, that when mixed with both our Raspberry Vinegar and our Apply Vinegar can make an irresistible, creamy vinaigrette. Just about any salad leaf is suddenly turned from something a little bit boring into the most deliciously lip smacking treat on the planet.
Ingredients:
Preparation
To make your vinaigrette, place the ingredients in an empty Demijohn bottle (200ml capacity or greater) or other suitable container, seal it and then shake vigorously. Prepare a large bowl of delicious fresh green salad leaves and then liberally dress the leaves.
We would recommend you try this dressing on our Spinach and Walnut Salad with Goats Cheese and Apple, we think it is simple to make and works rather well.
How to buy the ingredients for this recipe
We have created two sizes of easy to purchase gift sets that include the 3 main ingredients required to make this vinaigrette, the Raspberry, Apple and Walnut Vinaigrette Dressing Set (Nocturne 350ml bottles) and Raspberry, Apple and Walnut Vinaigrette Dressing Set (Fila 100ml bottles).
Related topics
Spinach and Walnut Salad with Goats Cheese and Apple
Raspberry, Apple and Walnut Vinaigrette Dressing Set (Nocturne 350ml bottles)
Raspberry, Apple and Walnut Vinaigrette Dressing Set (Fila 100ml bottles)
Elderflower Vinegar and Lemon Oil Vinaigrette
---