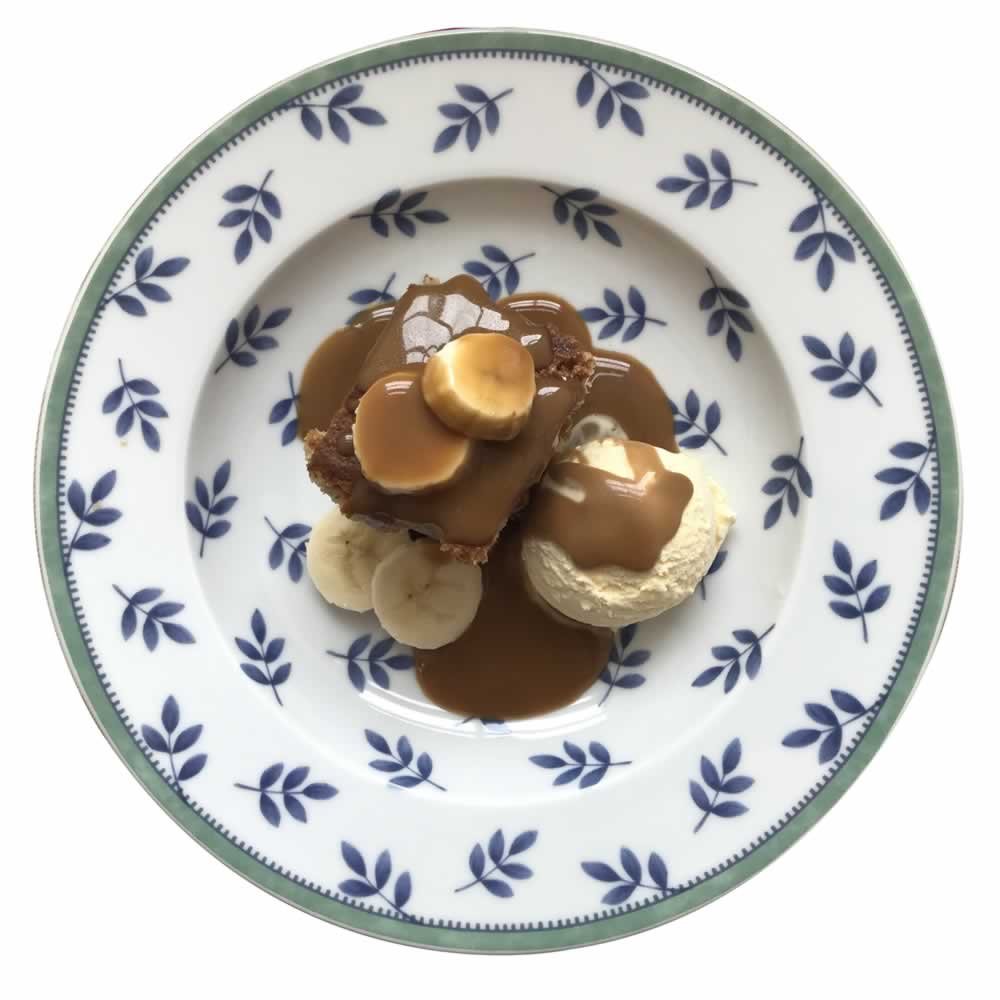 Sticky Spiced Rum Cake
We have improved, we think, on the classic Easter Sunday Sticky Toffee Pudding recipe with our own rather delicious Sticky Spiced Rum Cake. The cake element comprises of a Banana Loaf which is then covered with a moreish Spiced Rum Sauce, made using our popular Spiced Rum Liqueur 20%. The simple Spiced Rum Sauce could of course be used to enhance other cake and pudding recipes. The possibilities are limited only by your own creativity!
Spiced Rum Cake
Ingredients:
100g unsalted butter melted and slightly cooled
200g caster sugar
2 large eggs
2-3 over-ripe bananas mashed
2 tbsp lemon juice
1 tsp vanilla extract
320g plain flour
1 tsp baking powder
1 tsp bicarbonate of soda
¼ tsp salt
Cake preparation:
Preheat the oven to 180C. Grease and dust with flour an 8" square ovenproof dish. Mix together the melted butter and the sugar and then add the eggs, mashed banana, lemon juice and vanilla extract. Stir in the remaining dry ingredients until just incorporated without over mixing. Bake in the prepared dish for approx 35 mins, until a skewer comes out clean.
Spiced Rum Sauce:
Ingredients:
300ml double cream
140g dark brown sugar
4 tbsp unsalted butter
125mls Spiced Rum Liqueur 20%
Pinch of salt
Sauce preparation:
Combine the cream, butter and sugar over a medium heat until the sugar has dissolved. Keep stirring frequently. Add the Spiced Rum Liqueur once the sugar has dissolved and simmer until the sauce has reduced to a syrupy consistency. Stir every now and then to stop it catching.
To serve:
Once the banana sponge is cooked spoon 1/3 cup toffee sauce over the cake and return it to the oven until the sauce is bubbling vigorously (about 6 minutes). Cool the cake for at least 30 minutes and then cut into 9 squares or 12 rectangles.Serve at room temperature or slightly warm with sliced bananas on top and warm sauce poured over. (Editors note; Mr Demijohn is permitted to add dairy ice-cream to his serving!).
Relevant topics:
The Great Demijohn Easter Bake Off
---