First British Limoncello is Launched in Glasgow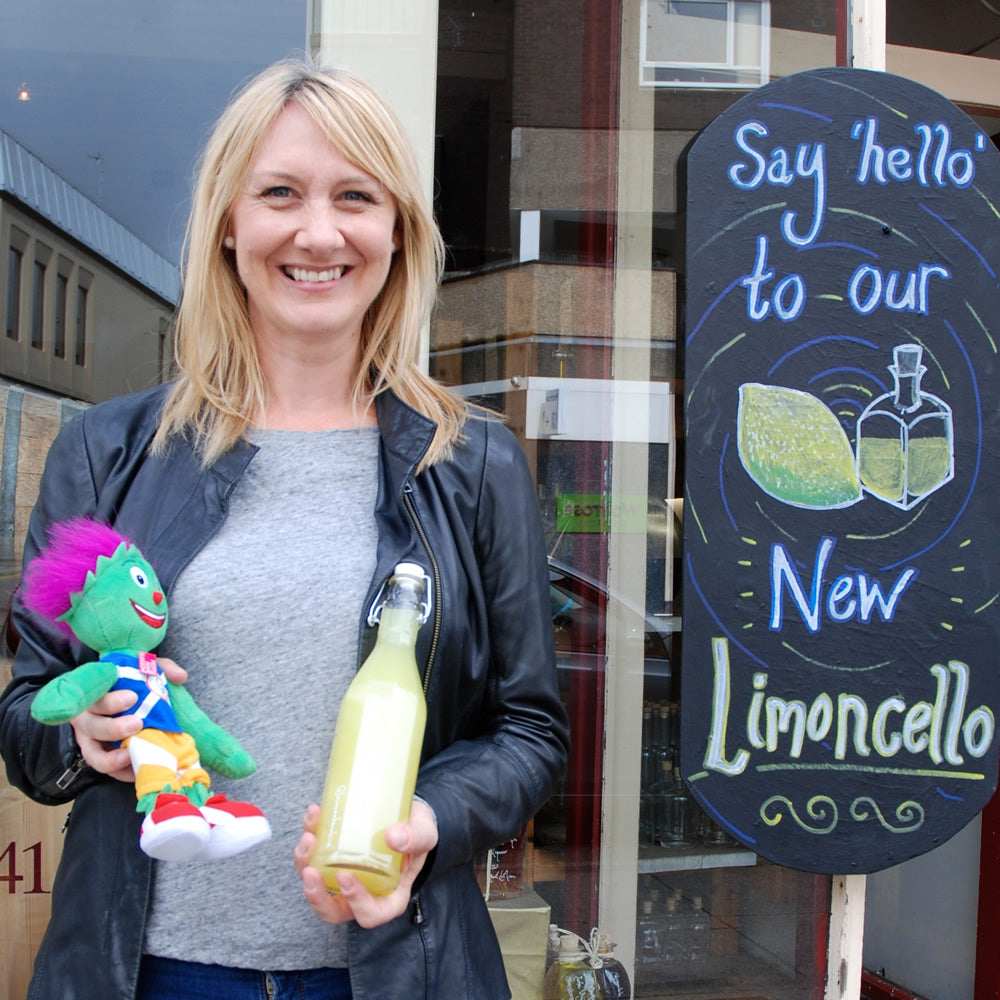 Pioneer of artisan drinks and delicious liqueurs Demijohn, have just launched this week the most perfect summer evening drink to celebrate the success of the Glasgow Commenwealth Games – Limoncello. With the most exquisite fresh taste that transports the taste buds to the lemon groves of Southern Italy, it is available for the first time commercially in the UK.
Many years ago when Demijohn founder Angus Ferguson and his wife Frances were honeymooning on the Amalfi Coast they were enchanted by the delicious chilled Limoncello that they quaffed on a daily basis. Such was its effect that a few years later they decided to set up liquid deli Demijohn and satisfy their taste for delicious Italian drinks – but made in the UK.
It has since taken 10 years for them to find a British Limoncello that has the quality, freshness and wonderful taste that they first tasted in Italy. Made by Hilary Blackford in Gloucestershire from vodka and Italian lemons, it is an excitingly fresh British lemon liqueur which is best drunk really cold, ideally straight from the freezer. Its strength (32%) gives it quite a whip in the tale.
In Southern Italy (where the pace of life is slower) it is traditionally drunk before or after dinner but can also be enjoyed mid morning with an espresso or even poured over a pudding, ice cream or sorbet.
To celebrate the Commenwealth Games in Glasgow and the city's link with Italy in particular, the Limoncello has been used to create a new cocktail. Aptly named Lemon Weegie, the cocktail is a fresh long drink with a tickle of floral zing, perfect to toast British success at the Games. To make a Lemon Weegie Cocktail, add 50ml of Limoncello Liqueur to 25ml of Demijohn's handmade Elderflower Vinegar in a tall glass with plenty of ice. Squeeze in fresh lime and top up with Indian Tonic Water.
With high summer upon us it's time to treat yourself to a little touch of Italian/British flavours. Limoncello is priced at £5.40/100ml from the Demijohn shops in Glasgow, Edinburgh, York and Oxford or online at:
http://www.demijohn.co.uk/limoncello-liqueur-32
- Ends -
Note to Editors:
Demijohn sources unusual, delicious artisan liqueurs, spirits, oils and vinegars from around the UK and Europe and sells them in a wide range of re-useable glass bottles. Each bottle can have a free personalised message added.
382 Byres Road, Glasgow, G12 8AR Tel: 0141 337 3600
32 Victoria Street, Edinburgh, EH1 2JW Tel: 0131 225 3265
11 Museum Street, York, YO1 7DT Tel: 01904 637 487
20 Little Clarendon Street, Oxford, OX1 2HP Tel: 01865 552179
Normal Opening Hours: Mon-Sat 10-6pm, Sun – 11.30-5pm
For photography, further press information or press samples, please contact: Fenella Taylor at Fenella Taylor PR. Tel: 01389 830390 Mobile: 07721 324696 Email: fenella@fenellataylorpr.co.uk
---