Is this a rum deal for Christmas?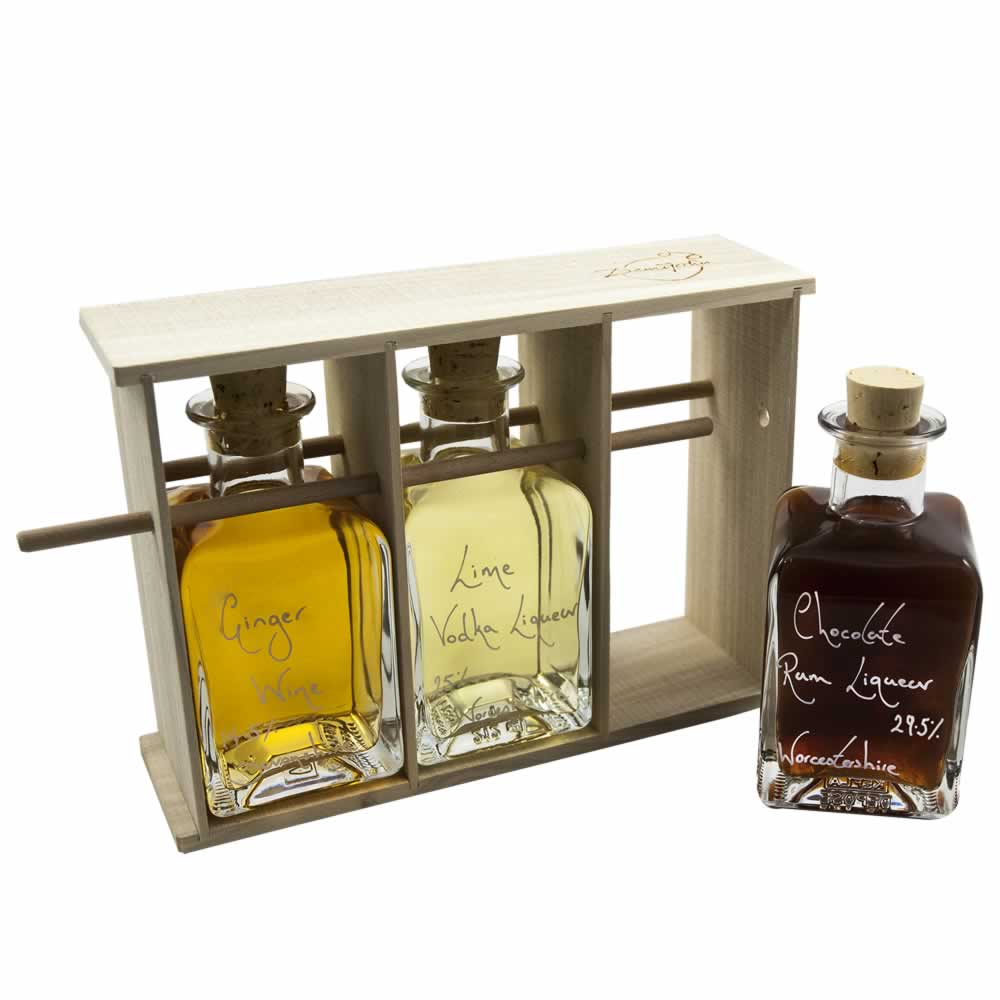 Storm clouds are gathering over liquid deli Demijohn as they launch a new rum cocktail set – Chocolate Dark and Stormy - for the Christmas gift market. A cocktail set is perfect for men and women alike and this beautiful wooden rack comes with all the ingredients to make the perfect winter cocktail.
On dark winter nights we all need a hint of the exotic and this delicious cocktail will transport you to the sun-kissed Caribbean shores. Combining our new Chocolate Rum Liqueur, with its velvet smooth taste of dark chocolate and dark Caribbean Rum, with fresh Lime Vodka made in Worcestershire and Ginger Wine and topped up with soda water. This is the most delicious Christmas cocktail and is priced at £43.75.
Or for those who like a touch of adventure give the Bloody Pirate stacking set (priced at £31.20). 250ml Impilabile bottles of Spiced Rum and Raspberry Vodka sit on top of each other and when combined make a fantastic big strong tasting cocktail, particularly favoured by men. For a simple, very affordable present there is the Hipflask of Chocolate Rum, priced at just £24.66, which slips easily into a jacket pocket for a nip on a cold walk.
For the ladies there is the Gin Rummy, where a Ying Yang set of Chocolate Rum and Seville Orange Gin nestle together to give two delicious digestif drinks or the basis for a simple pre-dinner Christmas drink. As a bonus every bottle can have a short personalised message added for free, so doing away with gaudy Christmas gift tags.
"Rum is the new gin," says Demijohn MD Angus Ferguson, who has seen a recent rise in their flavoured rum sales especially for pre-Christmas cocktails. "Spirit popularity goes in trends – in 2004 when we started Demijohn, vodka was the 'in' drink, then it was whisky which was shortly overtaken by the massive trend for gin which began a couple of years ago. Now Gin is so last year and rum is taking over especially with the flavoured rums that we have launched. These gift sets are interesting and unusual so make the ideal Christmas gifts."
For those who prefer something non-alcoholic Demijohn has Oil and Vinegar gift sets – the mini ones contain 2 x 40ml fruit vinegars and 1 x extra virgin olive oil in a wooden rack priced at £19.41 or the larger 5 x 40ml Apotheker racks are £26.83. All the oils and vinegars are produced on small farms and made by hand and are totally natural and distinct.
Ideas for Christmas gifts are often hard but Demijohn gift sets are delicious, different and dynamic – what more to ask for!
http://www.demijohn.co.uk/blog/rum-cocktails/
http://www.demijohn.co.uk/chocolate-dark-and-stormy-gift-set
http://www.demijohn.co.uk/hipflask-of-chocolate-rum-liqueur
http://www.demijohn.co.uk/gin-rummy
http://www.demijohn.co.uk/mini-oil-vinegar-rack
- Ends -
Note to Editors:
Demijohn sources unusual, delicious artisan liqueurs, spirits, oils and vinegars from around the UK and Europe and sells them in a wide range of re-useable glass bottles. Each bottle can have a free personalised message added.
382 Byres Road, Glasgow, G12 8AR Tel: 0141 337 3600
32 Victoria Street, Edinburgh, EH1 2JW Tel: 0131 225 4090
11 Museum Street, York, YO1 7DT Tel: 01904 637 487
20 Little Clarendon Street, Oxford, OX1 2HP Tel: 01865 552179
Normal Opening Hours: Mon-Sat 10-6pm, Sun – 11.30-5pm
For photography, further press information or press samples, please contact: Fenella Taylor at Fenella Taylor PR. Tel: 01389 830390 Mobile: 07721 324696 Email: fenella@fenellataylorpr.co.uk
---