New Cretan Olive Oil Launched at Demijohn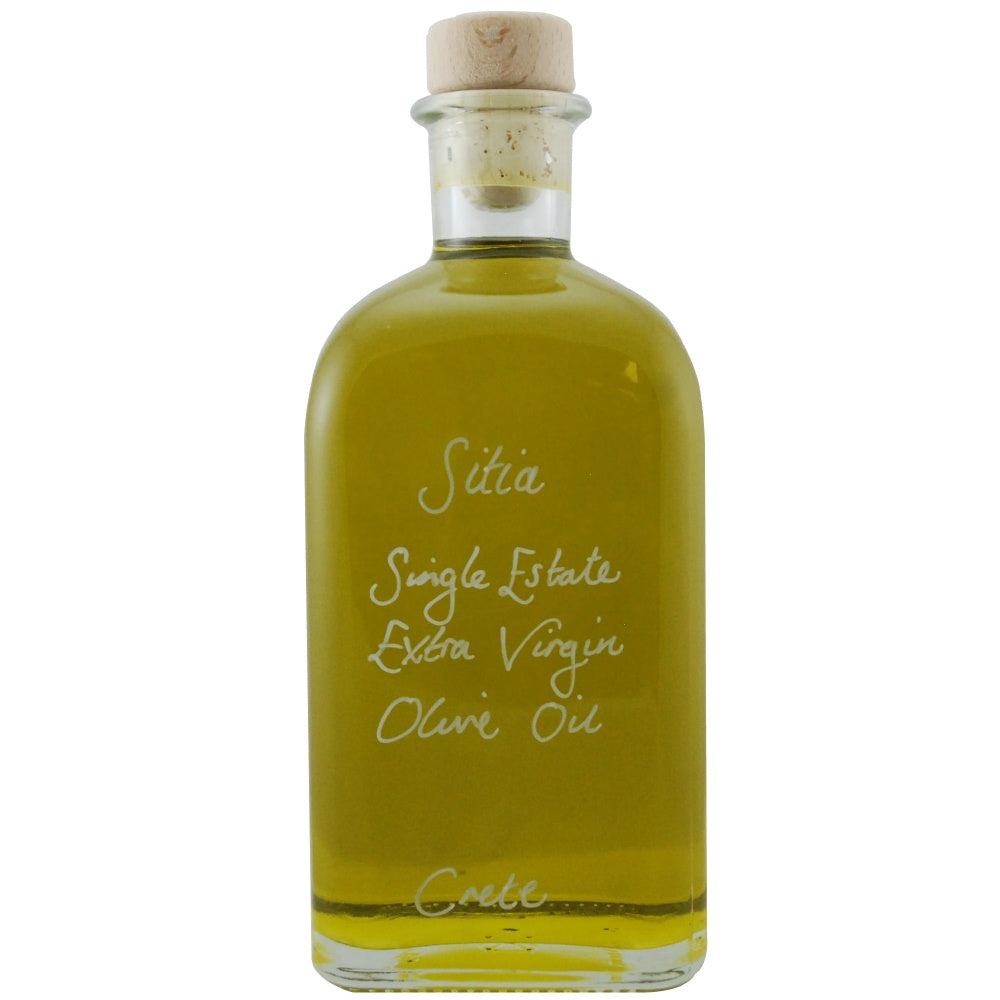 With summer sunshine finally shining and our tastebuds yearning for salads Demijohn have launched a brand new Extra Virgin Olive Oil from Crete, called Sitia Extra Virgin Olive Oil.
Sitia Extra Virgin Olive Oil is light, with an aromatic, fresh olive taste and velvety smooth texture, which makes it a simply irresistible choice for dressing and cooking foods with. Its gentle flavour and mild taste make it perfect just to drizzle on salad leaves or fish, or mix with our Apple, Gooseberry or Lemon Fruit Vinegars.
From the sun-kissed olive groves of eastern Crete the Sitia Extra Virgin Olive Oil is produced by Sonia Swain and her brother Edward. The climate in Crete is as near perfect as you can get for producing olives for olive oil but it is only produced in small quantities and so is very rare.
Sonia's background in horticulture and Edward's farming knowledge from their native Shropshire led them to purchase a small plot of arable land in Crete in 2009 with the intention of producing their own olive oil. The Swains were quickly liked by the neighbouring Cretan farmers because of their enthusiasm and competence in managing their olive grove. Fuelled by a relentless passion to produce a first class olive oil, which included picking each olive by hand, their first main crop for sale was pressed just this February.
Angus Ferguson, MD of Demijohn said: "We have dreamed of stocking a good Cretan Extra Virgin Olive Oil since we founded in 2004, but being such a rare commodity it has taken almost 9 years of searching to find something suitable. Finally, after many months of discussion with the Swains about their crop we were eventually captured by Sonia's and Edward's passion and integrity. The quality and flavour of their exquisite Sitia Extra Virgin Olive Oil is unquestionable and has certainly been worth the wait. If there was one regret it is that given the size of their grove and the amount harvested, stocks are limited. If you are passionate about olive oil then I would recommend ordering soon."
Sitia Extra Virgin Olive Oil is unfiltered, giving it a magical velvety texture, so the natural fibre settles after time. Sitia Extra Virgin Olive Oil is priced at £3.40/100ml and is available from http://www.demijohn.co.uk/sitia-extra-virgin-olive-oil
- Ends -
Note to Editors:
Demijohn sources unusual, delicious artisan liqueurs, spirits, oils and vinegars from around the UK and Europe and sells them in a wide range of re-useable glass bottles. Each bottle can have a free personalised message added.
382 Byres Road, Glasgow, G12 8AR Tel: 0141 337 3600
32 Victoria Street, Edinburgh, EH1 2JW Tel: 0131 225 3265
11 Museum Street, York, YO1 7DT Tel: 01904 637 487
Normal Opening Hours: Mon-Sat 10-6pm, Sun – 11.30-5pm
For photography, further press information or press samples, please contact: Fenella Taylor at Fenella Taylor PR. Tel: 01389 830390 Mobile: 07721 324696 Email: fenella@fenellataylorpr.co.uk
---