Rosy Rhubarb Vodka and Gorgeous Ginger Wine Combine for very special Mother's Day Tipple and Ma'Kintosh Cocktail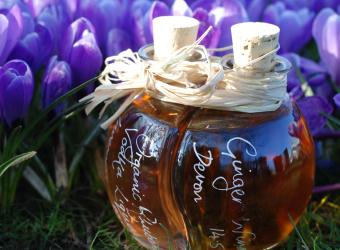 When you feel that flowers or chocolates are rather 'last year' Demijohn have introduced a Mother's Day present to make your mum glow from the inside out. They have launched their Ying & Yang set of fresh Organic Rhubarb Vodka Liqueur with delicious Ginger Wine.
The marriage of rhubarb and ginger is as old as the hills but this alcoholic concoction in their new Ying Yang 200ml bottles is the perfect original and delicious Mother's Day gift. The pinky hue of the Organic Rhubarb Vodka brings a lovely flavour of spring and complements the deep golden Ginger Wine. Demijohn have experimented with these flavours and created their very own Rhubarb 'MA'kintosh Cocktail for Mother's Day. Mix 2 parts of Organic Rhubarb Vodka with 1 part Ginger Wine and ½ measure of Lemon Vinegar and shake up with ice and serve in a tumbler. Add a thin slice of root ginger to the side of the glass to decorate.
The Organic Rhubarb Vodka Liqueur is made in Invernesshire with fresh Scottish organic rhubarb, English vodka and cane sugar and has been a huge hit since it was launched. The Ginger Wine is made in Devon and is a much smoother and more palatable drink than other commercial ginger wines and is an excellent addition to many cocktails.
Priced at just £19.40 with a personal message added for free it is a very affordable and delicious gift for Mum – or Granny - this Mother's Day.
http://www.demijohn.co.uk/rhubarb-and-ginger
Ends -
Note to Editors:
Demijohn sources unusual, delicious artisan liqueurs, spirits, oils and vinegars from around the UK and Europe and sells them in a wide range of re-useable glass bottles. Each bottle can have a free personalised message added.
382 Byres Road, Glasgow, G12 8AR Tel: 0141 337 3600
32 Victoria Street, Edinburgh, EH1 2JW Tel: 0131 225 3265
11 Museum Street, York, YO1 7DT Tel: 01904 637 487
20 Little Clarendon Street, Oxford, OX1 2HP Tel: 01865 552179
Normal Opening Hours: Mon-Sat 10-6pm, Sun – 11.30-5pm
For photography, further press information or press samples, please contact: Fenella Taylor at Fenella Taylor PR. Tel: 01389 830390 Mobile: 07721 324696 Email: fenella@fenellataylorpr.co.uk
---