Spice up your Dad on Father's Day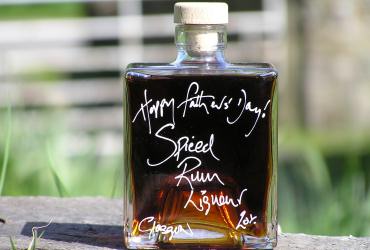 The Caribbean may be the traditional home to rum but Demijohn have a Scottish version that is so delicious it will transport your Dad to the sun-soaked beaches and palm trees of the Caribbean. Demijohn's Spiced Rum is exactly the present most dads will love on Father's Day on 15 June.
Made near Glasgow this delicious rum is so different from most commercial rums. It has a rich taste but is not too sweet, making it delicious either to be drunk over ice or as the base to cocktails. Demijohn suggests mixing Spiced Rum Liqueur with Raspberry Vodka for a tasty Bloody Pirate or with Lime Vodka and Lemon Vinegar for a Dark Mojito or for something a little more daring, mix with Ginger Wine for a Dark and Staurmy.
With a clever blend of Demerara Rum from the sunny Caribbean, caramel and spices it has an exotic and delicious taste.
Demijohn Managing Director Angus Ferguson said: "As a Father myself I understand well how wonderful it is to receive something on Father's Day from my family. Although never wishing to make a fuss, I also understand how upset I would be if my family didn't make some effort! Food and drink presents always go down well with me and I am sure the many other Fathers out there will think likewise. We all like something a little bit different and at Demijohn we add a personalised message for free making a great present."
Take a look at the Demijohn website or visit one of their shops in Oxford, York, Edinburgh or Glasgow to taste for yourself Demijohn's drinks.

Spiced Rum Liqueur 20% is priced at £4.80/100ml.
Ends -
Note to Editors:
Demijohn sources unusual, delicious artisan liqueurs, spirits, oils and vinegars from around the UK and Europe and sells them in a wide range of re-useable glass bottles. Each bottle can have a free personalised message added.
382 Byres Road, Glasgow, G12 8AR Tel: 0141 337 3600
32 Victoria Street, Edinburgh, EH1 2JW Tel: 0131 225 3265
11 Museum Street, York, YO1 7DT Tel: 01904 637 487
20 Little Clarendon Street, Oxford, OX1 2HP Tel: 01865 552179
Normal Opening Hours: Mon-Sat 10-6pm, Sun – 11.30-5pm
For photography, further press information or press samples, please contact: Fenella Taylor at Fenella Taylor PR. Tel: 01389 830390 Mobile: 07721 324696 Email: fenella@fenellataylorpr.co.uk
---