Christmas Spirit Splashes out with new Handmade Demijohn Chocolate Coffee Liqueur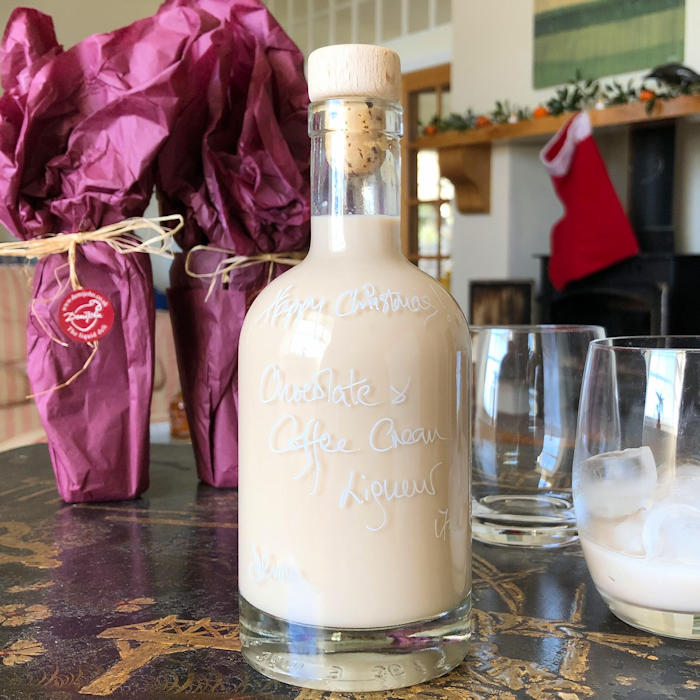 Are you a fan of dark chocolate, coffee and cream? Demijohn are answering your prayers with the launch this week of their new Chocolate and Coffee Cream Liqueur which makes an imaginative and simply heavenly Christmas present.
As a sumptuous, handmade cream liqueur this will appeal to anyone who loves Demijohn's original Butterscotch or Chocolate Orange Cream Liqueurs, or who is partial to a nip of Baileys. However, the smooth velvety taste and distinctive lightness will convert you in an instant.
Made in Somerset it combines rich dark chocolate, with coffee infused in Julien Temperley's Somerset Cider Brandy, Devonshire cream and a dash of West Country quirky know-how thrown in. The result is exquisite!
Best served over ice or added to a grown-up dessert such as drizzled over ice cream or cake, this can make a really special Christmas present. Demijohn can bottle it in a variety of sizes and shapes from 40ml to 3 litres and a personalised Christmas message will be added for free.
Just into the Demijohn shops this week it is priced at £5.20/100ml and is available from the shops or online - https://www.demijohn.co.uk/chocolate-coffee-cream-liqueur-17
But hurry! Father Christmas will be stocking up on this so beat him to it!
- Ends -
Note to Editors:
Demijohn sources unusual, delicious artisan liqueurs, spirits, oils and vinegars from around the UK and Europe and sells them in a wide range of re-useable glass bottles. Each bottle can have a free personalised message added. Gift wrapping is also available.
382 Byres Road, Glasgow, G12 8AR Tel: 0141 337 3600
11 Museum Street, York, YO1 7DT Tel: 01904 637 487
Opening Hours: Mon-Sat 10-6pm, Sun – 11.30-5pm
For photography, further press information or press samples, please contact: Fenella Taylor at Fenella Taylor PR. Tel: 01389 830390 Mobile: 07721 324696 Email: fenella@fenellataylorpr.co.uk
---