The Demijohn News - A Tasting on the House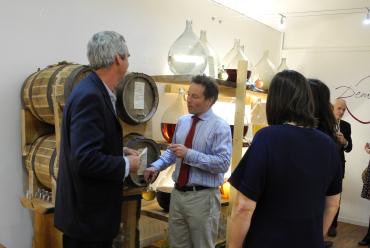 A Personal Invite to a Tasting on the House
We would like to treat you to a Demijohn Tasting Evening on the house. Our 4 shops, Edinburgh, Glasgow, York and Oxford will run two evenings each over the next few weeks. Either will be free to attend as long as you bring along at least one guest. The first tasting is on Friday this week, both will be great fun to attend.
So if you have yet to book your place and would like to attend either evening, don't delay! Please email us with your preferred date and shop venue clearly stated.
Interested? Please read below for futher details.....
A Burns Tasting. The first night will be held this week on Friday 24 January between 6.30pm and 8pm to remember our famous Scottish poet Robert Burns. Whisky will feature quite strongly on this first evening, allowing you to try our new casks of Single Malt Whisky among our many other delights.
A Valentines Tasting. Our second night will be held on Friday 14th February, again between 6.30pm and 8pm and have an altogether more romantic theme in mind. This evening could provide a nice surprise as a Valentines present, although not just for couples!
How to apply: If you would like to attend either evening please email us with your preferred date and shop venue clearly stated.
There are, of course, some restrictions. You may apply for both evenings, however you will only be accepted for one tasting evening per person. You must bring at least one guest to qualify for a free place, however you may bring up to a maximum of 2 additional guests. Places are limited, especially in Edinburgh, so do not delay in applying. Places will be awarded on a first to respond basis. Finally, your place will be confirmed at least 2 days prior to the event by email from the Shop your tasting is to be held at.
Don't forget to take advantage of our refill offer published in our last Newsletter, A Good Time to Refill. If you refill your bottles prior to the end of February then not only will you save on the cost of a new bottle, we will reward you with a 10% discount on the cost of that refill. Simply ask a member of Staff for your discount when you refill.
We hope to hear from you soon.
Yours,
Angus
---