The Demijohn News - Plums up for Bullace!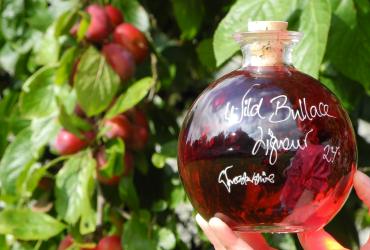 Plums up for Bullace!
We have another new drink for you to try, something really special and very rare. Wild Bullace Liqueur 23% is back! In our 10 years in business, this is only the third time we have been able to stock this incredible liqueur.
Our Wild Bullace Liqueur can best be described in taste as a refined Sloe Gin. However, Bullace is a wild plum, so it is a drink that is as fruity as a Damson while having the dryness and subtle bitterness of a Sloe.
How is it best drunk?
As a drink to accompany cheese it is exceptional and it can also be used to make our Wild Plum Bellini Cocktail if you need something to start your party off!
Our one regret is that there will be never enough of our Wild Bullace Liqueur to go around, and the demijohn is likely to have run dry well before Christmas. So if you would like to try some, please come and see us very soon!
October Tasting Evening
After a very successful tasting evening in Glasgow at the end of August, and thank you to those who attended, we have decided to run another group evening for all to enjoy. The evening will be run in each of our shops (Edinburgh, Glasgow, York and Oxford) on Friday 3 October 2014 and will offer a great chance for you to try our new Wild Bullace and Limoncello Liqueurs as well as offering a little Christmas spirit. It will be fun!
Based on our Standard Tasting Evening, the events will run between 6.30pm and 7.30pm, starting with a Demijohn Cocktail or two and include a hosted tasting of many of our unique products. The cost to attend will be limited to £5 per person (normally £14.50 per person), payable when booking.
The great news is that your attendance fee can be used towards to the cost of any purchase made on the night. (Please note the £5 fee can only be used against purchases on the night and is non refundable in the event of non attendance or no purchases made at the event).
How do I book to attend on 3rd October?
You can book a place either by signing up in one of our shops or emailing us your contact details, the shop at which you wish to attend the evening (Edinburgh, Glasgow, York or Oxford) and number of places required. We will then make contact to confirm your booking and collect your attendance fee. Please note, total places are limited and will be issued on a first come first served basis. A maximum of 4 places only may be booked per person.
How do I book a private tasting event?
If you would like to book your own private tasting event on a particular day with a group of 10 or more friends or work colleagues, either within our shops or held in your own premises please contact us for further details.
We have won an Award!
Mark and Carrie are currently having a mad time of it with the Demijohn events stand at the fabulous Burghley Horse Trials in Lincolnshire. This morning they won the prize of Best Food Stand in Show. We are all SO proud!
With the cheers of winning still ringing in our ears, we have enthusiastically entered ourselves into the Farm Shop & Deli Awards this year and would like to ask for your help in supporting our bid to win.
If you feel that we deserve it, thank you! Please simply complete this online voting form and we will keep our fingers and toes crossed!
We will be attending many more events in the run up to Christmas, all of which are listed on our Fairs and Events page for more information.
Coming Soon....
Look out for details in the next edition of The Demijohn News of some new and fabulous Single Malt Whiskies on tap, and something very nutty to drink for Christmas.
Please don't delay if you would like to try our new Wild Bullace Liqueur, sadly there will never be enough. Please keep the enthusiastic emails coming in and we look forward to seeing you very soon.
Yours,
Angus
---