The Demijohn News - Rhubarb, rhubarb, rhubarb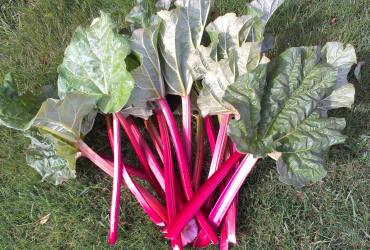 Spring has finally brought some sun and with it a fabulous crop of rhubarb in Inverness, where our delicious Organic Rhubarb Vodka Liqueur 20.5% is made. It has also seen the launch of our new website, hooray! Our Rhubarb Vodka is never better than when made with fresh, new rhubarb stems at this time of year. So we urge you to give it a try, right now.
And if you're planning a party over the forthcoming May bank holiday weekend, then I can wholeheartedly recommend a few of our Rhubarb Vodka Cocktails and recipe ideas to impress your guests, see below for details. However, to celebrate the launch of our new website and to let you try out our most recent batch of Rhubarb Vodka we would like to offer you a 10% discount on your first order online. Simply sign up to our Newsletter from our website Homepage.
Our Spring Cocktail and Recipe Ideas
Our Rhubarb Bellini Cocktail is certainly a drink to get your guests into shape at the start of a party. Made with Prosseco,
this will add more than a little fizz to the proceedings! If you like something with spice, then I can recommend our Carrie MaK Cocktail, which combines our Organic Rhubarb Vodka Liqueur with our handmade Ginger Wine 14.5%. We are, of course, all hoping for a heat wave this weekend, so for those who need something a little more refreshing then our latest recipe, Seville Orange Marmalade Ice Cream, is just the ticket. Made with our fresh tasting Seville Orange Gin 26% and our favourite Seville Orange Marmalade, this is moreishly marmalady (if that is English!).
Earn yourself a £30 Gift Voucher
Have you got a good recipe or cocktail idea that uses one or more of our products? Then we would like to hear from you. We are currently offering a £30 Demijohn Gift Voucher as a reward for any recipes that are used. Interested? Then read more...
We have a new website!
It has taken nearly a year in development, with some pretty late nights endured not only by us but also our our faithful development team at INDEZ. The results, we hope you agree, are an impressive improvement. If you think all the effort has
been worth it or if you have any suggestions for further improvements, from simple spelling mistakes to real humdingers, then we definitely would like to know. So please send us a quick email.
Time for a Food Festival
After such a long Winter we all need to get outside. This weekend marks the start of our event year with the wonderful, the marvellous, the epic Dales Festival of Food and Drink (Sat 4 to Mon 6 May 2013). We will have our new Gooseberry Gin Liqueur 17% on tap amongst other products, but we are only a small part of something much larger. Held in the heart of the Yorkshire Dales at Leyburn this really is a first class event run by some amazingly enthusiastic volunteers. From asparagus to mouth watering pork pies, real Wensleydale Cheeses....as you can see I find it hard to concentrate on our stand!
Whatever your plans for the weekend, I hope they are sun filled and fun.
Yours,
Angus
---