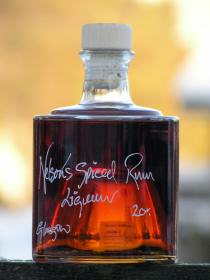 In the ever-turning energetic whirlpool of life that is Demijohn's Events Manager, you learn very quickly to go where the current takes you!
Such was our first insight into the wonderful Royal Norfolk Show. After a lovely phone call at midday, the day before the show, I found myself locked, loaded and shooting down the M6 like a 70mph alcoholic laser gun by 1pm. I got a lovely reception from the organisers on arrival and from this moment on, it would only get better...
Throughout the show, being fuelled by handmade fudge, ice-cream and fantastic banter from the stalls either side of me, it all went like a well oiled Rolls Royce engine. The eureka moment when the beautiful Spiced Rum Liqueur 20% was enjoyed alongside rum and raisin ice-cream was a particular high point... no wonder we had sold out of it by 10 am on the second day!
There were even people buying our Spiced Rum Liqueur to make their own homemade ice-cream when they got home, definitely a good plan for getting into the summery holiday mood...
The Royal Norfolk Show is a show I thoroughly enjoyed and through meeting so many wonderful and lovely people, I have no doubt that we will be back again!
Mark
---