Want an Unusual Whisky? Then head to Demijohn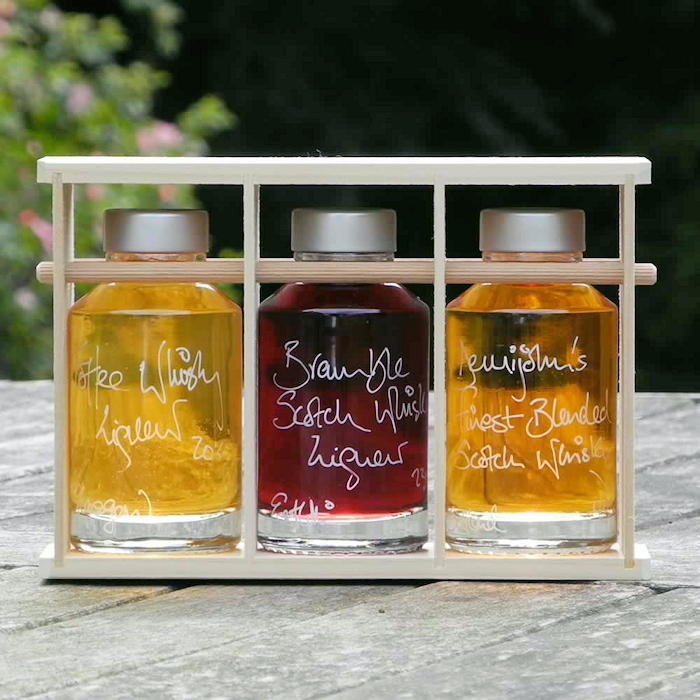 Scotland's first liquid deli, Demijohn, is something of a whisky lovers emporium, for they source and sell some really unusual and quirky whiskies that are often not available in traditional shops.
Stocked for the winter 19/20 season is a rare Glen Moray 10 Year Old Single Malt Scotch Whisky from Speyside that has been bottled at its full cask strength of 56.4%. It's the second Glen Moray cask Demijohn has stocked due to its popularity. It is strong to taste, yet delightfully smooth. An incredible hidden treasure priced at £17.20/100ml.
A bestseller at Demijohn, is its Bramble Scotch Whisky Liqueur 23%. Made by two retired teachers near Edinburgh, this combines the rich fruit of brambles (blackberries to those outside Scotland) and Scotch Whisky to make a wonderful after dinner drink, or perfect in a hipflask when out and about on a cold day. Priced from £5.20/100ml.
Relatively new to the Demijohn emporium is Toffee Whisky Liqueur 20%, which was first created in Helensburgh on the coast north of Glasgow. Cleverly combining a blend of vanilla, caramel and Scotch Whisky into this unique liqueur, giving it an exciting sting in its tail. It will appeal to a whisky drinker and also delight those more nervous of whisky. Drunk as an aperitif or after dinner digestif, this also makes an indulgent sauce poured over a dessert such as ice cream. Priced at £5.20/100ml.
The uniqueness of Demijohn whiskies is that customers choose the size and shape of a re-useable bottle (from 40ml to 3 litres), which is then filled with the whisky of their choice from a demijohn, allowing them to choose exactly how much they would like. They can then return with the bottle to have it re-filled. And they can even have a personalised message added for free.
Demijohn was created in July 2004 by Angus and Frances Ferguson. They share a passion for fine food and drink and saw a need in Scotland for a European-style liquid deli selling products from large vats called demijohns. They now have two shops in York and Glasgow, a healthy online business and a number of concession outlets located within other independent retailers – www.demijohn.co.uk.
Angus Ferguson says: "The Scotch Whiskies we source and sell are very special. We always try to source products that are rarely available elsewhere. Our 10 Year Old Glen Moray Single Malt Scotch Whisky is a good example of this, as it is 100% unique to us. This guarantees the quality which epitomises these drinks. As a gift or just to drink on your own, our whiskies are in a class of their own.
- Ends -
Note to Editors:
www.demijohn.co.uk/glen-moray-10-year-old-single-malt-scotch-whisky-56-4
www.demijohn.co.uk/bramble-scotch-whisky-liqueur-486
www.demijohn.co.uk/toffee-whisky-liqueur-20
www.demijohn.co.uk/demijohn-s-finest-blended-scotch-whisky-40
www.demijohn.co.uk/drinks/whisky
Demijohn sources unusual, delicious artisan liqueurs, spirits, oils and vinegars from around the UK and Europe and sells them in a wide range of re-useable glass bottles. Each bottle can have a free personalised message added. Gift wrapping is also available.
382 Byres Road, Glasgow, G12 8AR Tel: 0141 337 3600
11 Museum Street, York, YO1 7DT Tel: 01904 637 487
Opening Hours: Mon-Sat 10-6pm, Sun – 11.30-5pm
For photography, further press information or press samples, please contact: Fenella Taylor at Fenella Taylor PR. Tel: 01389 830390 Mobile: 07721 324696 Email: fenella@fenellataylorpr.co.uk
---